Regeneron Pharmaceuticals CEO Boasts Recently Approved Cholesterol-Lowering Drug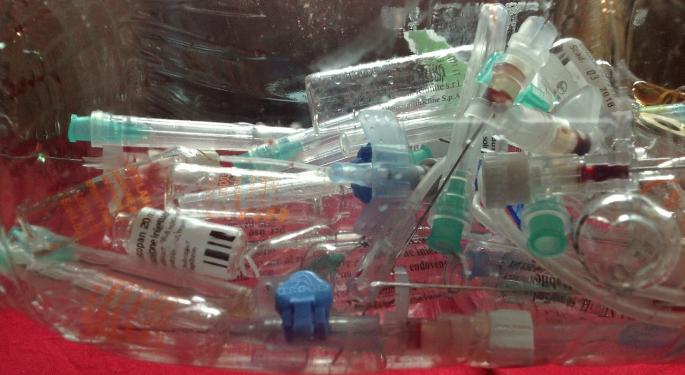 Regeneron Pharmaceuticals Inc (NASDAQ: REGN)'s cholesterol-lowering drug Praluent recently received approval by the U.S. Food and Drug Administration (FDA).
Leonard Schleifer, Regeneron president and CEO, was on CNBC Monday to discuss Praluent and its pricing.
Non-Competitive With Statins
"Let's face it, statins are great drugs and they have been around for decades and they should be front-line here," Schleifer said. "But some people with cardiovascular disease or heredity high-cholesterol, they can't get their cholesterol low enough on a statin or they can't take enough of a statin to get it down, and that's where our drug might come in."
Related Link: European Commission Approves Amgens New Cholesterol-Lowering Medication
Pricing
On the drugs pricing, Schleifer said, "Actually, our price is the lowest price of any self-administered, human monoclonal antibody. So, if you look at the other self-administered monoclonals such as the drugs for rheumatoid arthritis, they are two or three times what our drug is going for. I mean, we approach the pricing of the drug based on value delivered."
Schleifer highlighted how the company has priced Praluent based on value delivered, saying, "I think a lot of thought went into the pricing of Praluent, and it is a good case study. And, I think, there are three ways you can price drugs: You can price drugs by what the market will bear, you can price it based on what you think should be a fair rate of return or you can price it based on the value delivered. We are moving rapidly and we believe you should be in the last category based on the value you deliver.
Schleifer also remarked, "Well, over time...if the volumes become much higher, prices can be adjusted. That's not an issue."
Image Credit: Public Domain
View Comments and Join the Discussion!
Posted-In: CNBC Leonard SchleiferBiotech Health Care Media