Anacor Shares Surge To All-Time Highs After Phase 3 Trials Of Eczema Drug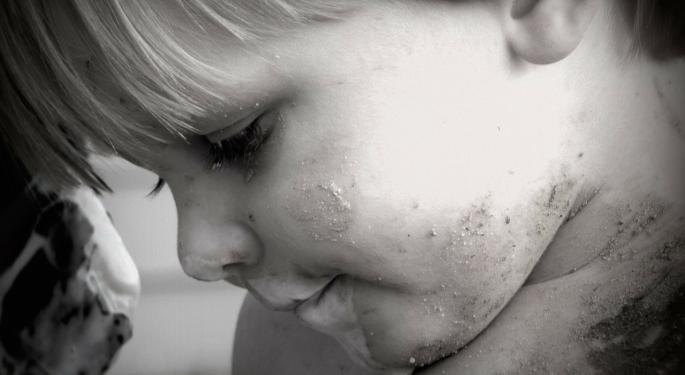 In a public conference call on Monday, Anacor Pharmaceuticals Inc (NASDAQ: ANAC) executives announced the results of two Phase 3 trials for a topical drug to treat atopic dermatitis, more commonly known as eczema. The treatment came in the form of a topical ointment, crisaborole.
Atopic dermatitis compromises the skin's ability to hold moisture, causing dryness, itchiness and irritability. Those afflicted typically have family histories of other allergies.
The Research
The studies were each double-blind, conducted at multiple centers throughout the United States and involved at least 750 patients. Those involved had mild to moderate eczema that afflicted at least 5 percent of their bodies. The researchers defined primary success as "clear" or "almost clear" skin with at least a two-grade improvement over the baseline at Day 29. Secondary success was identified as "clear" or "almost clear" skin regardless of improvement.
Related Link: Wedbush On Anacor Pharma: Crisaborole Delivers
In the first trial, 33 percent of patients experienced primary success taking crisaborole versus only 25.4 percent who took a vehicle; 52 percent saw secondary improvement, with only 40 percent of vehicle-users recording such progress. In the second trial, although the percentage who saw success with a vehicle was substantially smaller, only slightly fewer people experienced success with crisaborole.
According to Anacor execs, there were no instances of serious adverse effects among patients, although there were some mild ones. Side effects included application site pain and upper respiratory tract infection. The percentage of participants who had to discontinue their crisaborole regimen due to adverse effects was the same as the percentage taking the vehicle who cut themselves off.
A Large Market Opportunity
Anacor leadership was very optimistic about the opportunity in the treatment of atopic dermatitis. They noted that the condition affects between 18 and 25 million people across the United States, with the vast majority of conditions being mild or moderate – within crisaborole's treatment capabilities.
Anacor researchers found that all current eczema treatments either lack satisfactory safety or sufficient efficacy. Safety issues can be especially concerning, since about 85 percent of cases first manifest below the age of five.
Moreover, the market dynamics are very favorable, Anacor representatives stated. The execs first highlighted the tight, 35,000 person subscriber base, composed of dermatologists, pediatricians and some primary care physicians. The also said that "current topical [pharmacological] prescriptions enjoy broad market access."
Anacor executives were confident that crisaborole would be well-positioned to take advantage of the opportunity before it. Already in late-stage testing, they don't foresee any branded competitors at the time of launch.
The plan to submit a New Drug Application to the U.S. FDA sometime during the first half of 2016.
Investors were thrilled by the presentation, with Anacor stock trading up about 50 percent Monday. The company's shares surged to all-time highs soon after the conference call.
Image Credit: Public Domain
View Comments and Join the Discussion!
Posted-In: atopic dermatitis Crisaborole eczemaBiotech News Health Care FDA Events