IPO Outlook: Galapagos Offers New Hope For CF And RA Sufferers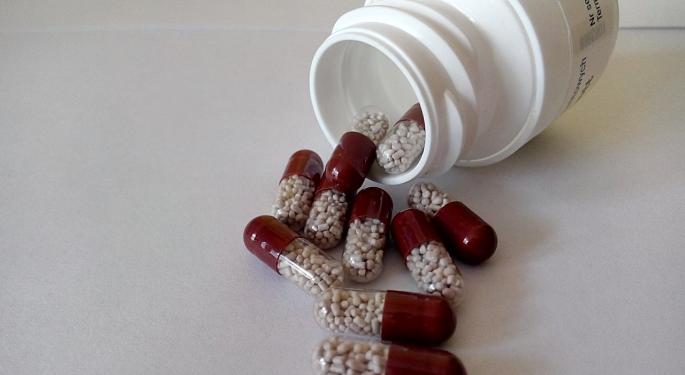 The IPO boom has raised billions of dollars for promising biotech developers who make compelling pitches to investors. A most recent example was Aduro BioTech Inc (NASDAQ: ADRO)'s sizzling IPO that raised a higher-than-expected $119 million in mid-April this year.
The clinical-stage biotech company Galapagos NV (ADR) (OTC: GLPYY) plans to raise $184 million through its IPO this Thursday. Galapagos will issue 4.7 million ADR shares at a $42.43 per share through Morgan Stanley, Credit Suisse and Cowen and Company.
Based in Belgium, Galapagos is focused on the discovery and development of small molecule medicines for new therapies of diseases with high, unmet needs. The company's product pipeline consists of three Phase 2 programs, two Phase 1 trials, five pre-clinical studies and 20 discovery small-molecule and antibody programs.
Related Link: Leerink Is Changing Targets At These 7 Biotechs
The company's platform is widespread among a broad set of therapies, and its most advanced candidates are for inflammatory related diseases: rheumatoid arthritis (RA), inflammatory bowel disease (IBD), cystic fibrosis (CF) and pulmonary disease (PD). Galapagos is currently listed on the Euronext Brussels and Euronext Amsterdam (OTC markets) under the ticker GLYPP. The stock has surged 50 percent since April 15, when the company announced it would list its shares in the U.S.
The company's lead drug candidate is filgotinib, which is a once-a-day oral treatment for rheumatoid arthritis and Crohn's disease. Both diseases represent a $15.6 billion and $3.2 billion market and there are currently no highly effective oral treatments to the diseases.
Current drugs used to treat these diseases also come with a drawback – weakening the immune system. So far, clinical trials have shown promising results. Galapagos' plan going forward is to advance its product pipeline's clinical trials and use its collaborative agreement with AbbVie Inc (NYSE: ABBV) to commercialize the candidates.
Financials
Revenue from 2012 to 2014 decreased by 6.9 percent from $83.1 million to $77.4 million. The company recognizes revenue from milestones, license feeds and upfront payments due to its collaboration and alliance agreements with AbbVie. Additional revenue has been generated from fee-for-service activities, R&D, incentives and grants.
Related Link: Analysts Positive On Intercept Pharmaceuticals After Earnings
Galapagos' two main operating expenses come from R&D and general and administrative expenses. R&D spending increased from $89.6 million to $123.8 million, or 38.2 percent, from 2012 to 2014. This increased spending in these two areas is common for a clinical-stage biotech. The company's net income increased by 482 percent during the same time period, from ($6.36) million to $37 million.
Galapagos has $208.5 million in cash and equivalents on its books, which give it enough runway in addition to IPO proceeds to finish trials and commercialization.
Partnership With AbbVie
In February 2012, Galapagos entered into a collaboration agreement with AbbVie to develop and commercialize a JAK1 inhibitor for the treatment of multiple autoimmune diseases. Filgotinib was chosen as the lead compound for rheumatoid arthritis study. Throughout 2013, the agreement expanded to further develop filgotinib into treatment options for diseases like Crohn's and ulcerative colitis.
A one-time, non-refundable $150 million payment was made to Galapagos in addition to a $20 million payment. If AbbVie in-licenses filgotinib, Galapagos will be receive a $200 million payment and be eligible to receive additional milestone payments that amount to $1 billion.
Galapagos also entered another agreement centered on the discovery, global development and commercialization for the treatment of cystic fibrosis in September 2013. Galapagos received a one-time, non-refundable upfront payment of $45 million. In 2014, a milestone payment of $10 million was paid for Phase 1 trial of GLP1837.
Related Link: Why Fears Of Biotech Being Overvalued Are Unwarranted
In the agreement, Galapagos is eligible to receive up to $350 million in total additional developmental, regulatory and sales-based milestones. The company will also be eligible to receive tiered royalty percentages on net sales of licensed products that are paid on a product-by-product basis.
AbbVie recently placed a provisional order worth $30 million for a Galapagos IPO. Since AbbVie already has a good amount invested in the company, Galapagos could represent a takeover target, especially since filgotinib's recent data is excellent.
Another potential acquirer could be Johnson & Johnson (NYSE: JNJ), which holds a 7.6 percent stake. Johnson and Johnson expressed an interest in purchasing $25 million worth of shares. Both large companies are amid the loss of patent protection on rheumatoid arthritis drugs.
Looking Ahead, Use Of Proceeds
What makes this offering attractive is that Galapagos has a promising pipeline aimed at providing new treatments to serve large markets. Its drug candidate potential and strategic collaborative agreement with pharma giant AbbVie also serves to enhance the offering's attractiveness, which could lead to a takeover down the road.
Galapagos estimates the net proceeds of its offering to be $183.3 million and will be used to advance its cystic fibrosis, inflammatory bowel disease programs, and to discover and develop its earlier stage programs.
The company will list under the ticker GLPG on the NASDAQ on Friday. It's offering 4.7 million ADS at a price of $42.43
Related Link: The Best And Worst ETFs Of The Week Amid Biotech Rebound
Other Offerings:
Tuesday, May 12
EQT GP Holdings LP (NYSE: EQGP): 20 million shares offered at a price range of $21 to $24 through Barclays and Goldman Sachs.
BiondVax Pharmaceuticals Ltd. - American Depositary (NASDAQ: BVXV): 1.5 million shares offered at $7.32 per share through Aegis Capital Group.
Wednesday, May 13
Arcadia Biosciences Inc (NASDAQ: RKDA): 7.2 million shares offered a price range of $13 to $15 per share through Credit Suisse and JPMorgan.
Jaguar Animal Health Inc (NASDAQ: JAGX): 3.2 million shares offered at $7 per share through Aegis Capital and CRT Capital Group.
Thursday, May 14
Galapagos NV (NASDAQ: GLPG): 4.7 million shares offered at $42.43 per share through Morgan Stanley, Credit Suisse and Cowen and Company.
Fortress Trnsprtn and Infscr Invstrs LLC (NYSE: FTAI): 20 million shares offered at price range of $19 to $21 per share through Citi and Bank of America Merrill Lynch.
Fenix Parts Inc (NASDAQ: FENX): 11 million shares offered at price range of $9 to $11 per share through BMO Capital Markets and Stifel.
Image Credit: Public Domain
View Comments and Join the Discussion!
Posted-In: filgotinibBiotech IPOs Best of Benzinga