Short Sellers Come Back To Biotech Stocks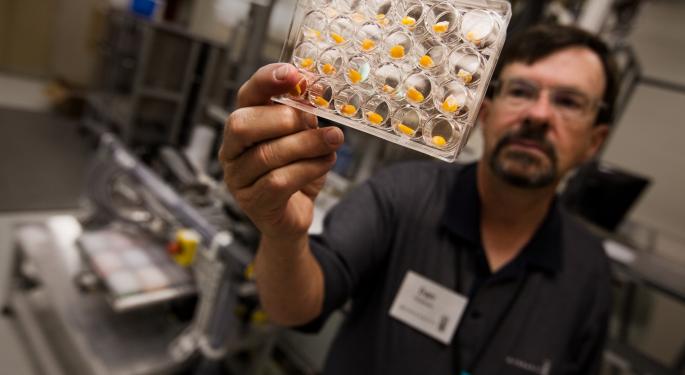 By and large, short interest among the leading biotechs and emerging pharmaceuticals reversed course and rose again between the January 30 and February 13 settlement dates.
Leading that trend were Amgen, Inc. (NASDAQ: AMGN), Juno Therapeutics Inc (NASDAQ: JUNO) and Vertex Pharmaceuticals Incorporated (NASDAQ: VRTX).
Below we take a quick look at how these three stocks have fared recently and what analysts expect from them. That is followed by a glance at short interest in other leading biotech stocks.
Amgen
This California-based biotechnology medicines company saw short interest surge about 39 percent to almost 9.80 million shares, the greatest number of shares short since last October and more than 1 percent of the float. At the current daily volume, it would take more than two days to cover all short positions.
The company develops and markets human therapeutics based on advances in cellular and molecular biology for grievous illnesses. Credit Suisse offered a vote of confidence during the period. Amgen has a market capitalization of near $120.1 billion and a dividend yield of about 2.1 percent.
Half of the 24 analysts surveyed by Thomson/First Call recommend buying shares, with the rest rating the stock at Hold. Their mean price target, or where analysts expect shares to go, is more than 10 percent higher than the current share price. That consensus target would be a new multiyear high.
The share price remained relatively flat during the two-week short interest period. However, the shares have climbed about 3 percent since but are still down marginally since the beginning of the year. Over the past six months, the stock has outperformed competitor Gilead Sciences and the Nasdaq.
See also: Mike Khouw's Celgene Trade
Juno Therapeutics
The short interest in this biopharmaceutical company rose more than 12 percent to around 2.88 million shares, or more than 4 percent of the total float. It would take more than two days to cover all short positions. The number of shares short has been on the rise since the initial public offering in December.
This maker of cell-based cancer immunotherapies is headquartered in Seattle and has a market cap of about $4.3 billion. The company announced a new manufacturing facility in its home state during the period. It is forecast to report net losses both this year and the next.
No consensus recommendation was listed, but four analysts had a mean price target that represents an expected gain of more than 24 percent for the shares and would be a post-IPO high. The highest individual price target is about 35 percent higher than the current share price.
The shares retreated more than 5 percent during the short interest period. But they have gained more than 18 percent since and are up more than 37 percent since the IPO. The stock has not only outperformed the other two biotech stocks featured here over the past six months, but the Nasdaq as well.
Vertex Pharmaceuticals
After falling off in the previous three periods, short interest in this Cambridge, Massachusetts-based company swelled about 12 percent to total more than 3.13 million shares. That was more than 1 percent of the total float. It would take about two days to cover all short positions.
Vertex manufactures small molecule drugs for the treatment of serious diseases such as hepatitis C and cystic fibrosis. It has a market cap of about $28.7 billion. Its return on equity and operating margin are both in the red, but the long-term earnings per share (EPS) growth forecast is almost 30 percent.
The consensus recommendation of the analysts surveyed is to buy shares of Vertex, and it has been for at least three months. The mean price target is more than 11 percent higher than the current share price. That consensus price target would be a new multiyear high as well.
The stock increased more than 3 percent during the two-week period, compared to a more than 5 percent gain for the Nasdaq in that time. Vertex has not only outperformed larger competitors Bristol-Myers Squibb and Merck over the past six months, but Amgen and the broader markets as well.
See also: Gilead Reports Preclinical Data
And Others
The number of shares short in Alexion Pharmaceuticals, Biogen Idec, BioMarin Pharmaceutical, Celgene, Gilead Sciences, Ilumina, Mannkind and Medivation grew in early February. However, short sellers appeared to lose interest in Incyte and Seattle Genetics.
At the time of this writing, the author had no position in the mentioned equities.
Keep up with all the latest breaking news and trading ideas by following Benzinga on Twitter.
Posted-In: amgen Celgene Gilead SciencesBiotech Short Ideas Top Stories Trading Ideas General Best of Benzinga
View Comments and Join the Discussion!