Acorns Co-Founders Discuss New Ventures At 2018 Benzinga Fintech Summit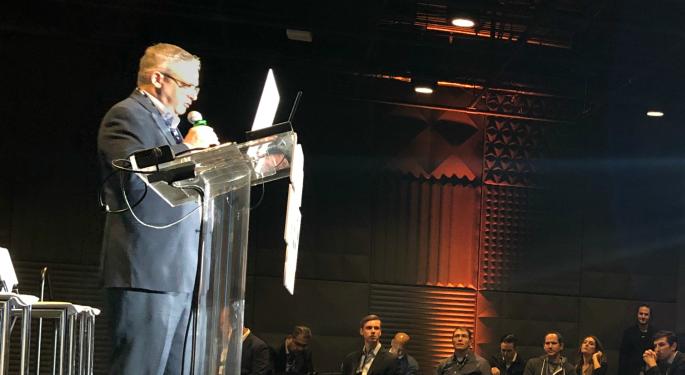 The 2018 Benzinga Fintech Summit began Wednesday in San Francisco with a keynote address from Jeff and Walter Cruttenden, the father-son team that co-founded several startups including Acorns, one of the most widely used investing apps in the world, and have since launched Say and Blast.
JP Mangalindan, Yahoo Finance's chief tech correspondent, hosted the keynote.
Founded in 2012, the micro-investing platform has so far raised $120 million, with over 4 million users and $1 billion in assets under management, Walter said. Acorns is growing at a rate of 5,000 users per quarter, he said.
Product 'Is The Hard Part'
"We like to think of Acorns as helping to create investors. New investors are enthusiastic, curious and they like to talk about it. So growth is sometimes a bit easier for talked-about products like that," Jeff said.
"Building a product right is the hard part. The funding after that was easier."
Acorn's Biggest Mistake Along The Way
"When we were building Acorns, we were building our broker-dealer. One of the biggest mistakes we made was that we were responsible for proxy voting, and instead of really going through and owning that part of the experience, we decided to use the largest vender in the space today. And it was an absolutely horrific experience, both for us as a broker-dealer and for our customers," Jeff said.
The experience led Jeff to found Say, a platform digitizing and improving the process for shareholder voting, he said.
Other Ventures
In 2017, Walter founded Blast, a companion app for gamers to "get paid to play."
"With Blast, we wanted to create a product where people didn't have to spend to invest — they could do something fun," he said.
Walter said he's discussed the concept of an investing game and gamifying the product with firms such as E*TRADE Financial Corp (NASDAQ: ETFC), TD Ameritrade Holding Corp. (NASDAQ: AMTD), Charles Schwab Corporation (NYSE: SCHW) and Fidelity Investments.
"To this day, not a single one of the major investing firms has an investment game on the marketplace. So at Blast, we decided to take all games and use them as savings triggers."
The 2018 Benzinga Fintech Summit is bringing together leaders in the brokerage and payments space. Click here for more coverage.
Related Links:
Startup Point Of Sale Operating System Poynt Raises $100M
5 Startup Payment Services On The Rise
Benzinga CEO Jason Raznick speaks at the kickoff of the 2018 Benzinga Fintech Summit on Wednesday, Nov. 14 in San Francisco. Photo by Hannah Genig.
Posted-In: Acorns Benzinga Fintech Summit fidelity investmentsFintech News Events Personal Finance Best of Benzinga
View Comments and Join the Discussion!