Why Did Gary Cohn Join The Board Of A Blockchain Startup?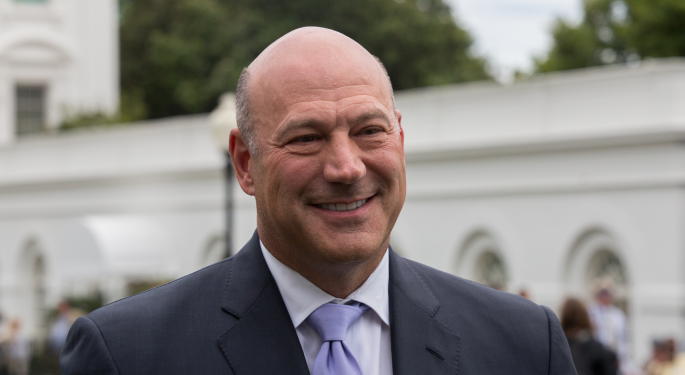 Where does one go after leaving not just one, but two of the most desired jobs in finance? For former National Economic Council chair and Goldman Sachs Group Inc (NYSE: GS) president and COO Gary Cohn, the answer is a blockchain startup.
Cohn announced Oct. 12 he was joining the advisory board of Spring Labs. Spring Labs is a startup essentially trying to disrupt the credit bureau using blockchain technology to create a digital identity for consumers that financial institutions can refer to for credit decisions rather than, say, Equifax Inc. (NYSE: EFX).
So how does someone like Cohn fit into a startup's growth story? According to Spring Labs CEO Adam Jiwan, it was a natural extension of the company's already-deep bench of senior advisors. Former FDIC chair Sheila Bair and Capital One Financial Corp (NYSE: COF) co-founder Nigel Morris already sit on the board.
"The idea to bring Gary on board originated on our end," Jiwan told Benzinga. "Here's someone who is as knowledgeable as anyone in the world on financial regulation, who understands financial and credit markets, can help us think through the regulatory considerations blockchain projects are facing, and is probably thinking about what is looking to do next in his life."
Don't miss Spring Labs CEO Adam Jiwan speak on how blockchain will change the way banks interact with consumers at the Benzinga Fintech Summit in San Francisco Nov. 14.
Jiwan said a mutual acquaintance and investor introduced him to Cohn and set up a breakfast meeting between the two—however, he was not at liberty to disclose the person's identity.
Cohn was not available for comment for this story.
Blockchain Over Breakfast
The Spring Labs CEO took the breakfast to outline the architecture of the company's blockchain tech and the problems it can solve for financial institutions. Jiwan said the pitch "immediately resonated" with Cohn, who felt that the company's network could help solve systemic problems surrounding credit identity.
Jiwan said the initial meeting took place about two months ago.
"There's a timeliness to how data is shared in the financial ecosystem due to the Equifax hack and changing privacy laws in California, Europe and others," Jiwan said. "Gary can be very helpful in introducing us to financial institutions to drive adoption by network participants, and help us think through the regulatory considerations that come into play when you're dealing with large, slow-moving institutions."
Related Links:
Why Did This Fintech Startup Sponsor A NASCAR Driver?
View Comments and Join the Discussion!
Posted-In: Adam Jiwan Benzinga Fintech Summit Blockchain Gary Cohn Spring LabsFintech Exclusives Interview Best of Benzinga