Cannabis After Legalization: Vic Neufeld Shares Aphria's Plan For Growth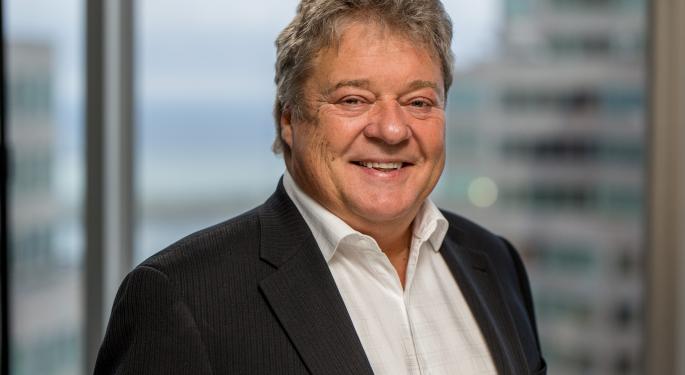 Cannabis investors can't afford to miss the Benzinga Cannabis Capital Conference, a premier gathering of investors and entrepreneurs painting an honest picture of the opportunities and challenges in cannabis investing. Space is limited—get your tickets before they sell out.
Ahead of the conference, we're interviewing the speakers who will deliver key insights on the cannabis space at the BZ Cannabis Capital Conference. This installment features Vic Neufeld, the CEO of Aphria.
What is the elevator pitch for your company?
Aphria's vision is to be the best performing cannabis company globally, providing investors with access to the most accretive cannabis opportunities around the world. The Company's portfolio of brands is grounded in expertly-researched consumer insights designed to meet the needs of every consumer segment. Rooted in our founders' multi-generational expertise in commercial agriculture, Aphria drives sustainable long-term shareholder value through a diversified approach to innovation, strategic partnerships and global expansion, with a presence in more than 10 countries across 5 continents.
How is your firm capitalizing on the opportunities in cannabis?
Aphria was founded in 2013 with a vision to produce high-quality medical cannabis in the most natural growing conditions. Our two co-founders, Cole Cacciavillani and John Cervini, saw a future in cannabis and decided to apply their 60 plus years of commercial agriculture experience to grow a few medical cannabis plants.
Today, Aphria operates three state-of-the-art production facilities in Canada including the GMP-certified Aphria One, Aphria Diamond (early 2019), and our west-coast subsidiary Broken Coast Cannabis, craft growers of premium B.C.-bud. These facilities represent over 2.3M square feet of production and in 2019 will reach an annual production capability of 255,000 kg.
We know how to grow, and we know how to grow to scale. We also know that tomorrow's cannabis products will revolutionize the way our patients and consumers integrate cannabis into their lives, which is why our laser-focus on innovation will continue to keep us one step ahead. Our Leamington operations include the Aphria 360-degree Innovation Centre and our recently announced Extraction Centre of Excellence.
What is the biggest challenge the company faces?
The biggest challenge is something that's facing the entire industry as we try to help the government achieve its objective of eliminating or significantly reducing the black market. I don't think it will ever be eliminated completely, but we're already going to be starting with one hand tied behind our back. Right out of the gate, several product categories that will not be permitted for sale in the adult-use market, including vapes, which currently represent a significant portion of the illegal market.
We're also significantly restricted in how we can package and advertise our products. We're not going to win the battle on price alone – though Aphria's low-cost producer status means we will do far better than many others once price compression kicks in. We're severely limited in what we can communicate to consumers about our products, our brands, our offerings. We need to be able to differentiate between high and low-quality and premium and non-premium cannabis products, and to effectively educate adult consumers about responsible use and why the products we offer are better and safer than those offered by the illegal market. We also need to be able build brand loyalty and consumer affinity in order for the industry to be successful. There will be winners and losers, of course, but I'm quite confident that consumers will enjoy getting to know our brands and products.
What is your growth strategy? How do you plan to expand within your current vertical, and do you plan to expand to other products and markets?
Aphria has an incredibly strong foundation, which enables us to drive sustainable long-term shareholder value through a diversified approach to innovation, strategic partnerships and global expansion, while effectively mitigating risk in the rapidly evolving cannabis industry
When the opening bell rings for adult-use cannabis on October 17, there will be certain significant product categories that will, for the time being, remain exclusive to the black market, including vapes and edibles – both of which represent significant pieces of the current market. Within a year, these should receive approval under the Cannabis Act and when that day comes, Aphria will be ready to go out of the gate. We're also actively planning for new product categories and product innovations, with a focus on understanding consumer behaviour and preferences, to ensure we're leading where the market is going.
Quickly give us your background—why are you passionate about cannabis?
I have been CEO of Aphria since June 2014 and have led it to become one of the world's premier cannabis companies, consistently driving sustainable long-term shareholder value. Prior to Aphria, I was the CEO of Jamieson Laboratories, Canada's largest manufacturer and distributor of natural vitamins, minerals, concentrated food supplements, herbs and botanical medicines. During my time at Jamieson, the company went from $20 million in annual sales to over $250 million and expanded the company's distribution network to over 40 countries, building Jamieson to a globally recognized brand name.
When I was leaving Jamieson, my friends and our co-founders Cole and John reached out with an opportunity to run this medical cannabis company they had started in one of Cole's existing greenhouses. I'm not from the "cannabis culture", you might say, but I could see that Cole and John had something that no-one else brought to the table – the years of expertise and success in large-scale commercial agriculture. This wasn't about starting a little grow-op, this was about being the grownup in the industry.
When you also look at the increasing evidence, both anecdotal and scientific, of the potential benefits of medical cannabis, it's hard not to be excited for the future of this plant – from both a commercial and a societal perspective.
There are still massive challenges for the nascent cannabis space to overcome—what is the most pressing of those challenges?
Out of the gate there's going to be a supply shortage, but by early 2019 Aphria's full production capabilities of 255,000 kg annually will be online and we'll be ready to pick up the slack from other LPs that will not be able to meet their commitments. Within a year, though, we're like to see an oversupply in the Canadian adult-use market as well as price-compression in order to remain competitive against the black market and each other. Again, Aphria's low-cost producer status and our strategic international expansion means we are well-prepared for the long-term.
How should the industry advocate for a cannabis regulatory framework that will allow for safe, sustainable growth?
We need to continue to push for sensible regulations that protects consumers and keeps cannabis out of the hands of youth, while also allowing the industry the same freedom to operate and market its brands and products as other similarly regulated industries, such as alcohol.
I believe we should also take into consideration how cannabis is also different from those similarly regulated industries. Not all cannabis will get you high, and not all cannabis users are seeking to become intoxicated. We are still discovering some of the many potential benefits of cannabis from a health, wellbeing and mindfulness standpoint that goes beyond what terms like "recreational cannabis" might otherwise imply.
Related to this, and most importantly, we need to encourage regulatory frameworks that maintain a medical cannabis regime that is treated fairly and consistently in line with other prescription-based medicines. The evidence continues to grow as to the very real medical benefits of cannabis in treating pain and a variety of symptoms and conditions, including reports that indicate the potential for cannabis to reduce dependency on opiates. We need a regulatory framework that protects patients and their access to medical cannabis, free from undue taxation that is not similarly applied to other prescription medications.
What big surprises do you predict occurring in cannabis in the next three years? Will a big legacy tobacco or alcohol incumbent invest in the space, or something else remarkable?
It will be interesting to survey the landscape of licensed producers in one year, two years, and even three years from now. Aphria will be there, but who else from the early days will still be standing. And what major player that is not currently in the market, or the industry, will have made its mark? I believe we'll see some outside forces make big plays within this industry in good time, which is why it's not enough for Aphria to be comfortable in its position today as one of the industry leaders. That's why we're focused on the future, innovation, and driving long-term sustainable growth for our business and our shareholders.
View Comments and Join the Discussion!
Posted-In: Aphria Benzinga Cannabis Capital Conference Vic NeufeldCannabis Fintech Interview Best of Benzinga