Capital's Perspective On Cannabis: Harrison Phillips Of Viridian Capital Advisors Looks At Challenges In Cannabis Investing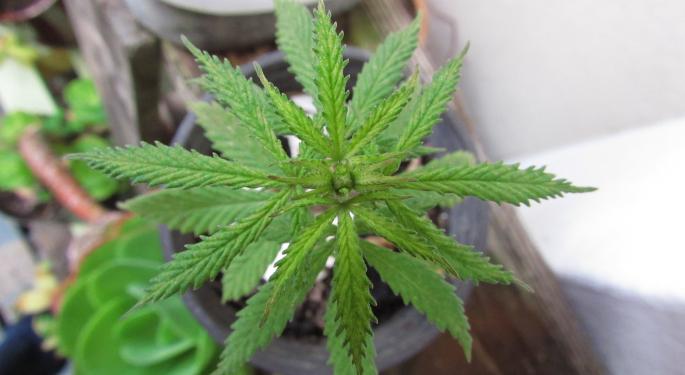 Cannabis investors can't afford to miss the Benzinga Cannabis Capital Conference, a premier gathering of investors and entrepreneurs painting an honest picture of the opportunities and challenges in cannabis investing. Space is limited—get your tickets before they sell out.
Ahead of the conference, we're interviewing the speakers who will deliver key insights on the cannabis space at the BZ Cannabis Capital Conference. This installment features Harrison Phillips with Viridian Capital Advisors.
Quickly give us your background—why are you passionate about cannabis?
My interest in the cannabis industry stems from my parents, both of whom are physicians. Growing up, I was informed about the logical discrepancies in our nation's laws whereby cannabis is illegal, yet alcohol and tobacco are legal, even though cannabis is far less harmful to the body and to society. Additionally, the widespread use of cannabis, though illegal, alludes to a very large black market, signifying a substantial opportunity for business should prohibition end and that demand be captured in legal channels. I was presented the opportunity to join Scott Greiper and Viridian Capital Advisors while finishing my undergraduate education and was immediately interested.
While working with Viridian over the past three and a half years, it has been fascinating to watch the industry develop – consumers are able to purchase a wider variety of products that are safer than those on the black market, governments are able to monitor these businesses and collect substantial tax revenues that would have otherwise gone uncaptured, patients are granted access to medical products that provide relief to their ailments, and businesses and investors are able to capitalize on the rollout of this industry.
What is the most exciting opportunity in the cannabis space right now?
To me, the most exciting opportunity in the industry is the creation of standardized cannabinoid-based therapeutics based on clinical evidence. Currently, there is a plethora of anecdotal evidence pointing to the potential efficacy of cannabis in treating a wide variety of ailments from inflammatory disease such as irritable bowel syndrome and arthritis to neurological maladies like epilepsy, multiple sclerosis, and autism spectrum disorder.
As the legal reform for cannabis continues, access to research into the plant's constituent compounds, especially the dozens of phytocannabinoids and terpenes, will expand, allowing scientists to better understand how these chemicals can be utilized in medicine. Due to the wide variety of potentially viable compounds in the plant and the multitude of disorders for which these chemicals could be efficacious, the market potential for cannabis-based therapeutics is significant.
There are still massive challenges for the nascent cannabis space to overcome—what is the most pressing of those challenges?
The greatest current challenge to operators pertains to the lack of access to traditional financial infrastructures, both for depository banking as well as capital raising. Due to cannabis' status as a Schedule I controlled substance, most depository institutions have denied cannabis-related businesses access to services such as banking, credit lines, and mortgages. Even payment processors and payroll providers have limited their involvement as, at some point, these transactional networks cross into the jurisdiction of the federal banking system.
Additionally, cannabis-related businesses have had issues accessing the capital markets, particularly in the United States. Wall Street and most institutional players remain on the sidelines, greatly limiting the amount of capital and the ease of access to capital for cannabis-related businesses. As such, many cannabis businesses have gone to Canada to raise capital as the financial institutions there are more accommodating due to the more progressive reforms present in Canada.
How should the industry advocate for a cannabis regulatory framework that will allow for safe, sustainable growth?
The industry should advocate for a structure that balances access to a wide variety of safe products for consumers, ease of regulation for governments, and an environment for businesses that incentivizes competition while not being overly burdensome as to limit potential profitability (e.g. with very high taxes). Many states start with highly limited regulatory structures as governments are understandably worried about the potential ramifications of legalization in their jurisdictions.
However, as they better understand the workings of the industry and become more comfortable with the operating environment, these jurisdictions tend to loosen their regulations, whether by allowing more operators (by issuing more licenses) or expanding the industry to more consumers (more qualifying conditions for medical patients or even outright adult use). This type of slow and steady rollout with balances crafted between all stakeholders is more likely to lead to sustainable growth.
What big surprises do you predict occurring in cannabis in the next three years? Will a big legacy tobacco or alcohol incumbent invest in the space, or something else remarkable?
Over the next three years, we expect to see increased activity by players from larger, incumbent industries such as alcohol, tobacco, pharmaceuticals, agriculture, and consumer packaged goods. However, the involvement of these larger companies is likely to be significantly limited until cannabis' status is addressed at the federal level. Once cannabis is de- or rescheduled from Schedule I under the Controlled Substances Act, we expect many large firms to enter the industry whether through acquisition, partnership, investment, or other strategy. We have already seen a few strategic players make investments in the space, most notably Constellations Brands $191 million investment into Canopy Growth Corp., Scotts Miracle-Gro's acquisition of agriculture technology providers with growth driven by the cannabis industry, and Alliance One International's investments into cannabis and hemp cultivation operations.
We also expect to see expanded access to traditional financial infrastructures for cannabis-related businesses, particularly in the United States. Several bills looking to solve the "banking issue" have been presented to Congress, yet none have made it to fruition. However, U.S. Treasury Secretary Steve Mnuchin stated that issuing updated banking guidance is "top of the list" for his department, signifying the importance to the federal government of moving on this current problem.
Any other thoughts?
The cannabis industry represents one of the most significant legal, political, cultural, and business revolutions of the past century, with analogues to the unwinding of alcohol prohibition in the United States. Though the cannabis industry is still in its infancy and there remain significant hurdles (access to banking and capital, clinical research, 280E taxes, lack of interstate commerce) to the full roll out of the industry, the long-term growth trends look strong.

View Comments and Join the Discussion!
Posted-In: Benzinga Cannabis Capital Conference Harrison Phillips Viridian Capital AdvisorsCannabis Fintech Interview