How The Largest Financial Institutions Innovate: 'How Do We Go And Disrupt Ourselves?'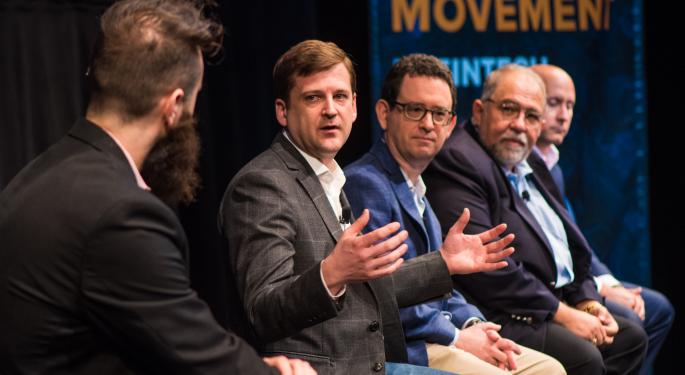 The catch-22 for large corporations is that while vast resources are available, size makes it harder to move quickly — and compete with startups.
This is true for every industry, but especially for fintech, where legacy institutions have long held a reputation for innovating slowly. It's a trend that's started to change in recent years, as Wall Street's largest institutions have started to invest heavily in technology.
A panel on day two of the 2018 Benzinga Global Fintech Awards brought together representatives from TD Ameritrade (NASDAQ: AMTD), Fidelity, Thesys Technologies and Nasdaq Inc (NASDAQ: NDAQ) to discuss innovation coming from the heart of Wall Street.
'We're Competing With Ourselves And You'
A theme that emerged from the panel was that the companies have put a lot of thought into establishing a culture of innovation.
"One of the most important aspects of innovation is culture; that comes from senior leadership," said Oliver Albers, the global head of strategic partnerships and global information services at Nasdaq. "They have to embed a culture of risk-taking that allows for some failure. I think it's also important that you also empower your employees to make sure they can have ideas and bring them forward. We have a lot of internal programs where we fund initiatives with internal dollars. It's not a one-time fix, it's part of your DNA."
Another method of innovation is to form smaller teams, something that Fidelity has done.
"We found for ourselves it's been very useful to get small groups together and quickly augment them as we need to," said Jorge Nario, the asset manager's senior vice president of trading technologies. "We have incubators, some may get to be very big with 20 people in them, some have four to five people. And we can quickly say, 'this is not getting results that we want' and move on."
TD Ameritrade is focused on disrupting itself, said John Hart, the brokerage's director of trading.
"We also look internally: 'how do we go and disrupt ourselves?' So in some sense, we're competing with ourselves and with you," Hart said.
"We talk a lot about machine learning and AI, but when you get down to it I'm not seeing a lot of that get down to the client side yet. I think there's a six-to-eight-month window before that's really pouring out."
The bottom line is that the companies are attempting to make investing easier, said Thesys Technologies CEO Mike Beller, as retail traders don't "have data scientists lying around the house."
Related Links:
The Key To A Successful Fintech Partnership
The 2018 Benzinga Global Fintech Awards Winners' Panel: How They Made Their Companies Attractive To Investors
Photo: Benzinga's Spencer White, left, moderates a panel on innovation at large financial institutions with TD Ameritrade's John Hart, Thesys Technologies CEO Mike Beller, Fidelity's Jorge Nario and Nasdaq's Oliver Albers. Photo by Mandar Parab.
View Comments and Join the Discussion!
Posted-In: Benzinga Global Fintech Awards Fidelity John Hart Jorge Nario Mike BellerFintech News Events Best of Benzinga