The 2018 Benzinga Global Fintech Awards Winners' Panel: How They Made Their Companies Attractive To Investors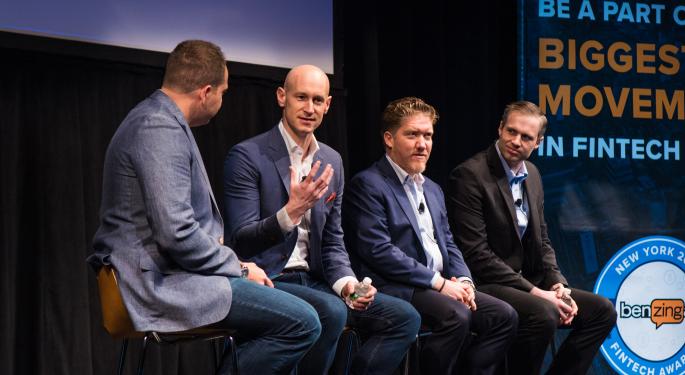 The winners of the 2018 Benzinga Global Fintech Awards announced on Tuesday evening recognizized innovators in everything from lending to robo-advisors.
Three of those winners—Vestwell CEO Aaron Schumm (3rd place overall winner), M Science CEO Michael Marrale (winner of Finding Alpha Through Alternative Data), and Tom Fast, head of corporate development at Finicity (2nd place overall winner)—spoke Wednesday morning in a town hall-style panel moderated by McCarter & English Associate Jared Sorin.
They were asked what they did to raise capital, and how they make themselves attractive to both investors and potential employees.
Aaron Schumm on how they raised money:
Schumm said Vestwell went the traditional venture capital route to raise money, and his experience starting a fintech company in August 2008 at the height of the financial crisis was a huge advantage.
"This time around it's a lot easier. When you're a repeat, you know what to do and what not to do. We spoke to 89 companies and only got two no's. So we got to pick who we wanted.
"We did it pretty much on a deck. We had some ideas that we were putting in place...but we were fortunate enough to have the experience from being in the fintech world. It is expensive to go after financial technology, so you kind of have to bootstrap it if you can."
On How He Recruits Top Talent:
"It is challenging to do that for sure. Here's my approach. There are folks that are great at various stages of companies. There aren't a lot of people that are well-equipped to take it all the way through.
"I brought in a team that I was confident in, and said 'Here's what I need you to do for this period of time.' If they can stay on, great. We were very transparent in the process. 'Here's your role for now but we're probably gonna bring in someone down the road.'
Tom Fast:
"It's a terrible experience, raising venture capital. So a lot of the CEOs that I work with could raise the money, but they don't want to. So we come in and filter them out and give them 10 VC's already interested.
"The founder of Finicity was a serial entrepreneur. So he seeded the company. All our subsequent funding has come from investors who have just seen the product. We never went out and asked for funding."
Michael Marrale on how they recruit and keep top talent:
"Our management team are all player-coaches. From a recruiting standpoint, we hired our head of science and data engineering from Citadel. He joined because of all the cool stuff we're doing. Three-quarters of our people are under the age of 30. They just want to know that what they're doing is changing something or part of a bigger picture of innovation.
"It's really about employees 25-115, which are these young innovative optimistic people who just want to make things and change things. If we don't continue to challenge them, they leave."
Related Links:
'A Mix Of Art And Science': CMOs Talk Risk-Taking, Creativity
InvestCloud Is Turning Legacy Systems Into 'Amazon-Like' Apps
Photo, from left to right: Jared Sorin, Aaron Schumm (speaking), Michael Marrale, and Tom Fast at the Benzinga Fintech Awards in New York City on Wednesday, May 16, 2018. Photo by Mandar Parab.
View Comments and Join the Discussion!
Posted-In: Aaron Schumm Benzinga Global Fintech Awards FinicityFintech Movers & Shakers Top Stories Interview General Best of Benzinga