Earn Passive Income With Alternative Investment Provider YieldStreet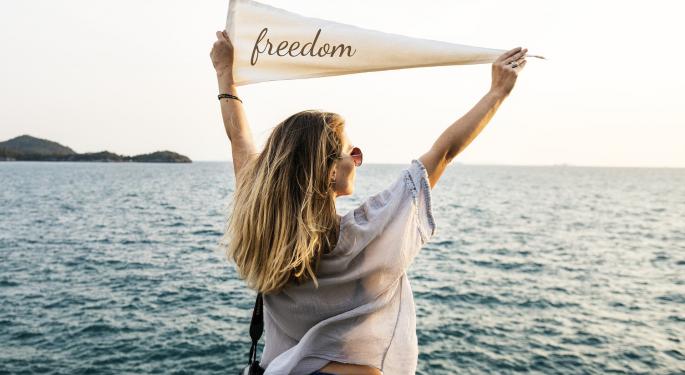 The Benzinga Global Fintech Awards are a yearly showcase of the greatest advents in fintech from leaders and visionaries in the worlds of finance and technology. This year, we have executives, developers and innovators from the likes of Facebook, Amazon, IBM, JP Morgan, Zelle, TD Ameritrade, TradeStation, Fidelity, and so many more.
The BZ Awards is an oscar-like event to showcase the companies with the most impressive technology, who are paving the future in financial services and capital markets. In preparation for its biggest installment yet this May, we're profiling the companies who have moved to the final round of judging for the BZ Awards. In this feature we focus in on YieldStreet.
What does your company do? What unique problem does it solve?
YieldStreet is changing the way wealth is created, providing access to asset-based investments historically unavailable to most investors. YieldStreet allows investors to participate in opportunities with low stock market correlation and target yields of 8-20%, across litigation finance, real estate, marine finance and other alternative asset classes. We believe our technology platform creates a unique experience for investors at every level and provides valuable diversification and strength to most portfolios. For individual investors, getting in on asset classes like commercial real estate or litigation finance has been difficult due to barriers like lack of capital.
Explosive user growth has led to over $330M invested by retail investors on YieldStreet since inception in 2015. Over 181K individual principal and interest payments made to investors, totaling over $129M. 93 offerings have launched to date, 17 fully matured. One of the most recent YieldStreet investment offerings sold out in under 3 seconds, setting a record raise of more than $890K invested per second on the platform.
Click here
to read our January press release.
Who are your customers?
Accredited investors
How long have you been in business?
Since 2015
Where are you located?
NYC
Who is your company's leadership? What kind of experience do they have?
Milind Mehere: Founder & CEO
Milind is responsible for overall strategy and day-to-day operations at YieldStreet. Prior to founding YieldStreet, Milind co-founded Yodle, which was acquired by
web.com
(Nasdaq:
WEB
) for $342M. He helped Yodle scale to $200M in revenue and 1,400+ employees. During his nine years at Yodle, Milind created and lead several departments, including General Manager of Canada where he built a 200+ person team, Vice President of Business Development & Channel Sales and Vice President of Client Management & Operations. Yodle was ranked 9th on Forbes's 2014 America's Most Promising Companies list and made the Inc. 500 list of America's Fastest-Growing Companies four times.
Previously, he held various leadership roles at OATSystems (Acquired by Checkpoint Systems) and i2 Technologies (Acquired by JDA Software). Milind is an active angel investor, mentor and advisor to several startups. He serves on the boards of Coldwell Banker India and Likeable Local.
Michael Weisz: Founder & President
Michael is responsible for YieldStreet's investment strategy, Originator network and investor acquisition. Michael has held a variety of positions across the specialty finance spectrum including leadership positions with Soli Capital and American Medical Concierge.
Previously, Michael was Vice President at a New York-based credit opportunities hedge fund with $1.2B under management. Michael and his team specialized in asset-based loan transactions between $5M and $25M with a niche in the legal finance markets. During his career, he has managed over $400M in transactions.
What is your founding story?
After Yodle was acquired, Milind soon realized that asset-based investments in asset classes like litigation and real estate were nearly impossible for an accredited investor like himself to access. These investments were dominated by institutions with high minimums and long holding periods that shut out everyday investors. Milind knew many other professionals like him were having the same problem, and he felt passionately that they shouldn't be excluded because they weren't multi-millionaires or huge corporations. He knew there had to be a solution.
Michael built successful careers in identifying and funding worthy borrowers in the fixed income space. As a traditional fund manager he had to turn away several smaller investors as they couldn't operationally support large volumes of investors. He grew frustrated by these antiquated operations and were determined to solve this problem.
Who are your investors, if any?
Greycroft Partners
The Rain Group
Saturn Partners
Expansion Capital Ventures
View Comments and Join the Discussion!
Posted-In: Alternative investments Benzinga Fintech Awards YieldStreetFintech