Optimize Finance Workflows With YayPay's Automated Accounts Receivables Solution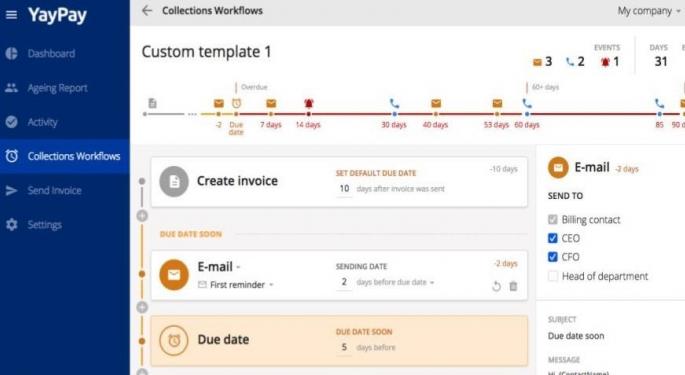 The Benzinga Global Fintech Awards are a yearly showcase of the greatest advents in fintech from leaders and visionaries in the worlds of finance and technology. This year, we have executives, developers and innovators from the likes of Facebook, Amazon, IBM, JP Morgan, Zelle, TD Ameritrade, TradeStation, Fidelity, and so many more.
The BZ Awards is an oscar-like event to showcase the companies with the most impressive technology, who are paving the future in financial services and capital markets. In preparation for its biggest installment yet this May, we're profiling the companies who have moved to the final round of judging for the BZ Awards. In this feature we focus in on YayPay.
What does your company do? What unique problem does it solve?
YayPay is an easy-to-use, cloud-based predictive accounts receivable automation solution that leverages machine learning and automatic payment communications to accelerate collections. This enables finance and AR teams to eliminate and streamline the manual effort associated with following up on late invoices and reporting on key AR KPI metrics. YayPay integrates with multiple accounting, ERP, billing, and CRM applications, for a complete look into the collections process, and helps organizations better predict cash flow and increase revenue. YayPay makes collecting money, fast, easy and highly predictable. If an integration does not exists, the YayPay REST API allows a business to seamlessly connect all business applications and CRM technologies and provide a unified collection automation experience for the customer. YayPay makes collecting money fast, easy, and highly predictable.
Who are your customers?
Our solution is intuitive enough for small business and robust enough for enterprises. The majority of our customers are Directors of Finance, AR Managers and Senior Managers of Credit and Collections who work primarily in these industries: Media/Publishers, AdTech, Retail/Wholesale/Distribution, Manufacturing, Consulting/Professional Services, IT Services, SaaS/Software, and Online Marketplaces
How long have you been in business?
Since 2015
Where are you located?
120 E 23rd St
New York, NY 10010
Who is your company's leadership? What kind of experience do they have?
YayPay is led by Anthony Venus, who co-founded YayPay in 2015 to fulfill the mission of making collecting money fast, easy, and highly predictable, and to strive toward a vision of autonomous commerce.
Anthony is a multi-time entrepreneur and has lived and worked on five continents. He was co-founder and CEO of Meridian Equity Partners, a licensed financial and lending firm; Strategic Intelligence, an online publishing firm; and Marketshare, a data collection and market-research company acquired by Harris Interactive (AC Nielsen) where he also served on the global management team. Anthony's career began at The Economist Group.
Who are your investors, if any?
QED Investors, Birchmere, Fifth Third Capital, 500 Fintech Fund, Aspect Ventures, Gaingels, Techstars and Zelkova Ventures.
Is there anything else Benzinga should know about your company?
Yaypay offers unparalleled visibility in AR processes for finance teams. The YayPay dashboard offers an easy-to-understand view of outstanding invoices and deep insights into overall AR health and payor trends. Any data on the state of AR is available, anytime a company needs it, with the following features:
DSO in real time
Evident aging
Cash prediction
Payors trends
Invoices performance in real time
AR team efficiency
Automated collection activity
Photo courtesy of YayPay.
View Comments and Join the Discussion!
Posted-In: artificial intelligence Benzinga Global Fintech Awards machine learning YayPayFintech