The Future Of RegTech Lies In The Hands Of These Benzinga Global Fintech Award Finalists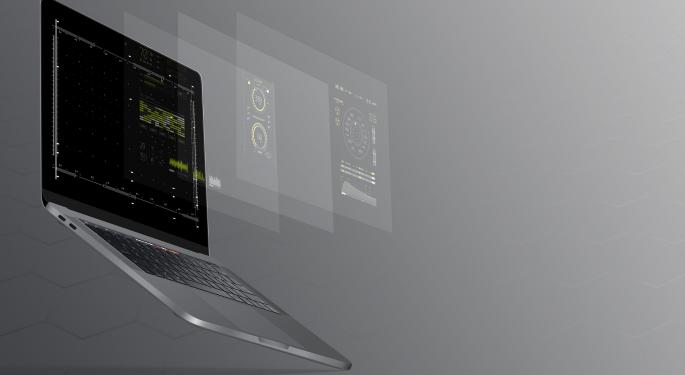 The Benzinga Global Fintech Awards are a yearly showcase of the greatest advances in fintech from leaders and visionaries in the worlds of finance and technology. This year, we have executives, developers and innovators from the likes of Facebook, Amazon, IBM, JP Morgan, Zelle, TD Ameritrade, TradeStation, Fidelity and so many more attending the Oscars of Fintech.
The BZ Awards are half party, half business development bonanza—they're a rare chance to meet and network with everyone in finance from CNBC's Josh Brown to the head of financial services at Facebook to the heads of trading at every major brokerage.
To offer more clarity on who is competing for the prize of most innovative in each category, Benzinga is breaking out the finalists in each category and offering more information about what they do.
The finalists for the Best RegTech Solution category are:
8OF9
CEO: Mary Kopczynski
Description: 8of9 is a next-gen regtech company that translates complex financial regulation into simple solutions.
iComply Investor Services Inc.
CEO: Matthew Unger
Description: iComplyICO is a regtech platform that automates legal processes in order to legitimize ICO securities.
Thisisme
CEO: Mark Chirnside
Description: Thisisme aims to be the world's most trusted, most used, advanced self-sovereign identity platform, that prioritizes privacy protection through proprietary distribution technology.
ComplySci
CEO: Jean-Marc Levy
Description: ComplySci is an award-winning provider of innovative compliance and risk management technology solutions to proactively identify people risks and manage complex regulatory and compliance challenges.
BigID
CEO: Dimitri Sirota
Description: BigID transforms how enterprises protect and manage the privacy of personal data. Organizations are facing record breaches of personally identifiable information (PII), and proliferating global privacy regulations like GDPR mean enterprises could face fines reaching 4 percent of annual revenue.
Vena Solutions
CEO: Don Mal
Description: Vena provides powerful but intuitive cloud software for financial services firms to prepare CCAR, DFAST, SEC and other regulatory reports they trust ahead of schedule. With Excel as its end-user interface, Vena is the easiest way to make regulatory reporting faster, more controlled and efficient, with guaranteed data accuracy and integrity.
PerformLine
CEO: Alex Baydin
Description: PerformLine is the leading regtech company delivering automated compliance solutions for enterprises looking to mitigate regulatory risk and ensure brand safety. PerformLine provides its clients with significant time and costs savings by automating compliance activities across channels and departments.
Trunomi
CEO: Stuart Lacey
Description: Trunomi unlocks the power of customer data using consent and data rights. It provides customer consent and data rights management technology which enables businesses to request, receive and capture customer consent to the use of their personal data.
Qumram
CEO: Patrick Barnert
Description: Qumram specializes in compliant recording and replay of all digital interactions.
Trulioo
CEO: Stephen Ufford
Description: Trulioo is the leading global identity verification provider, combining next-generation technologies to provide a framework of trust and safety online for over 500 clients worldwide. Through a single API, Trulioo powers compliance and fraud prevention systems with instant access to reliable data and AI technology from traditional and alternative sources to verify over 4.5 billion people and 250 million businesses in over 80 countries.
Thesys Technologies
CEO: Mike Beller
Description: Thesys Technologies' mission is to improve markets through technology. It vision of Market Structure Technology focuses on solving regulatory tech problems and fragmentation with advanced technology solutions combined with its deep expertise in capital markets.
Sum&Substance
CEO: Andrey Severyuhin
Description: Sum&Substance is an independent developer of solutions for remote identification and verification of customers, partners and employees.
SmartRIA Ventures, Inc.
CEO: Mac Bartine
Description: SmartRIA Ventures is a regtech SaaS startup simplifying compliance for investment advisors.
ClauseMatch
CEO: Evgeny Likhoded
Description: ClauseMatch is fintech company that provides SaaS platform for smart document management to banks and enterprise
Onfido
CEO: Husayn Kassai
Description: Onfido builds trust in an online world by helping businesses digitally verify people's identities. Using machine learning technology, Onfido validates a user's identity document and compares it with their facial biometrics.
AQ Metrics
CEO: Geraldine Gibson
Description: AQMetrics provides automated risk monitoring and regulatory reporting in a single cloud based platform. Simply put, risk insights and compliance automation.
Checkbox
CEO: Evan Wong
Description: Checkbox is a platform that enables the digital transformation of regulation and compliance processes into business applications in the cloud. Subject-matter experts use our drag and drop interface to build digital solutions without writing a single line of code.
Neuroprofiler
CEO: Tiphaine Saltini
Description: Neuroprofiler helps financial institutions better assess the risk profile of their retails clients for regulatory and business purpose. Its online investment games also offer a user-friendly experience for retail clients.
Jumio
CEO: Stephen Stuut
Description Jumio is the leader in AI-powered trusted identity as a service, completing more than 300,000 ID verifications daily. Whether in front of a webcam or a smartphone, Jumio can quickly verify the authenticity of an ID, a document, or your user's real-world identity in seconds, not hours or days, helping customers optimize conversions, deter fraud, and meet compliance mandates (Anti-Money Laundering/Know Your Customer) while providing a fast, seamless customer experience.
View Comments and Join the Discussion!
Posted-In: Benzinga Global Fintech AwardsFintech Best of Benzinga