These Benzinga Global Fintech Awards Finalists Are Revolutionizing AI And Machine Learning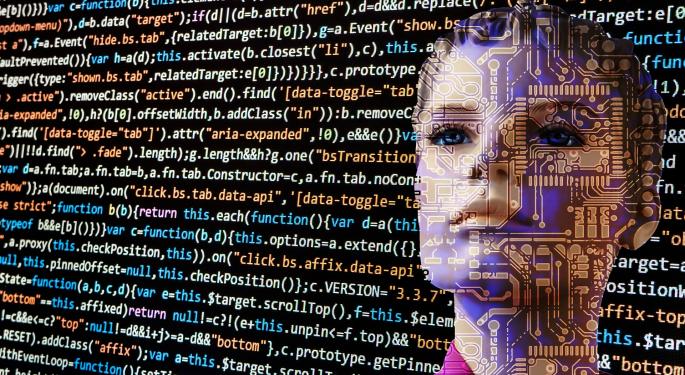 The Benzinga Global Fintech Awards are a yearly showcase of the greatest advances in fintech from leaders and visionaries in the worlds of finance and technology. This year, executives, developers and innovators from the likes of Facebook, Amazon, IBM, JPMorgan, TD Ameritrade, TradeStation, Fidelity, Zelle and so many more attending the Oscars of Fintech.
The BZ Awards, which take place May 15 and 16 in New York City, are half party, half business development bonanza—they're a rare chance to meet and network with everyone in finance from CNBC's Josh Brown to the head of financial services at Facebook to the heads of trading at every major brokerage.
To offer more clarity on who's competing for the prize of most innovative in each category, Benzinga is breaking out the finalists in each category and offering more information about what they do.
The finalists for the Best Use of AI or Machine Learning category are:
AppZen
CEO: Anant Kale
Description: AppZen provides an AI-powered SaaS solution for automating enterprise back office processes.
JD Finance
CEO: Richard Liu
Description: JD Finance began operating as an independent company in October 2013. JD Finance has 10 business arms covering corporate and consumer finance: supply chain finance, consumer finance, wealth management, payment, crowd-funding, insurance, securities, rural finance, financial technology and international business.
BondIT
CEO: Matthew Helderman
Description: BondIT is a data-driven algo-advisory solution that increases bond sales and enhances client interactions for fixed income investment managers and advisers. Its technology empowers wealth managers and advisers to implement fixed income strategies by enabling the construction and rebalancing of bond portfolios in seconds.
SmartBiz Loans
CEO: Evan Singer
Description: SmartBiz Loans is the No. 1 online marketplace for SBA loans helping small businesses across America apply for fast, low cost SBA loans through the company's bank partners.
Clutch.AI
CEO: Subir Mansukhani
Description: Clutch.AI was born in late 2016, as an idea at Khosla Labs. Novopay, a fintech that grew out of Vinod Khosla's startup incubator, is a digital wallet and Core Banking Solutions provider, with 50,000+ authorized outlets, $1 billion in GTV, and 20 million+ transactions per year.
Neotic
CEO: Samir El Zein
Description: Neotic offers AI solutions for automated trading. Traders can customize the use of AI for their traders, without writing any single line of code.
Clerk.ai
Description: Clerk.ai is the freelancer's personal paperwork assistant. The company matches inbox receipts with bank statements in seconds at scale.
CityFALCON
CEO: Ruzbeh Bacha
Description: CityFALCON provides personalised financial news. Their proprietary technology creates a different news feed for every person. Imagine a financial news feed just like your feed on Facebook, Linkedin and Twitter. Imagine the Spotify experience for financial news.
Bkper
CEO: Jacob van den Berg
Description: Bkper is the simplest way to work with finances and accounting on Google.
Endor Software
CEO: Yaniv Altshuler
Description: Endor Software provides automated accurate predictions, fast, with no data science expertise required. Reinventing predictive analytics with proprietary Social Physics technology and massive machine power, Endor makes accurate predictions scalable and accessible to all.
Quantxt Inc.
CEO: Matin Kalami
Description: Quantxt provides AI-assisted content analysis and curation to help industry research.
VantagePoint Software
CEO: Larry Thompson
Description: VantagePoint forecasts stocks, futures, forex, and ETFs with a remarkable proven accuracy of up to 86 percent using AI.
Trade Ideas
CEO: Dan Mirkin
Description: Trade Ideas' innovation energy is focused on delivering better strategies to its subscribers. Trade Ideas' AI develops tested strategies designed to yield actionable market intelligence for institutions, advisors and self-directed investors.
Social Market Analytics
CEO: Joe Gits
Description: Social Market Analytics aggregates the intentions of professional investors as expressed on Twitter and StockTwits and create quantifiable statistically significant signals for traders.
View Comments and Join the Discussion!
Posted-In: artificial intelligence Benzinga Global Fintech AwardsFintech Best of Benzinga