HoneyFi's Harmonious Solution For Shared Finances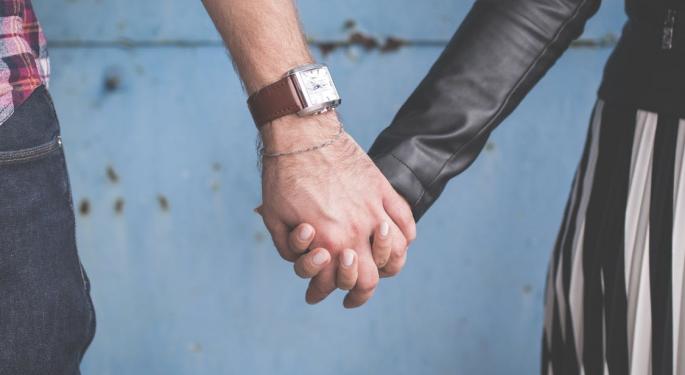 The Benzinga Global Fintech Awards are a yearly showcase of the best and brightest in fintech. In preparation for its biggest installment yet in May 2018, we're profiling the companies competing for the BZ Awards.
Our next feature is on HoneyFi.
What does your company do? What unique problem does it solve?
Sam Schultz, co-founder: Honeyfi is an app that helps couples manage money together. We help couples budget, keep track of recurring bills and expenses, and collaborate with each other about finances. We've built the app to support the unique ways that people manage their money, whether that's merging all accounts, a few, or none. In fact, over 60 percent of Millennial couples don't fully merge their finances, which makes managing household finances more complicated than ever. We launched from Beta in August 2017, and recently we were featured in Apple's "App We Love" and covered in Entrepreneur, HuffPost, MSN, and US News & World Report.
Honeyfi is unique because it's built for two people, not one. So, for example, we allow users to decide how much to share with their partner for each account (balances and/or transactions). For a lot of Millennial couples, that's crucial — as I mentioned, over 60 percent don't completely combine finances because they want to keep some independence. Honeyfi is also more social than other personal finance apps, since you can do stuff like comment on and react to transactions.
We spark a lot of communication in real life as well, which helps couples save more money and make better decisions. For example, just last week, a user told us that when she was looking at her and her partner's transactions on Honeyfi, she noticed that her partner had accidentally paid a big bill twice. Without Honeyfi, she said the charge probably would've slipped through the cracks. We hear similar stories all the time.
Who are your customers?
Schultz: Our customers are typically couples who are engaged or married, between 27-34 years old. Many have separate checking, savings, or credit cards, and want a simple way to see everything in one place. They are also often going through a big life event — like planning a wedding, having a baby, or buying a home — and are looking for help.
How long have you been in business?
Schultz: We've been in business for about a year and a half. But we officially launched from Beta in August of 2017 in both the App Store and the Google Play Store.
Where are you located?
Schultz: Charlotte, NC.
Who is your company's leadership? What kind of experience do they have?
Schultz: The Honeyfi team brings a unique combination of startup experience – building Moven, an award-winning, series B funded FinTech startup – and financial services expertise – working for and advising the top U.S. banks, including JPMorgan Chase, Bank of America, and Wells Fargo. Collectively, the team has 30 years of experience across strategy, product innovation, technology, legal, and compliance.
Ramy Serageldin, Co-Founder and CEO (https://www.linkedin.com/in/theramy/)

Former COO at Moven, a FinTech company in NYC that has raised over $24 million in funding

Joe Stanish, Co-Founder and COO (https://www.linkedin.com/in/joe-stanish-1817637/)

Former director of US consumer at Moven and digital strategy/product development at JPMorgan Chase

Sam Schultz, Co-Founder and CAO (https://www.linkedin.com/in/samuel-schultz-146793a/)
Financial services and IP attorney, previously with O'Melveny & Myers in Silicon Valley
Who are your investors, if any?
Schultz: Family and friends.
Is there anything else Benzinga should know about your company?
Schultz: Honeyfi was borne out of the three founders' personal struggles. When Ramy and his wife found out they were having a third child, the news sparked a conversation about money. They were living in NYC and starting to feel financial pressure. The conversation didn't go well. They quickly realized they didn't have a financial plan and weren't aligned on money. Ramy even found himself sleeping on the sofa for a few nights.
Ramy and his wife struggled with the core challenge of managing money as a couple: getting on the same page. We built Honeyfi to help. Via our automated budgeting and bill tracking, couples have a simpler script to follow. With our communication tools (commenting, chat), users have an in-context and delineated space to discuss finances.
User feedback has been great so far. When one of our users said we had "helped save her marriage", we knew we were onto something. While managing money together will never be easy, we try to simplify and automate as much as we can.
To check out companies like HoneyFi for yourself, grab a ticket to the Benzinga Global Fintech Awards May 15-16 in New York.
Posted-In: Benzinga Global Fintech AwardsFintech Interview Best of Benzinga
View Comments and Join the Discussion!