HomeZada Aims To Tailor Your Home Improvement Budget For More Power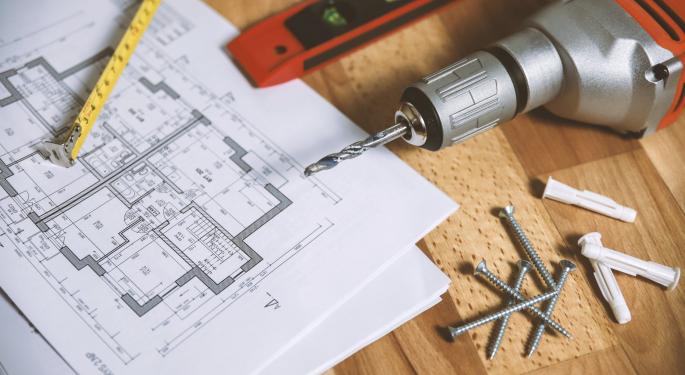 The Benzinga Global Fintech Awards are a yearly showcase of the best and brightest in fintech. In preparation for its biggest installment yet in May 2018, we're profiling the companies competing for the BZ Awards.
Our next feature is on HomeZada.
What does your company do?
John Bodrozic, Co-Founder of HomeZada: HomeZada is an all-in-one digital home management platform that empowers homeowners to make smarter financial decisions about their home. It combines multiple apps, content, and data to help homeowners manage a home inventory for insurance purposes, stay on top of home maintenance schedules, manage budgets, and costs of all your remodel projects, and consolidate all the home finance information such as equity, value, mortgage, and home related expenses. It is like a personal finance platform dedicated to everything about the home with a single login via any mobile, tablet, or desktop device. HomeZada also has an advertising platform for strategic partners and advertisers who want to get recommended style messages directly to homeowners when they need a product or service for their home.
What unique problem does it solve?
Bodrozic: For most consumers, the home is their largest financial asset and biggest expense. Yet every homeowner realizes that a home can quickly become a money pit and they are overwhelmed managing all the details. Homeowners get surprised with unexpected repair costs, they realize they are under-insured, their remodel projects are over budget, and they lose track of important financial details like how much is their current home equity worth, the mortgage balance, the estimated current market value, and the total cost of ownership of the home.
Who are your customers?
Bodrozic: HomeZada has tens of thousands of homeowner customers located in all 50 states and 20 international countries. It is used by all four homeowner generations including millennials in their first home, gen x on their 2nd or 3rd home, baby boomers who might own multiple homes for vacation or rental purposes, and even seniors who are comfortable using technology. The majority of the types of homes are single family suburban homes, but it is also used for urban condos or even multi-million dollar estates. We also have customers who are insurance, mortgage, and real estate companies providing a premium branded version of HomeZada to their homeowner customers to differentiate themselves, and to build an ongoing digital relationship with their clients to increase renewal, referral, and cross selling opportunities.
How long have you been in business?
Bodrozic: We started developing the concept in 2011 and launched our first app in 2012. We have been focused on listening to our customers and continually enhancing the platform to what we have today, which is a single platform to manage all the financial aspects of the home.
Where are you located?
Bodrozic: We are located in El Dorado Hills, CA, which is a suburb 30 miles east of Sacramento, CA.
Who is your company's leadership? What kind of experience do they have?
Bodrozic: There are three co-founders of HomeZada, which include Elizabeth Dodson, David Ing, and myself. We each have deep previous software experience and worked together at a company that I co-founded called Meridian Systems. Meridian Systems developed the market leading commercial construction project management software and successfully raised both venture and corporate venture capital. The company operated globally with over 250 employees and had a successful sale to a public company called Trimble Inc (NASDAQ: TRMB) in 2006.
Who are your investors, if any?
Bodrozic: The company previously raised a $2.3M seed round with the primary investors being the founders along with angel investors and Moneta Ventures.
Is there anything else Benzinga should know about your company?
Bodrozic: HomeZada has proven itself by assembling an experienced team, developing a unique and valuable consumer platform, and establishing market validation with both consumers and strategic partners. We are looking into the scaling the business two ways, which includes more strategic partnerships with mortgage, insurance, and real estate companies. HomeZada is also looking to raise our next Series A round to accelerate our exciting global opportunity.
To check out companies like HomeZada for yourself, grab a ticket to the Benzinga Global Fintech Awards May 15-16 in New York.
View Comments and Join the Discussion!
Posted-In: Benzinga Global Fintech AwardsFintech Interview