How Envestnet Became The Dominant Provider In An $18 Trillion Market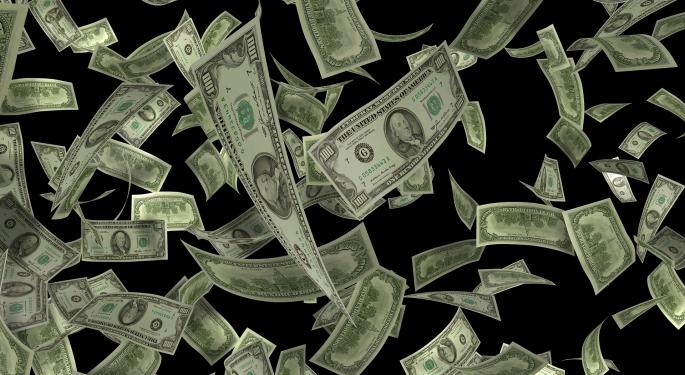 The Benzinga Global Fintech Awards are a yearly showcase of the best and brightest in fintech. In preparation for its biggest installment yet in May 2018, we're profiling the companies competing for the BZ Awards.
Our next feature is on Envestnet.
What does your company do? What unique problem does it solve?
Karen Lanzetta, director of market research, Envestnet Inc (NYSE: ENV): Financial Wellness Network that connects enterprises, advisors, service providers and clients, and enables better financial outcomes through better intelligence.
Market-leading wealth management platform in large and growing $18 trillion advisor marketplace;
Delivering the next-generation data and advice-centric platform, leveraging Yodlee's leading data aggregation and analytics capabilities; and
Integrated technology for all mission-critical advisor applications, including secure, seamless connectivity to third parties.
Envestnet has been a leader in helping transform wealth management, working towards its goal of building a holistic financial wellness network that supports enterprises, advisors and their clients. Through a combination of platform enhancements, partnerships and acquisitions, Envestnet uniquely provides a financial network connecting software, services and data, delivering better intelligence and enabling its customers to drive better outcomes.
Segments
Envestnet is organized around two primary, complementary business segments:
Envestnet – a leading provider of unified wealth management software and services to empower financial advisors and institutions.
Envestnet | Yodlee – a leading data aggregation and data intelligence platform powering dynamic, cloud-based innovation for digital financial services.
Envestnet Segment
The firm provides advisors with practice management support so that they can grow their practices and operate more efficiently. At the end of 2017, Envestnet's platform assets grew to approximately $1.4 trillion in nearly 7 million accounts overseen by nearly 60,000 advisors.
Services provided to advisors include financial planning, risk assessment and selection of investment strategies and solutions, asset allocation models, portfolio construction, proposal generation and paperwork preparation, model management and account rebalancing, account monitoring, customized fee billing, overlay services covering asset allocation, tax management and socially responsible investing, plus data analytics. Envestnet has access to a wide range of leading third‑party asset custodians.
Who are your customers?
More than 59,000 advisors and 2,900 companies including: 16 of the 20 largest U.S. banks, 39 of the 50 largest wealth management and brokerage firms, over 500 of the largest Registered Investment Advisers, and hundreds of Internet services companies, leverage Envestnet technology and services.
How long have you been in business?
Founded in 1999.
Where are you located?
Chicago (headquarters), Bangalore, India, Boston, Brisbane, Australia, Dallas, Denver, Landis (NC), London, New York, Philadelphia, Raleigh, Redwood Shores (CA), Seattle, San Jose (CA), Toronto, Tucson, and Trivandrum, India.
Who is your company's leadership? What kind of experience do they have?
Jud Bergman is the chairman and CEO of Envestnet. He founded the firm in 1999 and has served as Chief Executive since, focusing on guiding the company's strategy and overseeing its organizational and business development. Prior to Envestnet, Jud was the Managing Director for Mutual Funds at Nuveen Investments, where he was responsible for the profitable growth of the Firm's mutual fund business and also served on the Firm's Investment Management Committee. Jud received his BA in English from Wheaton College and his MBA from Columbia University, with a concentration in finance and accounting.
Bill Crager is the President of Envestnet which he co-founded in 1999. Crager has led Envestnet's platform, product and marketing strategy as well as the company's relationship engagements. Before joining Envestnet, Crager served as a Managing Director at Rittenhouse Financial Services. There, he developed a widely recognized initiative that integrated value-added investor communications with a technology-driven client service platform. Crager is a graduate of Fairfield University where he dual majored in Economics and English; he currently serves on Fairfield University's Board of Trustees.
Anil Arora is the Chief Executive of Envestnet | Yodlee and Vice Chairman of the Envestnet Board. Prior to the merger with Envestnet, Anil had been President and CEO of Yodlee since 2000. Under his leadership, Yodlee has been a disruptive catalyst for creativity and ingenuity in the financial industry by collaborating with leading financial institutions, entrepreneurs, and fintech developers to build and distribute data-driven financial apps used by millions of consumers and small businesses all over the world. Today, Anil is helping Envestnet | Yodlee lead the charge for better outcomes for both customers and advisors through innovative financial data and technology solutions. He holds a master of business administration from University of Michigan and a bachelor of science from Rockford College.
Who are your investors, if any?
ENV is a public company. Institutional investors own 93 percent of ENV's shares. Directors and management own 3 percent. Employees and other retail fill out the remaining 4 percent.
To check out companies like Envestnet for yourself, grab a ticket to the Benzinga Global Fintech Awards May 15-16 in New York.
View Comments and Join the Discussion!
Posted-In: Benzinga Global Fintech Awards Envestnet Karen LanzettaFintech Best of Benzinga