Benzinga To Honor The Most Successful Women In Finance At Women's Wealth Forum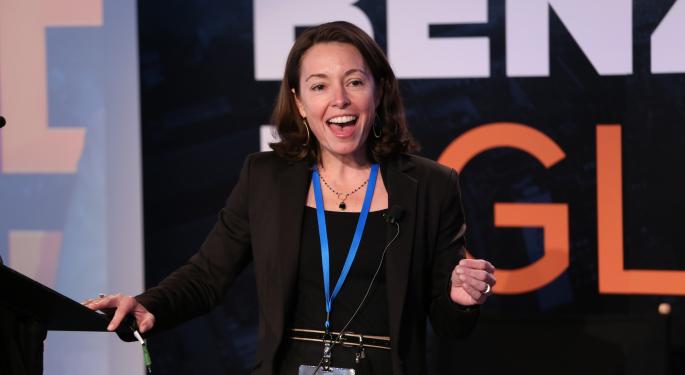 Benzinga, the leading financial media company behind some of the most compelling events in financial services, announced today that it would honor some of the most successful women in finance and fintech at the Benzinga Women's Wealth Forum in Boston March 21 for their trailblazing work in the industry.
While the financial services industry has plenty of work to do in terms of representation of women—for example, 86% of financial advisors are men—Benzinga feels that it's important to highlight the successes of the women that are making an impact in the industry today.
Benzinga will be honoring the following women for their achievements in different aspects of finance:
Unsung Marketing Heroes:

Dale Sperling, Chief Marketing Officer, Stash

Denise Karkos, Chief Marketing Officer, TD Ameritrade (NASDAQ: AMTD)

Jodi Fronczke, VP of Marketing, Tradestation
Founders Of The Year:

Christina Qi, Co-Founder and Partner, Domeyard

Ramya Joseph, Founder, Pefin
CIO Of The Year:

Linglong He, Chief Information Officer, Quicken Loans
Helping Hand Award:

Jean Donnelly, Executive Director, Fintech Sandbox
Institutional Influencers

Kelli Keough, Global Head Of Digital Wealth Management, J.P. Morgan Chase & Co (NYSE: JPM)

Catherine Clay, Global Head Of Information Solutions, CBOE
Leaders from across the financial services industry will be sharing insights at the Women's Wealth Forum on topics ranging from the impact female founders are having on finance to the ways women can use the latest technology to financially empower themselves and learn about investing.
Confirmed speakers for the event include:
- Vicki Zhou, CEO, Wisebanyan

- Dale Epstein, CMO, Stash Invest

- Kelli Keough, global head of digital wealth management, J.P. Morgan

- Ramya Joseph, founder, Pefin

- Sandy Chaikin , co-founder, Chaikin Analytics

- Nora Apsel, founder, Morty

- Christina Qi, CEO, Domeyard

- Apeksha Garga, head of design, Wealthfront
About Benzinga Events

Benzinga Events is a premier event agency bringing the top minds in finance and technology together. Benzinga Events feature leaders and innovators from every sector of the finance industry sharing insights and making deals, and offer unique opportunities to connect with these leaders in an energetic and intimate setting. To learn more, check out Benzinga's slate of 2018 events.
About Benzinga

Benzinga is a leading financial media company dedicated to making information easier to consume. Benzinga's news desk is constantly breaking stories and moving billions of dollars of market capitalization through its real-time news tool, Benzinga Pro. Benzinga's original content is syndicated to 70 partner websites, such as Yahoo! Finance, MSN (NASDAQ: MSFT), CNNMoney, Fox Business, Marketwatch, and more.
Benzinga is the leading provider of news to the North American brokerage community. The company is headquartered in downtown Detroit and dedicated to driving Detroit's renaissance. For more information, check out Benzinga.com, Cloud.Benzinga.com, Pro.Benzinga.com and Benzinga Events.
Posted-In: Benzinga Women's Wealth Forum cboe J.P.Morgan Chase & Co Quicken Loans Stash TD Ameritrade TradeStationFintech
View Comments and Join the Discussion!