How TD Ameritrade's Twitter Chatbot Works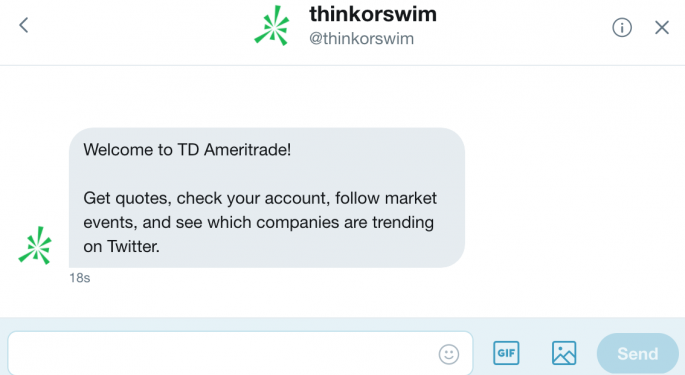 TD Ameritrade (NASDAQ: AMTD) launched its new Twitter (NYSE: TWTR) chatbot last week, allowing clients to check their account and trade directly from Twitter, and with the sudden return of volatility to the market the timing couldn't really have been better.
This represents the brokerage's latest partnership with a major tech company—their Facebook chatbot went live in August and they've also partnered with Amazon Echo. It's part of the company's broader strategy of breaking down barriers to the capital markets.
"I think the overall goal with all these interfaces is very consistent; it's tapping into these new technologies and also using these new interfaces to go where the consumers are," TD Ameritrade Head of Digital Strategy and Innovation Sunayna Tuteja told Benzinga. "Our thesis is if we can start to break down the barriers around investing and takeaway the jargon, we want to be able to engage more Americans with the capital markets."
What The Twitter Chatbot Can Do
The chatbot allows all Twitter users, regardless of whether they have an account with TDA, to:
Get quotes on major market indices and any US-listed stock or ETF;
Read recent news articles;
See which stocks are trending on Twitter, courtesy of Likefolio;
Read educational resources and frequently asked questions;
Contact an agent, both via chat and by phone;
Find a local branch; and
Watch the TD Ameritrade Network
How It Works
To use the chatbot, send the @TDAmeritrade or @thinkorswim accounts a direct message (you don't even have to follow them).
This is what the quote lookup looks like.
The bot will also suggest further resources based on your message. For example, here's what happened when I asked it what the VIX was.
At the moment, the chatbot only supports trading of U.S.-listed stocks and ETFs, but Tuteja did say they want to explore options and futures trading (which includes bitcoin) down the road.
Busy Year
It's been a busy 2018 for TD Ameritrade. The company announced on its quarterly earnings call a 72 percent increase in new accounts among millennials, which it attributed to interest in cryptocurrencies and cannabis. TDA also recently gave clients the ability to trade 12 broad-based ETFs on a 24-hour basis.
"The cool thing about Twitter is there's already a very engaged community of investor on Twitter," Tuteja said. "People are already on Twitter, they're already consuming this news. So it made a lot of sense to bring that experience to the next level."
Related Articles:
What You Need To Know About TD Ameritrade's 24-Hour Trading
TD Ameritrade's New Facebook Chat Bot Sprung From A Hackathon
Posted-In: TD AmeritradeFintech Markets Tech Personal Finance Best of Benzinga
View Comments and Join the Discussion!