RealtyShares Digitally Links Capital And Real Estate Investments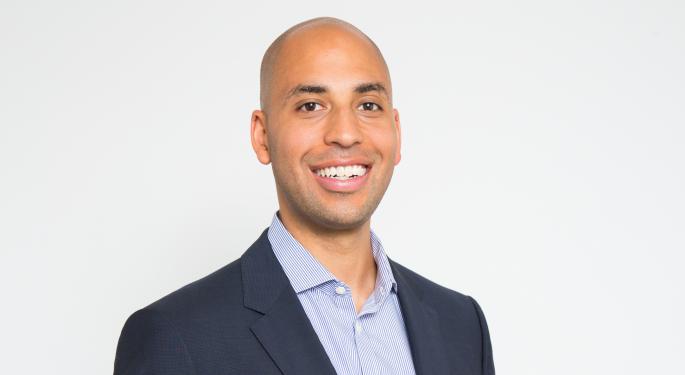 The Benzinga Global Fintech Awards are a yearly showcase of the best and brightest in fintech. In preparation for its biggest installment yet in May 2018, we're profiling the companies competing for the BZ Awards.
Our next feature is on RealtyShares.
What does your company do? What unique problem does it solve?
Javier Benson, SVP of Innovation: RealtyShares is a leading middle market real estate investment platform that uses technology to more efficiently source and underwrite real estate transactions within the $250 billion per annum middle market segment. RealtyShares provides an online capital-opportunity link between its network of individual and institutional investors and pre-vetted real estate operators.
Unlike other real estate investing platforms, RealtyShares is a comprehensive investment platform allowing investors to diversify across investment type (i.e. debt or equity), geographies, operators, strategies and asset types. The platform offers investment opportunities across office, hospitality, medical office, self-storage, multi-family, retail and industrial, and the company's dedication to strict underwriting standards have led to a sub-5 percent acceptance rate, meaning only the best deals are presented to investors.
Who are your customers?
Our 120,000 registered users are as diverse as our investments. We have raised capital from accredited investors in all 50 states, and these clients range from doctors to lawyers, finance professionals to entrepreneurs, funding more than 1,000 projects across the country. We have also developed relationships with institutional partners and industry heavyweights like CBRE, so when developers come to us with capital needs, we have multiple ways to quickly fund opportunities if they meet our standards.
How long have you been in business?
RealtyShares was founded in 2013 by Nav Athwal, a former land use attorney and real estate investor who realized that securing capital for middle market commercial projects from traditional lenders was inefficient and costly. Since then, we have steadily grown into a marketplace investing leader within real estate. In 2017, we surpassed $700 million deployed, doubling our origination volume over the prior year, and we expect to continue that upward trend with the introduction of new technology enhancements and institutional partnerships in 2018.
Where are you located?
We are headquartered in San Francisco's financial district.
Who is your company's leadership? What kind of experience do they have?
RealtyShares is led by CEO, Ed Forst, who joined the team in 2017. As the former CEO of Cushman and Wakefield, one of the largest commercial real estate companies in the world, he oversaw 16,000 real estate professionals in 60 countries. Along with leasing office space and managing building operations, the firm appraised more than $1 trillion in commercial opportunities annually.
RealtyShares is also led by Chief Risk Officer, Arash Sotoodehnia, former Head of Risk for CitiMortgage, and Chief Technology Officer, Gene Linetsky, a seasoned technology leader and experienced startup innovator that helped grow companies like Versal, Inadco, Check Point and The Learning Company.
Who are your investors, if any?
RealtyShares has raised $60 million in venture-back financing from premier investors including 500 Startups, Union Square Ventures, General Catalyst, Cross Creek Advisors and Menlo Ventures.
Is there anything else Benzinga should know about your company?
Technology is increasing access to and efficiency within real estate investing and RealtyShares is at the forefront of this wave of innovation. We are streamlining the capital formation process between real estate operators and investors by developing a comprehensive suite of tools that include dashboards, machine learning and predictive modeling, which augment the human element of real estate sourcing, underwriting and investing. By providing more efficiency and transparency to this asset class, we believe that we can provide higher-quality investments with more diversification to more investors.
Photo courtesy RealtyShares
View Comments and Join the Discussion!
Posted-In: Benzinga Global Fintech Awards Javier Benson RealtySharesFintech Real Estate Best of Benzinga