RBC Advisor Services Packages Fintech Functionality With Clearing And Custody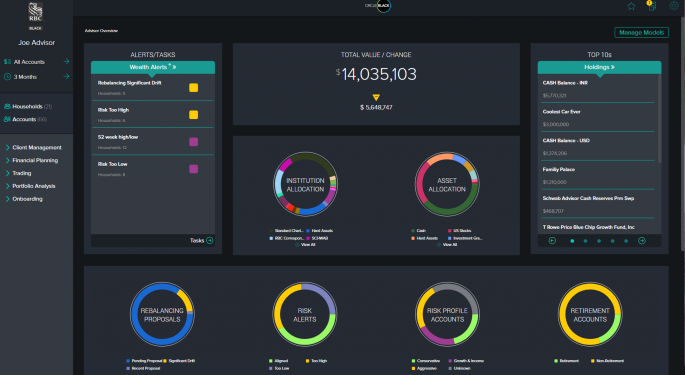 The Benzinga Global Fintech Awards are a yearly showcase of the best and brightest in fintech. In preparation for its biggest installment yet in May 2018, we're profiling the companies competing for the BZ Awards.
Our next feature is on RBC Correspondent And Advisor Services.
What does your company do? What unique problem does it solve?
Noel Stave, Chief Operating Officer, Royal Bank Of Canada (NYSE: RY) Correspondent and Advisor Services: RBC Correspondent and Advisor Services provides clearing & custody services to independent broker-dealers and Registered Investment Advisors (RIAs). We specialize in delivering personalized, high-touch service to help broker-dealers and RIAs meet their business objectives by offering wealth management resources, world-class products, technology and an array of tools to help their businesses and clients thrive and prosper.
The RBC BLACK platform is a revolutionary independent advisor technology platform that provides a host of integrated wealth management solutions from world-class fintech companies and is exclusive to clients of RBC Correspondent and Advisor Services. RBC BLACK combines the capabilities of multiple industry leading technology companies on one platform, with one log-in, a seamless experience, for a single, compelling price.
CircleBlack – Account Aggregation, Reporting and Client Engagement
Redtail – Customer Relationship Management
Riskalyze – Risk Alignment & Measurement
MoneyGuidePro – Financial Planning
Vestmark – Trading and Rebalancing
Who are your customers?
Our clients are independent broker-dealers, and their financial advisors, and Registered Investment Advisors.
How long have you been in business?
We have been a leader in the U.S. brokerage industry since 1909 and a custody and clearing leader since 1979. RBC Correspondent Services is the 3rd largest clearing services provider in the US, by number of clients. The RBC BLACK platform officially launched in May 2017.
Where are you located?
RBC Correspondent and Advisor Services is headquartered in Minneapolis, Minnesota.
Who is your company's leadership? What kind of experience do they have?
Please visit our
public site
for specific information on the RBC Correspondent and Advisor Services Executive Leadership Team.
Is there anything else Benzinga should know about your company?
We've created two videos that showcase BLACK's capabilities.
This one
is a bit longer and has more of a demo feel, whereas
this one
is shorter and more high-level.
The RBC BLACK platform has received a wave of positive social media and press coverage for its price, integration, and innovative nature, including the following commentary from independent advisor technology expert, Joel Bruckenstein: "It is impossible to give a full account of all the features and functions of the platform here, but suffice it to say that this is an impressive offering. The price for the RBC Black platform is $175. That includes all the underlying applications and features. It seems a reasonable price to pay for such a well-built system" –
Joel Bruckenstein
"We believe that the RBC technology model will become increasingly popular in the broker/dealer and custody world." –
Joel Bruckenstein
Posted-In: Benzinga Global Fintech Awards Noel Stave RBCFintech Best of Benzinga
View Comments and Join the Discussion!