Swaper Offers One-Click Portfolio Investing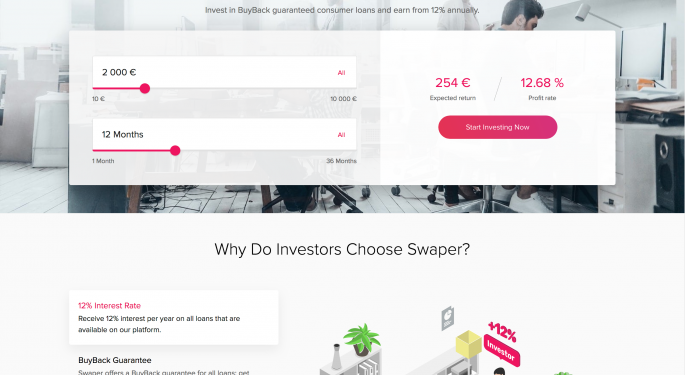 The Benzinga Global Fintech Awards are a yearly showcase of the best and brightest in fintech. In preparation for its biggest installment yet in May 2018, we're profiling the companies competing for the BZ Awards.
Our next feature is on Swaper.
What does your company do? What unique problem does it solve?
Swaper CEO Peteris Kisis: Swaper is a loan marketplace offering an easy investing in pre-funded consumer loans originated by its parent company Wandoo Finance Group in Poland, Georgia, Spain, Denmark and Russia. All investments offered on our marketplace start from 12 percent annual interest and are BuyBack guaranteed, meaning Swaper will compensate investors both for the invested principal and accrued interest in case the borrower is late with payments.
Swaper has simplified investing. We offer to invest in a prepared portfolio just with one click, that will bring investor the maximum interest income on the basis of chosen investment amount and period. Investment is diversified among different loans, countries and amounts, and the reinvestment option allows money to be continuously invested. Our Mobile Application (both android and iOS) offers investors to manage their investments easily and conveniently, and have a full control over investment thanks to the push notifications.
Who are your customers?
Our customers- private persons and companies- are residents of Member States of the European Union or the European Economic Area.
How long have you been in business?
Swaper was launched on Oct. 5, 2016.
Where are you located?
We are located in Riga, Latvia.
Who is your company's leadership? What kind of experience do they have?
Swaper is a subsidiary company of Wandoo Finance Group, which is leaded by Iveta Brūvele- CEO and founder of Wandoo Finance Group. She has more than 11 years' experience in financial service area. Iveta has been a board member in a number of companies that offer financial services and her professional background includes company's strategy planning and defining business requirements, financial analysis, implementation and development of internal systems, including IT and CRM, HR management and marketing activities.
Swaper CEO is Pēteris Ķīsis- an experienced leader with a passion for design, user experience and strategy. He is well versed in strategic brand development and customer research which has allowed him to create and reshape several successful brands throughout his career.
Who are your investors, if any?
Swaper has private investors.
Is there anything else Benzinga should know about your company?
We are awesome!
Photo courtesy Swaper.
View Comments and Join the Discussion!
Posted-In: Benzinga Global Fintech Awards Peter Kisis swaperFintech Best of Benzinga