ReadyTalk Is Here To Lift Your Company's Communications Into The Cloud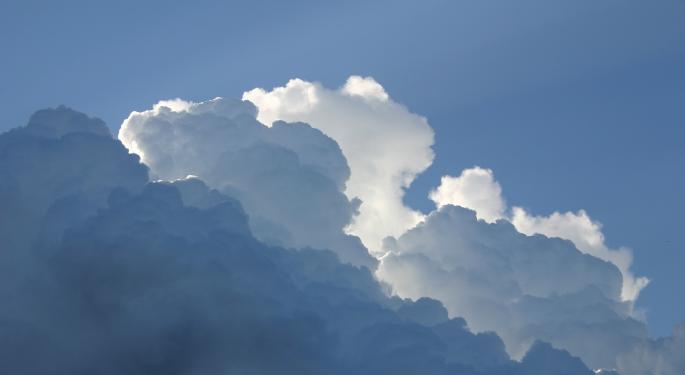 The Benzinga Fintech Summit is an event for those interested in finance, entrepreneurship, capital markets, deal-making, networking and accelerating their business.
It's a chance to interact with and learn from founders, C-Suite institutional executives, leaders of the biggest and hottest fintech companies, brokerages, banks, quants, hedge funds and managing directors from VC funds about the future of financial technology through networking hours, exhibiting, panels and keynote addresses.
To get you prepared for the event, Benzinga will profile each fintech company exhibiting. Want to get involved? Submit your company here.
For this installment, we spoke with ReadyTalk product manager Gabrielle Weaver.
Benzinga: The cloud communications services space is growing, especially in financial services with companies like Cloud9. What differentiates ReadyTalk in the space?
Gabrielle Weaver: ReadyTalk has been in the business of helping people communicate for over 16 years. We have a deep understanding of each user's pain points and frustrations, and have seen the evolution of communication styles and working habits not just in our customers, but ourselves. Collaboration needs are only increasing, and we have the opportunity to take years of experience and build on top of it to help people move to the cloud. Not only do our services stand out in the space, but our support services are second to none.
The cloud is a new and a sometimes scary thing. We are here to help make that transition a seamless one and build strong relationships with our customers.
Why are ReadyTalk's solutions a good fit for the communication needs of the financial services space?
Whether you are looking to communicate point to point, one to many, or one to thousands, ReadyTalk has a solution that will work in the financial services space and elsewhere. Our products weren't built with just one type of customer in mind, but can be used by a myriad of verticals, markets, industries and workers.
We enable communication and collaboration via HD webcam video, VoIP or traditional PSTN audio, screen share and more. There's no huge download or file to run and it works anywhere you have a computer and internet. Finances aren't taken lightly and neither is our commitment to helping people succeed in their work.
What's innovative about the technology? How do service providers like Twilio Inc (NYSE: TWLO) fit into a business like ReadyTalk—or is it a competitor?
We recently made the switch over to WebRTC for our video conferencing solution. We are leveraging new, cutting-edge technology to ensure we are providing the best experiences for our customers. With everything up in the cloud, we are able to develop quicker, deploy faster and deliver seamlessly. As we continue to innovate and explore new and exciting ways to collaborate, a company like Twilio affords us a great piece to the bigger puzzle. We are always on the lookout for new tools that add tremendous value and depth to our products.
Tell me about the ReadyTalk service model. Its clients are obviously high-profile, like Square Inc (NYSE: SQ), Fermilab and HootSuite. How do you provide solutions to these companies at scale?
Our customers and our relationships with them are tremendously important to us. Providing exceptional service and support is a huge reason ReadyTalk has been as successful as we are.
At ReadyTalk, we strive to create "WOW" through service and technology. Whether you are a company's CTO or working their help desk, we are available 24/7 for live support. We don't hide our contact info or have rules about who can talk to us and who cannot. Customers and their participants can call, chat, email or tweet us and someone will be available to help them. We build our products to be intuitive and reliable, not cumbersome and problematic. Our teams can handle anything from technical difficulties to account questions and everything in between. It's not a matter of scaling, it's all about being there when our customers need us no matter what.
How has the PGi acquisition helped the company? Are there challenges involved in going from an independent company to part of a larger player?
ReadyTalk's acquisition by PGi has afforded us some great opportunities. We are part of a global, successful, growing organization that can help us expand as well. Of course, as with any change, there are road bumps along the way, but we have really succeeded in weaving the two organizations together.
PGi is no stranger to acquisitions and has an impressive portfolio of companies, some very similar to us. We have met great people from Central Desktop (now iMeetCentral), PowWowNow, and TalkPoint, to name a few, and have already begun forging working relationships and exploring cross-company opportunities. ReadyTalk used to be a point solution vendor and we now have a really exciting opportunity to take our offerings in a variety of directions.
Anything else I should know?
ReadyTalk is incredibly excited about partnering with Evolve IP to bring a hosted voice and unified communications offering to our customers. When we looked at the market and the winners in the space, Evolve IP absolutely stuck out as an organization that shared similar values and goals. They know UC and we know communication and collaboration. I cannot wait to see where our partnership takes us in the future.
If you're looking for cool fintech startups and access to top financial institutions, and are sick of attending stuffy corporate conferences, the Benzinga Fintech Summit is the event for you. Visit www.bzsummit.com for more details.
Connect with us on social media — use the hashtag #BZAwards and #Fintech to spread the word.
View Comments and Join the Discussion!
Posted-In: Benzinga Fintech Summit Gabrielle Weaver ReadyTalkFintech Startups Exclusives Interview Best of Benzinga