Tony Hawk Opens Detroit Skate Park: 'It's A Great Start'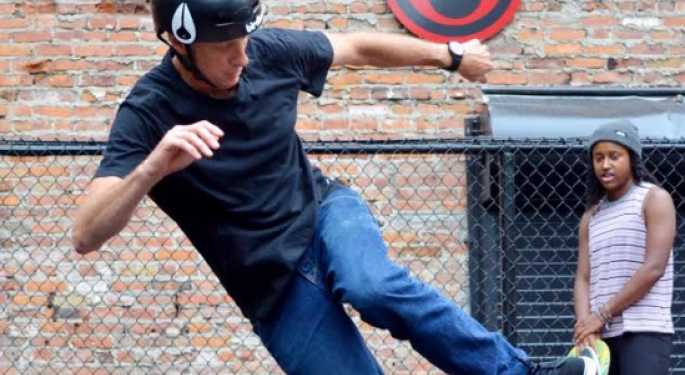 The Birdman carved up downtown Detroit on Tuesday.
Skateboarder Tony Hawk and artist Ryan McGinness were in the city for the opening of the Wayfinding Skate Park, which they designed.
Hawk, who skated alongside students from Detroit public schools at the event, purchased a home in the city's Woodbridge neighborhood last year. His wife, Catherine, grew up in metro Detroit.
"I'm supporting any skate scene or facility in Detroit as best as I can because I feel like it's one of the areas that needs the most. There's a strong interest in skating — a lot of kids [here] do it, but there's relatively little support," Hawk, 49, told Benzinga.
"But the people who are supporting it are doing it in a big way: Guys like Derrick [Dykas], who's doing Community Push [and] helping to develop more skate parks in the area," he said.
The Wayfinding Skate Park is "a step in the right direction," said Hawk, who won 73 contests in his professional skateboarding career.
"This is kind of a different project because it's private property and it's funded by a bunch of different corporations. It's right in the city. It's a great start."
Detroit music — "No Fun" by The Stooges — blared as Hawk and young skateboarders hit the ramps Tuesday morning.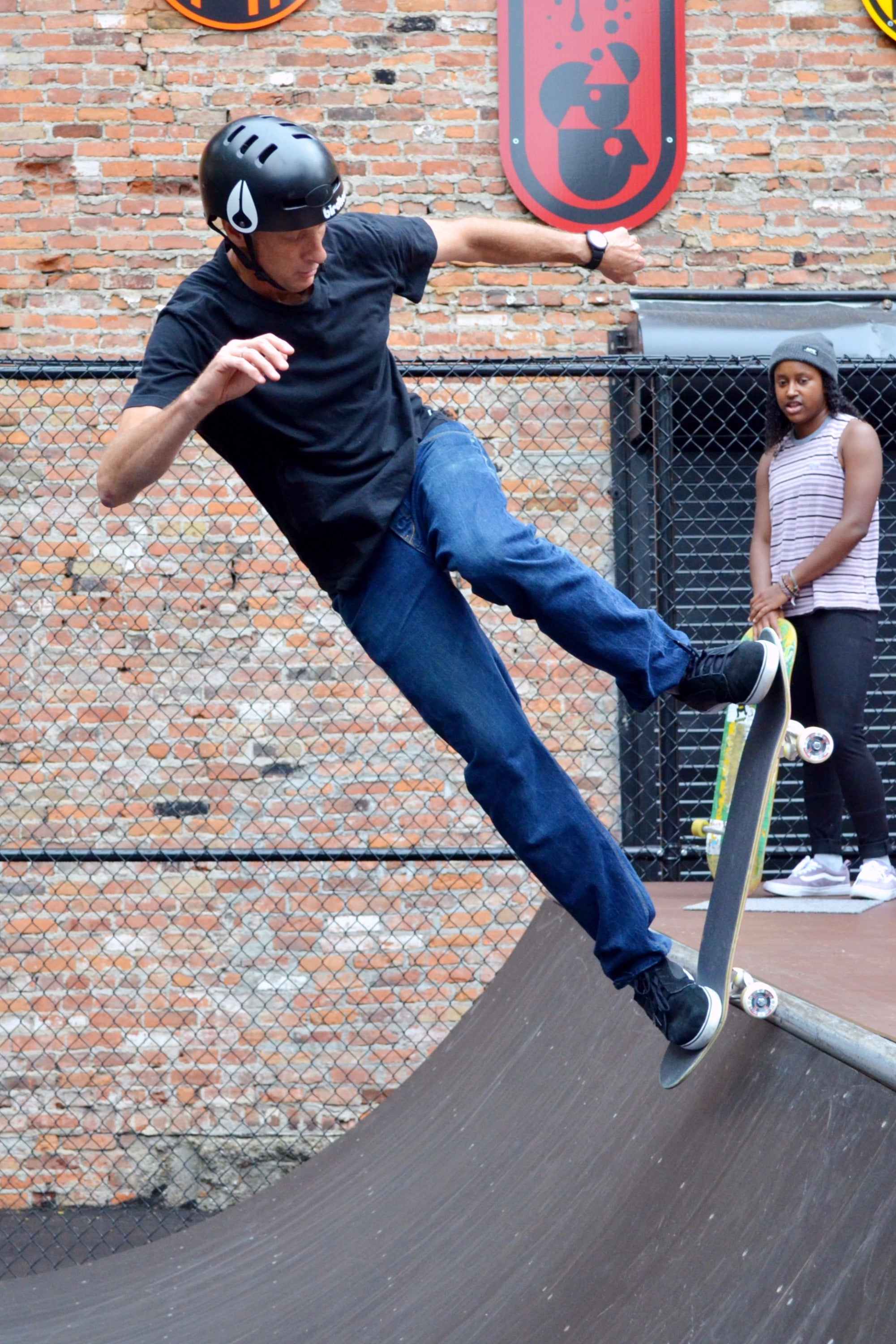 Tony Hawk tries out a ramp Tuesday at downtown Detroit's Wayfinding Skate Park as pro skateboarder Christiana Smith, 20, watches. Photo by Dustin Blitchok.
What Is It?
The 4,600-square-foot space is backed by Bedrock Detroit and Quicken Loans and produced by the Library Street Collective art gallery and the Cranbrook Art Museum.
"It's about us looking at how the culture comes together and creating a social experience here in Detroit," said Dan Mullen, the president of Bedrock.
The park includes six skateable elements and was constructed by George Leichtweis, the founder of Modern Skate & Surf, a shop that's been at the nexus of the region's skate culture for nearly four decades.
Art Influenced By The Motor City
McGinness, a Manhattan-based artist whose work draws from a design background and incorporates symbols and iconography, said he was "blown away" by his first visit to Detroit last year.
His installation at the Wayfinding Skate Park uses street signs as an artistic medium.
"The city influenced the concept behind this installation, primarily in the use of street signs," McGinness told Benzinga. "It's the Motor City and I think the street signs made sense."
While street signs are direct and authoritative in their intended use, McGinness adorned them with what he described as "very absurd" designs that are open to interpretation.
"I wanted to take some of that authority back."
An exhibition of McGinness' work, "Studio Views and Collection Views," opens at the Cranbrook Art Museum in suburban Bloomfield Hills on Nov. 18. It's part of a larger exhibition on the intersection of art and street culture at the museum, including work by Maya Stovall, who attended Tuesday's skate park opening, and the late Jean-Michel Basquiat and Keith Haring.
'It's Good He's Stepping Up'
Dykas, the founder of the nonprofit Community Push, started a skate park, The Wig, in the Cass Corridor neighborhood on the site of the former Wigle Recreation Center.
The volunteers behind The Wig learned this spring that the skate park, which is located on city-owned property, will be replaced by a $77-million mixed-use development known as Midtown West.
Amir and Rashad Wright are two skaters who live near The Wig who came to check out the new downtown skate park. The 11-year-old twin brothers were among several youth who were given new skateboards from the park's sponsors.
The brothers were surprised by the gift. "We can learn new tricks," Rashad said.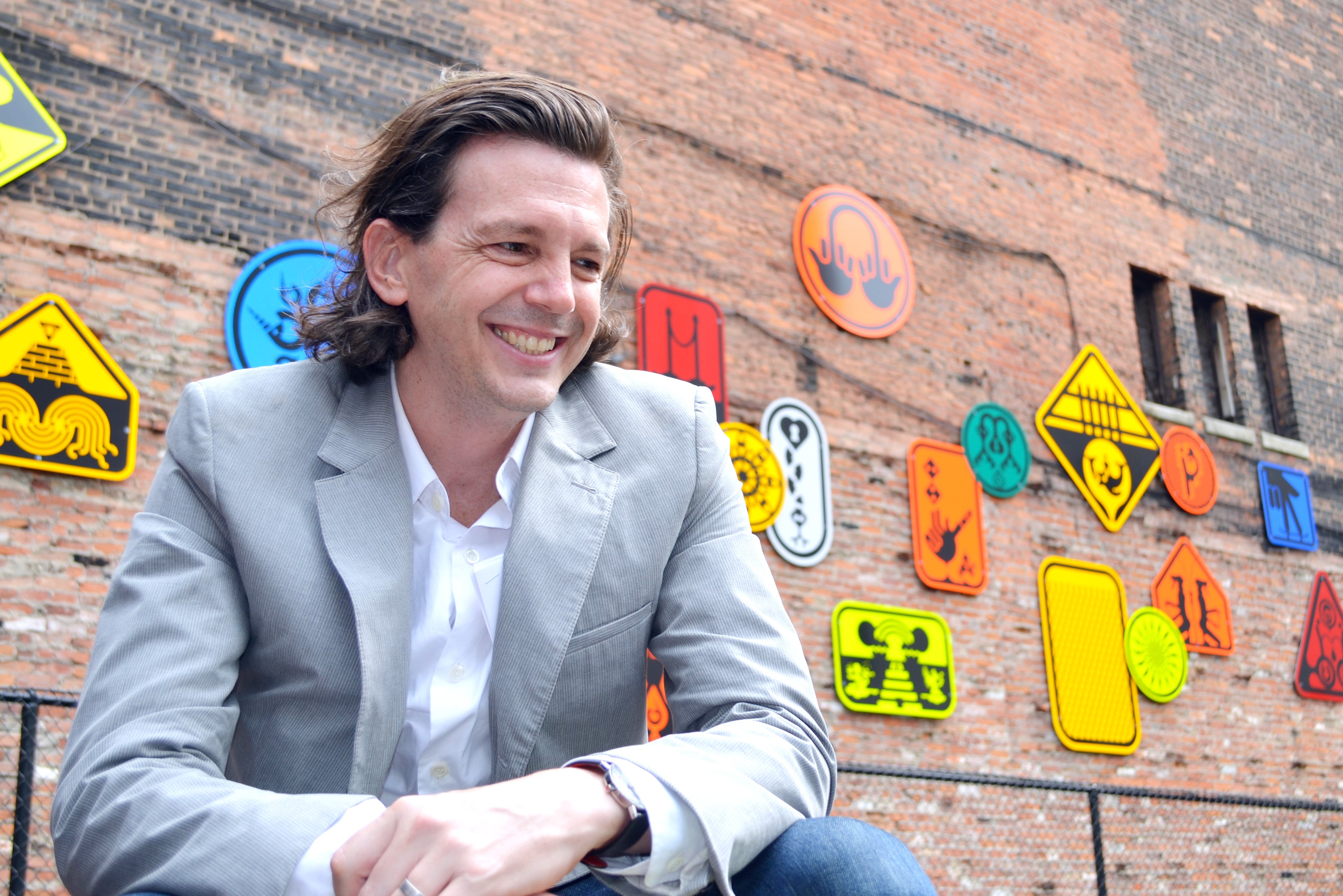 Artist Ryan McGinness' work is visible behind him Tuesday at Wayfinding Skate Park in downtown Detroit. The park's design is a collaboration between McGinness and skateboarder Tony Hawk. Photo by Dustin Blitchok.
The Tony Hawk Foundation invited the builders of skate parks from across Michigan to Tuesday's opening, Dykas said, pointing out a skater who traveled from Houghton, in Michigan's Upper Peninsula, to Detroit for the event.
"He's definitely trying to make things better here for skateboarding," Dykas said of Hawk. "It's good he's stepping up and getting involved any way he can."
.@tonyhawk is testing out downtown Detroit's new skate park now: pic.twitter.com/LhgrqY3st9

— Dustin Blitchok (@SincerelyDustin) August 15, 2017
Related Links:
CBRE: Downtown Detroit Will See $5.4 Billion Investment Between Now And 2020
Madonna To Jeff Bezos: Give Back In Detroit, 'One Of The Coolest Cities In America'
View Comments and Join the Discussion!
Posted-In: Bedrock Detroit Cranbrook Art Museum Modern Skate & SurfSports Top Stories Exclusives Interview General Best of Benzinga