Alexa For Wall Street: Meet The Tech Company Accelerating The Trading Process With Voice Commands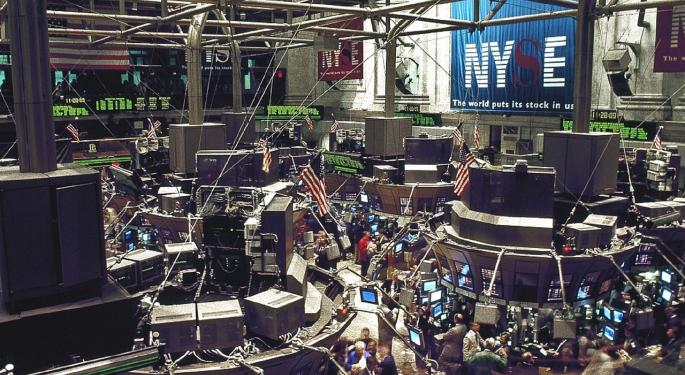 Traders need to think quickly, speak quickly, type quickly to capitalize on near-instantaneous market movements.
But they're only as fast as their fingers, which on average type 30 to 40 words per minute.
Nader Shwayhat, CEO of GreenKey Technologies, thinks he can accelerate the trading process with voice commands. By voice-activating trades through high-accuracy transcription services, Shwayhat hopes to bring transaction speeds closer to the rate of human speech, about 140 or 150 words per minute.
The Product
GreenKey's artificial-intelligence-driven voice interface converts "tribal dialogues" and conversations into functional data capable of system activation.
"What we're looking to do is to work with very highly specific dense and non-dictionary language by very voice-heavy users in intense environments," Shwayhat told Benzinga. "There is a big difference between you and I putting into a Google [Alphabet Inc (NASDAQ: GOOG) (NASDAQ: GOOGL)] search, 'How do I get from this location to that location?' versus two European government bond traders structuring deals in an OTC market and actually affecting executions to meet certain regulatory obligations."
The ultimate goal is to automate input by speaking data directly into trading platforms and prepopulating system execution forms, basically bringing Amazon.com, Inc. (NASDAQ: AMZN)'s Alexa — and peers — to Wall Street.
Of the 35 or so data fields required to file a transaction, the GreenKey platform currently fills in about 28 through voice instruction — and it does so in a matter of fewer than two seconds with 98-percent accuracy. The trader must still complete vacant slots before submitting, but execution time dramatically decreases.
The Mechanism
The process involves AI and machine-learning algorithms deployed in the cloud or behind firewalls. GreenKey's specialized "trading floor telephony infrastructure" deploys its software on desktops, tablets or smartphones, or clients can embed the software into existing infrastructures.
The firm's customizable platform detects individual speakers, distinguishes their verbal streams and transcribes accordingly.
"We actually will build the acoustic models around each individual voice, and the system trains against the individual and gets better and better over time as it understands the voice, learns the voice, and then any error corrections just help it to get more and more accurate over time," Shwayhat said.
The technology supports unique linguistic patterns, so global traders with distinct accents and inflections, cross-cultural nuances (e.g., "point" versus "period") and even office-specific formulas can communicate the same trade using the same product.
"We're not only talking English, we're not only talking finance, we're not only talking European government bonds, but actually picking up how John Smith with his Scottish brogue is actually saying that because the way he particularly references that," Shwayhat said.
It also detects the diverse dialects of corporate bonds from the likes of FX bonds or government bonds.
Other Opportunities
"GreenKey started in the capital markets because that's our legacy," Shwayhat said. "I spent 15 years, myself, focused on nothing but the intersection of voice and trading and OTC derivatives, where a lot of this sort of activity happens."
However, he's looking to expand the service beyond finance. In fact, GreenKey sees vast applicability in other communications-heavy fields.
"From a technology perspective, there is actually nothing that distinguishes, for example, Goldman Sachs' European Government Bonds Trading Desk from the state of New Jersey's state police troopers and the codes that they are shouting over their body cameras or their walkie talkies," he said. "They are speaking in code. Everybody inside their dispatch centers, their station, they are all understanding it ... These are all very specific codes that have some action, and our technology actually works with these different tribes, so to speak, just as effectively."
Over the next five years, Shwayhat intends to dominate other verticals, master their tribal lexicons, and voice activate all entry systems, from air traffic control and 911 call centers to media outlets and medical offices.
The firm is currently working on proofs of concept outside of capital markets.
"We are working on creating customizable pages that allow people to create their own language model," he said. "At that point, it is just a question of connecting the dots. What is the right voice to input, and what is the right voice to output? So it comes as an input, we transfer it into data, and what do we want to do with that data? It's truly infinitely scalable from a workflow and lexicon perspective."
For now, GreenKey targets B2B enterprises across capital markets.
Related Links:
Even Beer Companies Use AI And Machine-Learning Technologies
Artificial Intelligence, Machine Learning Could Threaten Apps
Posted-In: Alexa GreenKey TechnologiesFintech Top Stories Exclusives Markets Tech Interview Best of Benzinga
View Comments and Join the Discussion!