Retail Investors: Your IPOs Are Here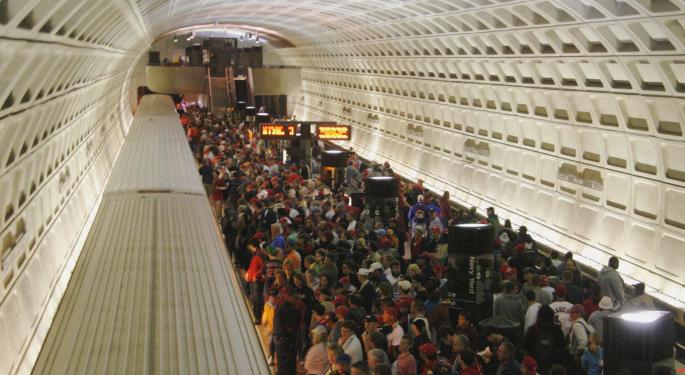 Imagine a crowded subway station. It's rush hour and everyone's got somewhere to be. There's a huge clamor to get on the next train. When it does eventually arrive, it's a free-for-all. Elbows are flying. People need this train.
But not everyone can get on. Some get left behind, and can only watch as the lucky souls who managed to get aboard depart the station.
This is essentially what happens every time a stock IPOs. When a stock is listed for the first time, investors will often enthusiastically flock to buy shares. But not everyone gets their orders filled at the price they want. In fact, many retail investors have to pay a steep premium if they want in. When Snapchat IPO'd in early March, investor demand drove the stock's opening price to $24.
But, going to back to our analogy for a second, what about the people already on the train? These people were assured that they'd get to their destination, and got to sit back and watch as everyone else desperately tried to get on.
That happens with IPOs too. These passengers get the inside track on shares, and get access at the IPO price. In Snapchat's case, that was $17, or a full 41 percent cheaper than the rest of Wall Street.
How Retail Investors Can Get Their Chance
But this process is starting to change. Today, startups like SeedInvest and OurCrowd offer equity crowdfunding, allowing investors to potentially get in on a company long before it goes public.
There's also companies like Motif Investing, which has partnered with several banks, including JP Morgan Chase & Co (NYSE: JPM) and Credit Suisse (NYSE: CS) to offer retail investors early access to select IPOs. The IPOs are underwritten by the bank, and then Motif—a brokerage that allows retail investors to invest thematically or with fractional shares—offers the shares on its platform.
Partnerships like this have helped to level the playing field for retail investors against Wall Street's biggest institutions that have traditionally held an edge, according to Motif Investing CFO Paul Schmidt.
"[Investors] have not typically had a chance to get a look at these companies at the same time that the large institutional investors do," said Schmidt. "It democratizes the process. They may not be placing a million dollar order, but they can still come in and invest at the beginning of a company's public life."
One of the biggest arguments for restricting IPO shares to insiders is stability. Institutions can be subjected to lockup periods, in which they can't sell their shares for a certain amount of time. This prevents the stock from extraordinary volatility in early trading.
But Schmidt said retention on Motif IPOs has been high, and is typically at 80-90 percent depending on the issue.
"The typical investor in this is buying it because they want to hold it, and they want to get in on the ground floor," he said. "I think what that means is that customers actually are looking to actively hold."
Motif has closed five IPOs since the end of 2015, including Arlington Asset Investment Corp (NYSE: AI), Trivago NV - ADR (NASDAQ: TRVG), and G1 Therapeutics Inc (NASDAQ: GTHX). It currently has six active IPOs on the platform, including bluesphere, a clean power producer, Mota, who sells consumer electronics like drones and wearables, and biotech company Athenex.
Schmidt said that the partnership has been so successful for Motif, and investor interest so robust, that they've reached out to other underwriters to expand their offerings.
"Everyone has interest in big consumer names that they recognize. Those are easy to sell," he said. "But for our customers, because of the breadth of what they're doing, there's deep interest across any sector and any topic."
Image credit: Wikimedia Commons
View Comments and Join the Discussion!
Posted-In: Motif InvestingFintech IPOs Startups Best of Benzinga