ComplySci Delivers Innovative Risk Management And Compliance Solution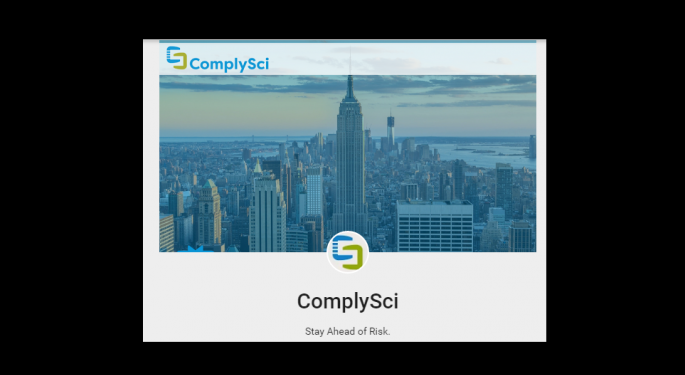 It's almost that time of year.
The 2017 Benzinga Global Fintech Awards is a competition to showcase the companies with the most impressive technology that are paving the future in financial services and capital markets.
To get you prepared for this year's awards, Benzinga will profile each fintech company that has applied. Want to get involved? Submit your company here.
For this installment, we spoke with ComplySci (answers have been edited for length and clarity).
What does your company do? What unique problem does it solve?
ComplySci (formerly Compliance Science) revolutionized financial services compliance in 2007, when it built and launched the Personal Trading Control Center™, the industry's first technology solution for monitoring personal trading, code of conduct activities and compliance reporting. Since then, with over 800 clients, including some of the world's largest banks, asset management, and private equity firms, the ComplySci platform has expanded to help financial services compliance professionals proactively identify, manage and report on a growing number of regulatory risks.
In 2016, ComplySci launched a fully re-architected solution, using cutting edge technology and incorporating years of client input. Built on a foundation of best-in-class data management and modular object-oriented capabilities, the "mobile-first" ComplySci platform offers the most extensive range of integration capabilities in the industry, providing the infrastructure for a client-defined virtual control room.
Who are your customers?
Our customers are financial services firms. ComplySci represents 800 financial services firms around the globe including eight of the top 10 private equity firms and three of the top five hedge funds.
How long have you been in business?
We have been in business for 11 years.
Where are you located?
We are located in New York City.
Who is your company's leadership? What kind of experience do they have?
Jean-Marc Levy is the CEO of ComplySci. He is responsible for driving the company's strategy and growth, overseeing new product development and innovation, and expansion into new markets.
Levy is a recognized leader in the ethics & compliance industry and prior to joining ComplySci, he was president of LRN, a global leading provider of ethics and compliance solutions. Previously, he served as senior vice president and head of global issuer services with Intercontinental Exchange NYSE (NYSE: ICE), where he led NYSE Governance Services, a provider of corporate governance, risk, and ethics and compliance tools and services, to boards of directors and governance and compliance professionals.
Levy has an extensive track record of building fast-growing information and services businesses. He was chief financial and business development officer with TheMarkets.com LLC, a financial technology firm he helped grow to a user base of more than 2,400 institutional investment management firms worldwide before it was sold to the McGraw-Hill Companies in 2010.
Levy holds an MBA from The Wharton School and a BS in Computer Science from Tulane University's School of Engineering.
Anything else Benzinga should know about your company?
ComplySci was recently named Best Mobile Solution by HFM Technology. They also enjoy company-wide karaoke nights.
_________ For another fintech profile, click here to read about how Validis, a cloud-based fintech, extracts and standardizes financial data.
If you're looking for cool fintech startups and access to top financial institutions, and are sick of attending stuffy corporate conferences, the Benzinga Global Fintech Awards is the event for you. From its first year in 2015, the competition grew to over 250 applicants and over 500 attendees in 2016.
Connect with us on social media — use the hashtag #BZAwards and #Fintech to spread the word!
_____ Image Credit: screenshot from https://plus.google.com/105264199304119889603
Posted-In: HFM Technology Jean-Marc Levy LRNFintech News Success Stories Tech General Best of Benzinga
View Comments and Join the Discussion!