MoneyLion: Management Tool Incentivizes Users To Make Smart Financial Decisions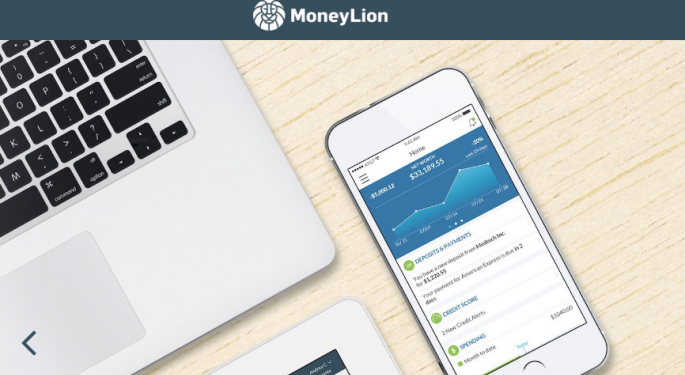 It's almost that time of year.
The 2017 Benzinga Global Fintech Awards is a competition to showcase the companies with the most impressive technology that are paving the future in financial services and capital markets.
To get you prepared for this year's awards, Benzinga will profile each fintech company that has applied. Want to get involved? Submit your company here. For this installment, we spoke with MoneyLion CEO Dee Choubey (answers have been edited for length and clarity).
What does your company do? What unique problem does it solve?
MoneyLion is a mobile finance platform equipping consumers with tools needed to improve overall financial wellness. By bringing together free data-driven tools to track spending, savings and credit, and financial products like personal loans, MoneyLion offers consumers a central hub for money management that lets them take control of their financial lives.
Who are your customers?
MoneyLion's customers represent the middle 50th percentile of Americans (income between $25,000–$150,000 with an average credit score of 680).
How long have you been in business?
MoneyLion was founded in 2013.
Where are you located?
MoneyLion is headquartered in New York with offices in San Francisco, Salt Lake City and Kuala Lumpur, Malaysia.
Who is your company's leadership? What kind of experience do they have?
MoneyLion has gathered a team of the leading data scientists and engineers from across the world to build the platform, helping to expand access to credit for tens of thousands of Americans.
Dee Choubey: I am the co-founder and CEO. Before founding MoneyLion in 2013, I spent 11 years on Wall Street, holding positions at Goldman Sachs, Citadel and Barclays.
Chee Mun Foong: Chief technology officer (CTO) and co-founded MoneyLion.
Pratyush Tiwari: Chief information officer (CIO) and a co-founder at MoneyLion.
Tim Hong: Senior vice president of marketing and product at MoneyLion and a key behavioral architect of the platform.
Anything else Benzinga should know about your company?
Coupled with a rewards program that incentivizes users to make smart financial choices, such as on-time credit payments or maintaining positive bank balances, MoneyLion motivates consumers to turn insights into actions that will help them achieve their financial goals.
MoneyLion has received significant interest from the institutional community, including a portfolio financing line from Macquarie Group in September 2016 that brought their total debt finance to $650 million and $22.5 million in series A equity funding led by Edison Partners in December 2016.
MoneyLion is proud to maintain strong partnerships with big industry players, including TransUnion, which provides free credit scoring for all MoneyLion users and Cross River Bank, which underwrites loans for prime customers. These partnerships act as proof points for MoneyLion's staying power in the marketplace.
If you're looking for cool fintech startups and access to top financial institutions, and are sick of attending stuffy corporate conferences, the Benzinga Global Fintech Awards is the event for you. From its first year in 2015, the competition grew to over 250 applicants and over 500 attendees in 2016.
Connect with us on social media — use the hashtag #BZAwards and #Fintech to spread the word!
Image Credit: screenshot from MoneyLion
View Comments and Join the Discussion!
Posted-In: Dee Choubey MoneyLionFintech Success Stories Tech Interview General Best of Benzinga