Apple Inspired This Fintech CEO To Make A Futures Trading Platform 'An 8 Year Old Could Use'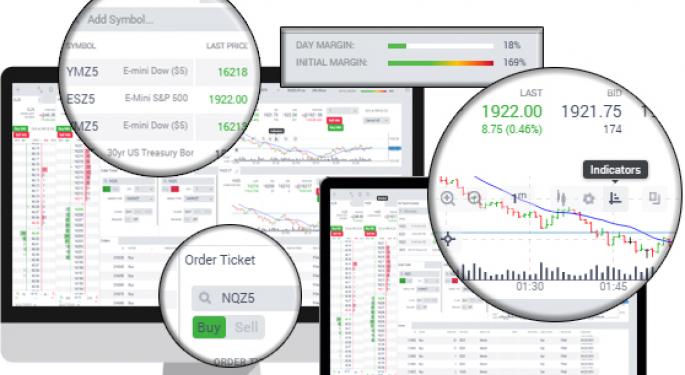 The fintech insurgency has given the financial services industry a newfound appreciation for user experience. As a generation of young people who have grown used to easy-to-use mobile experiences come of age in finance, traders have begun to expect the same.
That's why Rick Tomsic, CEO of Tradovate, says he was influenced by Apple Inc.'s (NASDAQ: AAPL) design philosophy when he worked with his team to develop a comprehensive multi-device trading platform.
"There's a lot of functionality in Apple's products, but they're very easy to use," Tomsic said in an interview with Benzinga. "What you need, you can find, and what you don't need is hidden in a very artistic way. With Tradovate, we tried to dovetail and mirror that approach."
While Tradovate's team was experienced at building powerful trading technologies, those products weren't always intuitive for users. As Tomsic set out to solve the problems traders face with technology, design was close to his heart.
"We really wanted to make sure that at every step of the way the functionality that we knew traders used was front and center, and the functionality that traders didn't use was hidden," Tomsic said.
No Assembly Required
The emphasis on ease-of-use doesn't impede Tradovate's functionality, according to Tomsic.
"The product is very powerful and you can do things like trailing stops, brackets, OCOs, and time orders, charting, and really complex futures trading, but the presentation of it is simplistic," Tomsic said.
Tomsic's team built Tradovate with ease-of-use as a core value. When designing a complex trading product, they imagined children trying to figure out their front-end.
"It sounds trivial but if you give a piece of software to a 7 or 8 year old and they can't use it, it's too hard to use," Tomsic said. "If you need a user's manual, it's too hard. We looked at the entire process that way, and that's how you innovate in this space."
View Comments and Join the Discussion!
Posted-In: Rick Tomsic TradovateFintech Top Stories Interview Best of Benzinga