Meet The Company Disrupting The $50 Billion Financial Services Industry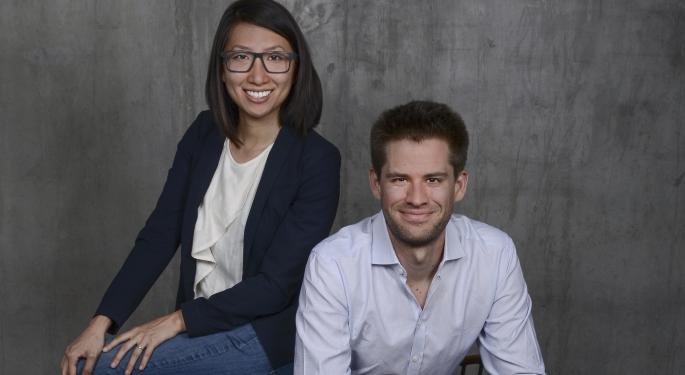 The financial services industry is huge, employing nearly 200,000 people worldwide with $49 billion in total revenue, according to a June report from business intelligence firm IBISWorld.
Despite its size, the industry is walled off to many — investing has high barriers to entry for most people, with the complexity of the capital markets and the lack of access to important information to those not on the Street.
Related Link: What Is Fintech?
One company, WiseBanyan, is trying to change all that, however, by making financial advice free for all though an investing platform that doesn't charge commissions.
Co-CEOs Vicki Zhou and Herbert Moore of WiseBanyan believe investing should be a right, not a privilege granted to those with the money and connections to game the markets.
Benzinga caught up with Zhou and Moore to learn more about why they founded WiseBanyan, the state of the financial services industry and how Moore built a 26-foot-long boat in his spare time.
The Potential For Disruption In Finance
Moore: [When I was head trader at Ansbacher Investment Management during the 2008 crash], we were still trading a lot of things on the floor in Chicago. We were on the phone with people that were literally, clearly screaming at each other in the trading pits, which seems so antiquated. Even eight years ago, that was how we were doing it.
After that, I went back to graduate school for a master's degree in civil engineering from Stanford. But when I came out, I decided I wanted to actually go back to work in finance. A lot of the things I saw that were wrong, I [realized I] could build a company or work with somebody to build a company that was better and fix some of those wrongs, but that I could also find there was a lot more meaning in solving problems for everybody.
When we were giving advice to family and friends, we found that they were increasingly frustrated by not having access to high quality financial services. People our own age, when they would go to financial advisors, [the advisors] simply weren't interested in working with them because they hadn't accumulated the kind of assets that made it work well for that financial advisor.
Related Link: There's A New Fintech Index, And It's Projected To Have Massive Growth Next Year
So, we really took a step back and said, "Well, wait a minute. These people that we know that are unable to be certified investors, we know that they're good clients essentially. They're people that work hard. They have money to invest and they're also going to need a ton of other financial services in the future even if they're more modest, even if they're just buying their first home and they need a mortgage or they have a child so they need a life insurance policy." So, we started really kind of building from the ground up a financial advisory service that was client-focused and not asset-focused.
On Getting Millennials Into The Financial Services Industry
Zhou: We mostly target Millennials. That's not to say only Millennials use WiseBanyan. I think our youngest client is 18. Our oldest client is in his 80s. So, it is a product that literally everyone can use. But in terms of how Millennials really connect with WiseBanyan, one thing that's been pretty unique is our brand. You look at what our mission is, and it's not just about portfolio management. It's also about bringing access to everyone, not just with investments, but also with any financial decision they need to make. That really resonates with Millennials. I think our brand is unique and that really flows through every part of the product.
The big part of our product is really walking people through how they can achieve their financial goals, and I think that resonates even more so with people who are younger because they have so many goals ahead that they're trying to get to and using something like WiseBanyan really helps them visualize how to get there.
Moore: The messaging to clients is about whether they're off track or on track to reach their financial goals. It's being able to bring something as simple in that very digestible way. Say you want this down payment for a house in four years. WiseBanyan can tell you if you're on track or if you're not quite on track and you need to add an extra $10 a month if you actually want to hit that target. That's incredibly meaningful to people in a way sometimes that dollars and cents in terms of performance is not.
On How Non-Finance Backgrounds Can Help Fintech Founders
Zhou: I also used to be an engineer [with a] bio background. So, I used to be a bioengineer, and the first company I co-founded was a medical device company. I was one of the investors of a surgical device that was used for abdominal surgery.
Related Link: SEC Discussion On "Accredited Investor" Definition Could Have Major Repercussions For Startups, Crowdfunding
I think it's actually pretty cool whenever you talk to people who work in finance that have an engineering background, I mean, I remember when Herbert first told me he built a boat, and I was like oh, okay, like a rowboat? He showed me these pictures and it's was like...it was a 26-foot boat. He built it all by hand. It had an engine on it. It went faster than most boats of that size. It was incredible. It is pretty cool when you talk to another engineer that way because then you get to talk about the things that you built and how cool that is.
I feel like that still resonates with us today. Obviously, we're building WiseBanyan. It's a very different type of engineering now. Throughout the growth of our company, we've had chances to be able to be more hands-on. A lot of our team members in various positions, [some in] our science office, one of our product managers, also are engineers. So, it's pretty cool to have that kind of background running through our company. One [thing] I like to tell people is whenever they visit our office [is] that we built all the tables in the kitchen by hand.
Did you like this article? Could it have been improved? Please email feedback@benzinga.com with the story link to let us know!
Posted-In: Ansbacher Investment Management Herbert Moore IBISWorldFintech Top Stories Success Stories Exclusives Interview Best of Benzinga
View Comments and Join the Discussion!