This Brokerage Is Beating Fintechs With A Mobile Investing App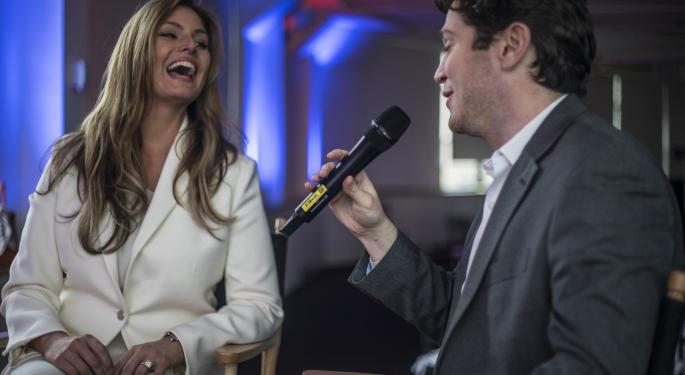 CNNMoney declared TDAmeritrade's Thinkorswim app as one of the 10 best investing apps, the only company outside the fintech startup space to get a mention.
TD Ameritrade Holding Corp. (NASDAQ: AMTD) Managing Director Nicole Sherrod has led the brokerage's charge into the mobile space, and her team is responsible for driving mobile innovation forward at the firm. Benzinga caught up with Nicole to get her thoughts on Thinkorswim's recognition.
How does it feel to have Thinkorswim named one of the best investing apps?
I was absolutely thrilled! To the best of my knowledge, CNN does this every year, and last year Likefolio was promoted as one of the best investing apps. Likefolio is a partner of ours, and we're working on integrating their technology into Thinkorswim. We were so pleased that they won it last year, but a little jealous as well! So we made it a big priority of ours to try to go for the win this year. It was a big honor for us.
What sets Thinkorswim apart from other trading apps?
First of all, I think our team is, from a strategy perspective, we've been saying for the past four years that if we want to win in this space we have to win at mobile. We've dedicated a lot of resources towards the project, and that doesn't just mean dollars; it also means some of the brightest minds within the company. We've put a lot of effort, not just towards functionality, but also usability and design. It's not just an asset delivering to our clients exactly what they want to trade, but we think it's also a beautiful experience as well, and that's really important to us as well.
Related Link: Here Are Your 2016 Benzinga Fintech Award Winners
We spend a lot of time really looking at how our clients engage with the app, and they spend a significant amount of time on it each day, checking their portfolio and trading. I think it might surprise you, but over 40 percent of our trades per day are derivatives, and we are one of the few companies to integrate tick-by-tick futures trading into the app, so we've got clients trading through the night and all day long on the app.
The same goes for options. They're doing a ton of complex options strategies on the app, so we really paid a lot of attention to making sure you can do a four-leg options strategy on the app with ease and it's understandable, and you know exactly what month and strike you're getting into, what the risk profile of the trade you're entering [looks like], so it really takes a lot of thinking to get it right.
In what ways does the app make trading more accessible? Do you see people who might not have traded before maybe getting into it after hearing about the app?
Yes! When it comes to mobile, we're already seeing this trend, but I think it will become more prevalent in the months and years to come. We now have a segment of our base that we define as "mobile-only," and these are people who never go to the TDAmeritrade website. They start at the iTunes app store, look at the ratings, and select their broker based exclusively on who has the best mobile offering. Then, once they come in the door, all they do is transact with us using mobile. We're really catering to that segment. We feel like Millennials and Gen Z only want to manage their portfolios through mobile, so we're trying to cater to that audience.
How do you keep up the innovative spirit at TD Ameritrade, even though you're what CNN described as an "old guard" brokerage? How does that help you fit into the fintech scene?
I think when we look at an offering like mobile, we really see ourselves as competing against the fintech startup space. We don't try to compete with the "old guard." Innovation is all about the people you employ, so we really make sure from a hiring perspective that we're looking for people who are focused on innovation. We just hired a guy from Ann Arbor, Michigan, and he sent me all the pictures he took from the last time he went to the Apple Inc. (NASDAQ: AAPL) developer conference, and he said the experience was life-changing for him, because it was so compelling to be in a space where people like him were trying to make the world a better place through mobile development. It's all about the people.
What was your first job?
My first job was I was on Romper Room as a child and they fired me because I refused to dance. I don't know if that counts! My second job was a country club lifeguard, which was really taxing.
View Comments and Join the Discussion!
Posted-In: Nicole Sherrod thinkorswimFintech News Exclusives Tech Interview Best of Benzinga