A Benzinga Fintech Award Winner Helped Send Martha Stewart To Prison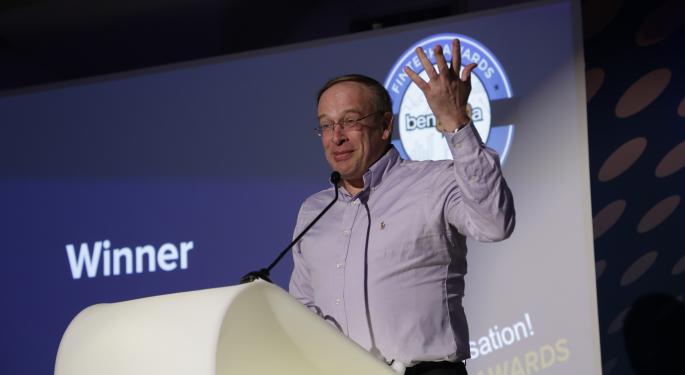 Amenity Analytics took home the "Best In Show" award at the Benzinga Fintech Awards last month in New York City. The company's platform, which uses "text mining" tech to pull data from company filings, earnings reports, and analyst notes to generate investment strategies, impressed its peers for good reason. The brains behind the operation include some data science pioneers, such as chief scientist Ronen Feldman and VP of product Hedva Feldman.
After the awards, Benzinga caught up with Ronen, Hedva and Amenity Analytics CEO Nathaniel Storch to learn more about text mining, how they can tell which drugs will pass FDA approval years in advance, and how an early iteration of its technology put away an infamous insider trader.
Text Mining
Ronen Feldman coined the term "text mining" in a 1995 paper published while he was a professor at Bar-Ilan university in Israel, and presented the idea at the First International Conference on Knowledge Discovery and Data Mining in Quebec that same year.
"We presented the prototype to the Conference and companies came to us and said we want to buy it," Feldman said. "We didn't have a company. It was just then a prototype, so they told us, start a company, we will buy it, which is what we did. We started a company. It was called ClearForest."
Related Link: Flipping Burgers At Harvard Taught This Fintech Founder How To Run His Multi-Billion Dollar Company
Beginnings
Feldman founded ClearForest in 1998 with Yonatan Aumann, son of Nobel Prize in Economics winner Robert Aumann. The pair picked up clients like General Motors Company (NYSE: GM), Ford Motor Company (NYSE: F) and Dow Chemical Co (NYSE: DOW), and eventually sold the company to Reuters in 2007 for $25 million.
Using systems Feldman built at ClearForest, "We [were] able to identify insider trading and the most famous case that the system caught was the Martha Stewart case," Feldman said.
Feldman met Nathaniel Storch when Storch visited Israel in early 2015. Storch had spent 15 years on Wall Street investing in equities and credit, and noticed a major shift in his field.
"I saw Wall Street really evolve over that period of time, especially the equity markets in that the rise of the quants become undeniable and fundamental investors were really at a disadvantage relative to the machines," Storch said. "So I couldn't help but think there had to be a better way."
Changing The Game
Storch sought out the power of data in his search for more powerful investing tools.
"When I left, one of the things that I set out to do was look for technology, look for tools that could help level the playing field, put the power of technology that the quants were harnessing back in the hands of fundamental investors," Storch said.
Amenity's technology has proven to be fundamentally prescient, to the point where it can predict whether the FDA will add particular side effects to a drug's list of complications based on user feedback on message boards for people with various ailments.
"We found that we can predict even 10 years before the FDA does this that the FDA will add another symptom to the list," Feldman said. "You go to forums where people talk about diabetes or about cholesterol,and it's really hard to make sense of the billions of messages. We actually manage to give like a really accurate analysis, because people are reporting with very high statistical significance."
Amenity Analytics plans to expand its foothold in finance, but is also looking to other industries such as automotive, according to Feldman.
"Every business needs the ability to be smarter and today's ultra competitive environment," Storch said. "It's a new world out there and data science has never been more important to businesses."
Posted-In: Amenity Analytics Benzinga Fintech Award Martha StewartFintech Top Stories Exclusives Tech Interview Best of Benzinga
View Comments and Join the Discussion!