With The Rise Of Algorithms, Has The Finance Job Market Hit Peak Human?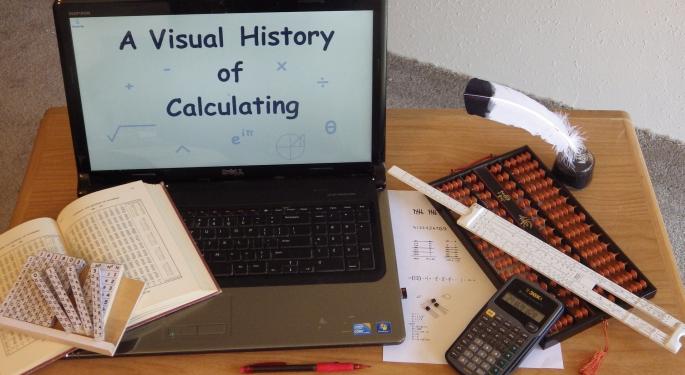 The modern world of finance is all about advanced technology systems, data analysis software, high-frequency trading algorithms and robo-advisors. The financial community has even spawned a name for the rise of financial technology: "fintech."
But while the lower costs and increased efficiency of fintech may be good news for companies' bottom lines, will algorithms eventually replace all the jobs in finance? The fact of the matter is that technology is evolving much faster than the human brain.
According to Bloomberg's Hugh Son, the possibility that machines will eventually take over most of the work force was a major topic of discussion at the Milken Institute Global Conference last month. The idea has even led to talk of government-backed basic income programs that would pay citizens a basic stipend once their jobs are taken over by computers.
Voices From Inside The Sector
"We obviously want to automate everything, but you have to prioritize," said Susesh Kumar, chief information officer of Bank of New York Mellon Corp (NYSE: BK).
Related Link: Pacific Crest Sees These 5 Software Names As Next Takeover Candidates
Robo-advisor algorithms have already taken over the day-to-day management of a number of bank clients' funds, but Kumar believes its only a matter of time before artificially intelligent bots can interact with clients verbally.
JPMorgan Chase & Co. (NYSE: JPM) is now using automated algorithms for vetting banking clients, pricing assets and hedging orders.
"As we make those processes more and more efficient, you will need less people to do what we do today," head of JPMorgan's investment and corporate banks Daniel Pinto said.
While the rise of fintech may be bad news for many bank employees, it could also create some major opportunity for a new generation of "bankers."
The banks of the future will need plenty of computer engineers and data scientists to design, create and maintain the fintech algorithms that are taking over the financial world.
Disclosure: The author holds no position in the stocks mentioned.
Posted-In: algorithms banking banks BloombergTop Stories Tech Media General Best of Benzinga
View Comments and Join the Discussion!