2016 Benzinga Fintech Awards: Live Blog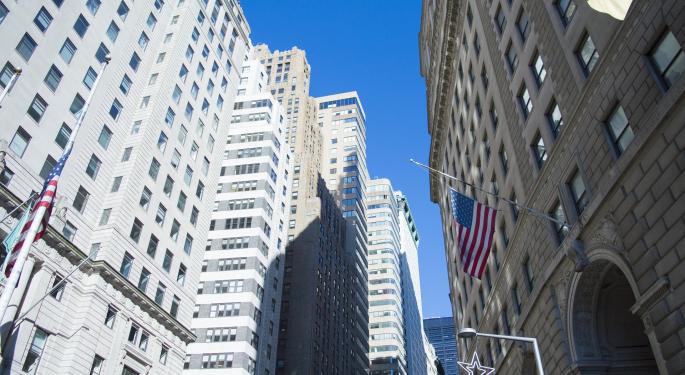 The 2016 Benzinga Fintech Awards are about to get started! The best and brightest from the financial technology space have come together today to shares ideas and help empower individual traders and investors.
Below is a love blog of the awards ceremony, set to kick off at 7:30 p.m. ET.
8:55 pm: Winner for Best Exhibitor In Show is Amenity Analytics.
8:53 pm: Overall Winner is Visible Alpha.
8:51 pm: People's Choice, Best In Show is .
8:49 pm: Jason Raznick thanks the gala's sponsors.
8:48 pm: Winner for Outstanding Veteran In Finance is Randy Vollen at PNC.
8:45 pm: Winner for Founder Of The Year is Chris Camillo of TickerTags.
8:43 pm: Winner for Most Promising Startup is Trunomi.
8:38 pm: Winner for Most Disruptive is FeeX.
8:17 pm: Oz Pearlman hits the stage.
8:10 pm: Winner for Lending & Alternative Investment Technology is Zest Finance.
8:07 pm: Winner for Trading Ideas, Platforms & Apps is Vetr.
8:05 pm: Winner for Robo Advisors & Wealth Management is Aspiration.
8:02 pm: Winner for Educational Tools & Services is SmartAsset.
7:58 pm: A local NYC rapper and singer put a fintech spin on "Empire State Of Mind."
7:55 pm: Steve Erlich announced as the new CEO of Tradier.
7:52 pm: Brown is now interacting with the audience, reminding some perhaps of Richard Dawson.
7:51 pm: Brown: "Benzinga goes above and beyond ot put something like this on. Fintech is in its infancy and Benzinga is honoring that."
7:48 pm: Winner for Innovation In Mobile is Scout Finance.
7:46 pm: Winner for Finding Alpha is Exeria.
7:42 pm: Winner for Analysis Platforms, Tools & Apps is FT Options.
7:40 pm: Winner for Research Platforms, Tools & Apps is Visible Alpha.
7:37 pm: Brown: "We are here to celebrate fintech. You are the people at the forefront of quantitative analytics... You are never going to get laid."
7:33: Host Josh Brown hits the stage: "I'm very appreciative Benzinga let me back. Especially after the Elliot Spitzer incident last year."
7:30 pm: Gun N' Roses just started blaring. I think we're ready to begin.
7:22 pm: Benzinga CEO Jason Raznick is corralling the crowd to the seating area.
See Also: Banking In 2020: How Will Fintech Revolutionize Banks And Investing?
See Also: Big Data, Big Profits? Find The Bottom Line Through Unique Datasets
View Comments and Join the Discussion!
Posted-In: Benzinga Fintech AwardsFintech News Events Exclusives Tech Best of Benzinga