Industry Leaders to Discuss State of Fintech at Benzinga Fintech Awards 2016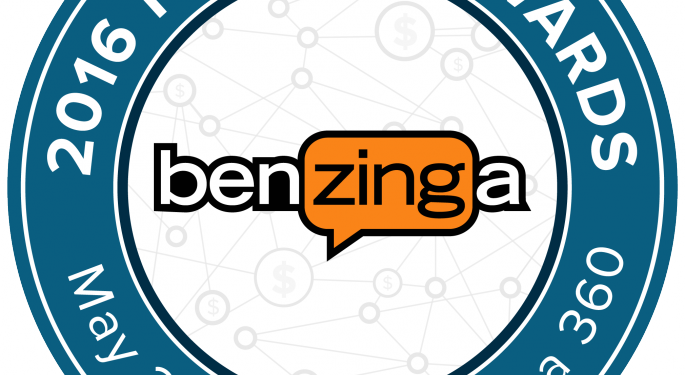 FOR IMMEDIATE RELEASE
Benzinga Announces Panel Discussions for 2016 Benzinga Fintech Awards
Industry leaders to discuss impact of fintech innovations May 24th, 2016
DETROIT—Financial media company Benzinga announced today that the 2016 Benzinga Fintech Awards Gala will feature discussions from fintech experts on topics such as raising capital for startups, the effects of fintech on banking, profiting from big data analysis, alternative investments, and a special presentation from Thuzio co-founders Mark Gerson and Tiki Barber on building a Wall Street network.
The panels will capture fintech at a pivotal moment in the space, as impacts from fintech disruption are being felt by consumers, institutions and government regulators alike.
"Banking in 2020: How Fintech Will Impact Banks" will feature discussion by Digital Currency Group CEO Barry Silbert, Apex Clearing Corporation Chief Capital Markets Officer Jud Pyle, and Betterment COO and co-founder Eli Broverman, with moderation by Carey Koloja, Global Chief Product Officer at Citi Fintech. The panelists will discuss ways fintech is changing the relationship between consumers, banks and investors.
"Big Data, Big Profits?: Finding the Bottom Line with Unique Datasets" will focus on ways firms can leverage data analysis to improve their operations and profit. Panelists include Ticker Tags CEO Chris Camillo, Deutsche Bank Global Head of Quantitative Strategy Yin Luo, and Matthew Granade, chief market intelligence officer for Point72. The panel will be moderated by Chicago Board Options Exchange Vice President of Business Development Katherine Clay.
The venture capital panel, titled "Take Your Company from Zero to Hero: Insider Tips from VCs" will feature IA Ventures' Roger Ehrenberg, Aquiline Capital Partners' Vincenzo La Ruffa, and Susquehanna Growth Equity Partners' Amir Goldman, and will be moderated by Robert Peck, managing director of SunTrust Robinson Humphrey. The VCs will offer insight into forming relationships with venture firms, what partners look for in successful startups, and more.
A special Benzinga Fintech Awards presentation will follow, titled "Young Guns: How These Entrepreneurs Built Their Fintech Companies and Landed Millions of Dollars in Enterprise Deals." A panel consisting of ChartIQ CEO Dan Schleifer, Likefolio founder Andy Swan, Estimize CEO Leigh Drogen and ValueStream founder Greg Neufeld. Benzinga CEO Jason Raznick will moderate.
"How to Earn Big on Alternative Investments" will center around discussion of the alternative investment and lending spaces from OurCrowd Managing Partner Eli Zivotofsky, Credibly CEO Glenn Goldman and SeedInvest CEO Ryan Feit. Aaron Task, digital editor for Fortune, will moderate.
Finally, BZ Awards guests will be treated to a special "fireside chat" with Thuzio co-founders Mark Gerson and Tiki Barber. Gerson, founder of the Gerson-Lehrman Group, and Barber, former New York Giants Pro Bowler, will discuss ways athletes can monetize their on-field personas after their playing careers and offer insight into networking in the world of finance.
A cocktail reception and the Benzinga Fintech Awards ceremony, featuring a special performance by "Wall Street Mentalist" Oz Pearlman, will follow the panel discussion.
About Benzinga
Benzinga is a leader in financial technology via operation of its data and news products. Trusted by millions each month, Benzinga.com features actionable news and analysis. Benzinga Professional is the premier real time news and data platform trusted to power the largest companies of finance.
About the Benzinga Fintech Awards
Designed to celebrate the most innovative companies within the financial technology capital markets sector, the Benzinga Fintech Awards provides winners with new opportunities for growth and partnerships. The Benzinga Fintech Awards will be attended by top fintech CEO's, venture capitalists, industry insiders, and media. Held at Tribeca Three Sixty in New York City on May 24, it is truly "The Oscars of Fintech." For more information on sponsoring, exhibiting, or attending the event, go to benzingafintechawards.com.
Media Information
Jake Serwer
Posted-In: Fintech Press Releases
View Comments and Join the Discussion!