Meet The People Judging The Future Of Fintech: WorldQuant's Matt Ober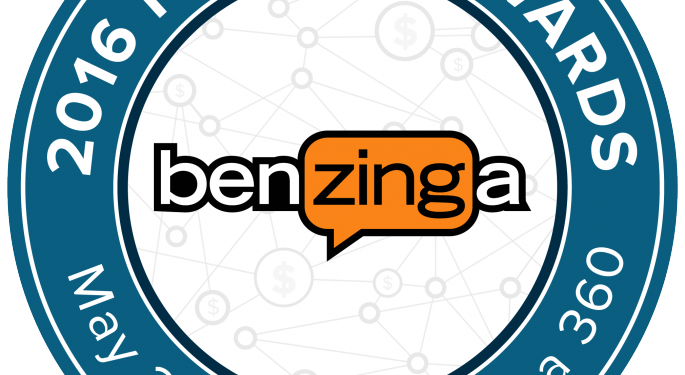 Want more fintech? Check out the 2016 Benzinga Fintech Awards!
The Benzinga Fintech Awards is the only event in fintech dedicated to recognizing innovation in financial services and capital markets. Ahead of the May 24 awards gala, meet the industry leaders tapped to determine the most innovative companies in fintech.
Who is he?
Matt Ober, co-head of data strategy at WorldQuant, a global quantitative investment firm that has hundreds of researchers across the world.
Why is he looking forward to the Benzinga Fintech Awards?
Ober: I'm looking forward to seeing the whole community come together. There's not another event out there that we've seen across the world that brings together fintech capital markets companies to really showcase what they're working on and to find out who the new companies are.
What's his favorite aspect of fintech?
Ober: I think that the innovation and everybody--from people within the financial world that are getting into startups and disrupting, to people outside the financial world looking at it in a different way--creating exciting new technology and data. No longer is it just a Bloomberg terminal. You have unlimited resources and exponential growth in the data that's out there.
What makes him want to work with a fintech firm?
Ober: WorldQuant is unique in that it brings together talented researchers, portfolio managers, and technologists, to continuously advance the automation and quantification of data. WorldQuant Ventures, our separate angel investment firm, invests in fintech companies with significant growth potential and helps these companies to innovate and, we hope, to realize their value.
What advice he'd give to someone with a business idea:
Ober: I think you've just got to start working on it and creating it and gathering feedback. I think the power of the network and getting out there and meeting people is tremendous in New York and also in many other cities around the world. Fintech is an exciting space and there's a lot of people from the data vendor side and ex-Wall Street that are interested in getting involved. So it's just taking that jump in and starting to work on it.
The biggest challenge for fintech companies going forward will be:
Ober: I think in general for the fintech companies themselves their biggest hurdle is creating something that's actually valuable, and becoming a company and not just a product. Selling into the financial world is not quick and easy--there's a lot more regulatory and compliance hurdles you have to get through and there's a longer sales process.
Why he's excited about the future of fintech in one sentence:
Ober: The exponential growth in data allows for unlimited amounts of opportunities.
Are you interested in networking with Matt or learning more about Fintech? Go here to see how you can attend or sponsor the 2016 Benzinga Fintech Awards.
Posted-In: Benzinga Fintech Awards Matt Ober WorldQuantFintech Interview Best of Benzinga
View Comments and Join the Discussion!