Resurgent Detroit: 5 Uniquely Detroit Things You Still Have Time To Do This Summer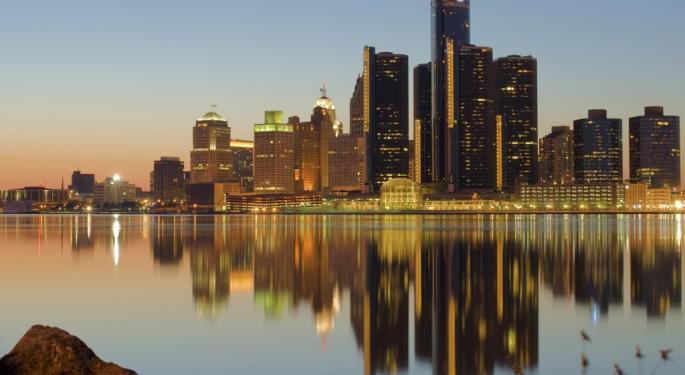 In anticipation of Benzinga's headquarters moving to the heart of Detroit, we'll be putting out a monthly series highlighting new establishments and exciting things going on in what will be our new home. To read last month's piece about ways Detroit is being green, click here.
As Fourth of July celebrations wind down and Detroit's Movement festival is long past, it might feel as though there's nothing left to do in the city for the end of summer.
But never fear Detroit-lovers, we've put together a short list of unique things you've still got time to check out this summer in our beloved Motor City:
Dine In A Greenhouse
You know what Detroit really loves? Food. Let's be honest: "Love" might even be an understatement.
In a stylish blend of the culinary and construction arts, Townhouse is expected to open its downtown Detroit location some time this month, featuring a greenhouse-style main dining room. The main dining room will be a glass-enclosed, year-round outdoor dining area, complete with a retractable roof and walls for good weather conditions.
Founder Jeremy Sasson told Benzinga that it's an exciting and interesting time to be in Detroit, with countless opportunities not only for restaurateurs, but artists, individuals in technology, entrepreneurs and more.
"At Townhouse, we support our community, and that means the dreamers, thinkers and do-ers who reside and develop here. So with that, it means a lot personally and professionally to be in the midst of the resurgence of Detroit," he said.
Townhouse currently has one location in the metro Detroit area, but Sasson said the restaurant's team felt it was only a matter of time until they could truly stamp the pride of Detroit officially on the brand.
Birmingham favorite TOWNHOUSE is set to open downtown this summer. Get a peek at what the restaurant will offer! http://t.co/b0dZwNjiGK

— After 5 Detroit (@After5Detroit) June 15, 2015
Visit The Belt
Alleyways have a general reputation for being dark, dirty and places people want to avoid.
But a new, avant garde alley called The Belt defies that stereotype. It's brightly lit with Edison-style light bulbs strung from above, decorated with fun, trendy outdoor furniture, and brought to life by brightly-colored murals and other artwork.
"I think it's so different, people fall in love with it and it becomes such a talked-about, unique thing," Bedrock Real Estate Services executive vice president Dan Mullen said. "And I like the intimacy of [the alley]. We have created a really cool corridor." In essence, the Belt represents what is the heart and soul of Detroit: A big, bold city with a comfortable, small-town feel.
Keep an eye out for a contemporary cocktail bar and an outdoor alley bar coming to The Belt later this year.
"The Belt" Downtown Detroit's Alley Art Project --- Check out these pictures @BedrockRES @Trendway #ArtInDetroit pic.twitter.com/gya8B6iPSg

— Great Lakes APG (@GreatLakesAPG) July 14, 2015
Play On A Street Piano
Detroit prides itself on its community, as well as its artists (think the Heidelberg Project).
That's why you'll find things like six street pianos painted by local artists placed in strategic locations downtown.
"Detroit has such a rich history in music and art. This kind of brings it together with something as simple as a painted piano people can enjoy any time of day," said James Millar, director of activation at Bedrock. "The pianos are helping to develop a sense of downtown community. They are a catalyst to encourage people to engage and interact with their environment, and more importantly, with each other."
So head on over to 611 Woodward, One Detroit Center, One Campus Martius or Monroe Street, find a street piano and play your heart out.
For those of you who don't know - @GeorgeHunter_DN from the @detroitnews can play a mean street piano! #Detroit pic.twitter.com/4ZTBR3N0Rm

— Taryn Asher Fox 2 (@TarynAsherFox2) June 23, 2015
Find Grub At A Food Truck
Although weather and legal hurdles make Detroit a less-than-ideal place for a food truck, there are a number of unique food trucks that have come to the city over the past decade. City-goers can enjoy everything from gourmet hotdogs at The Mean Weenie to artisan pita sandwiches at The Pita Post.
Dan Gearig is the co-founder of StrEAT Detroit, which operates both the Mac Shack and El Guapo food trucks. He told Benzinga that he's proud to be part of the food and beverage industry that's helping fuel Detroit's resurgence.
"I can't think of another industry that not only cultivates entrepreneurship but lifts the morale of our city more," Gearig said. "This industry levels the playing field and lets us compete with any of the most developed, thriving cities in the world on any given day."
Gearig added he thinks food and beverage will be one of the major components that will fuel Detroit through its resurgence.
Happy Monday, Detroit! You'll find us at Campus Martius Park all week (including today) for lunch from 11am-2pm!

— el Guapo Grill (@elGuapoGrill) July 13, 2015
See A New, World Famous Mural
Remember the Barack Obama "Hope" poster that became popular during the 2008 presidential campaign?
The artist behind it, Shepard Fairey, recently came to Detroit. He painted his largest mural to date (it's huge) on 1 Campus Martius -- at the center of downtown Detroit -- in addition to contributing to The Belt alleyway and tagging a few other spots around the city.
"By creating these destinations and art through your development it really attracts people and helps build communities and social environments around it, which is huge for the city," said Mullen, who oversees many of Bedrock's public art projects. "We love to watch people walk by and take pictures next to the artwork. It's important to us."
Fairey has come out publicly and said he believes in "democratizing art," the idea of putting it where people can see it. He definitely accomplished that with his visit to the Motor City, because the building's mural is hard to miss.
Fresh off the wall, almost there! Be sure to follow @obeygiant on instagram for more behind the scene shots #Detroit pic.twitter.com/m4MfJuJwK0

— Shepard Fairey (@OBEYGIANT) May 20, 2015
Posted-In: Exclusives Interview Best of Benzinga
View Comments and Join the Discussion!