Are Apple And Tesla Secret Partners?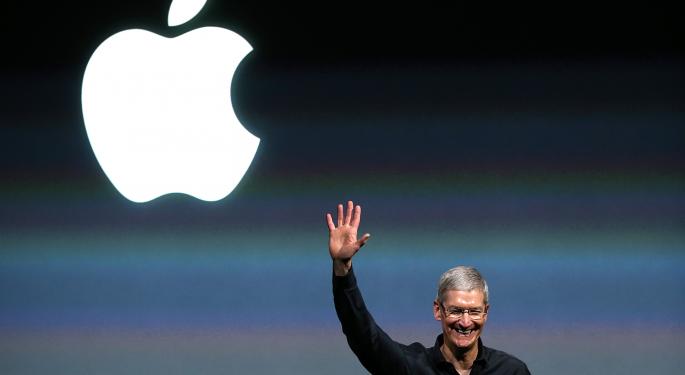 Are two of the world's most important tech companies secretly connected in ways that have yet to be publicly announced?
Apple Inc. (NASDAQ: AAPL) and Tesla Motors Inc. (NASDAQ: TSLA) have had at least one meeting, but the discussions remain a mystery. In fact, only Tesla CEO Elon Musk was a confirmed attendee -- no one knows exactly which Apple executives were present. According to the San Francisco Chronicle, Musk met with Apple's M&A chief, Adrian Perica.
"If one or more companies had approached us last year around such things, there's no way we could comment on that," Musk told Bloomberg in February. When asked point blank if Musk had talked with Apple, he replied, "We had conversations with Apple. I can't comment on whether those revolved around any kind of acquisition."
Behind Closed Doors
Investors have been so focused on the M&A fantasy that they have forgotten about the possibility that Apple and Tesla could be business partners. One Apple expert thinks that has already happened.
Sean Udall, CIO of Quantum Trading Strategies and author of The TechStrat Report, told Benzinga that he thinks investors are "misinterpreting" a lawsuit that might have revealed Apple's future plans. A123 Systems sued the Mac maker, claiming that it poached employees and is currently developing a "large-scale battery division."
"I don't know if this has ever been publicly disclosed, but in my digging -- of all the digging and researching I do -- it seems to me that Apple is a funder of the Gigafactory," said Udall. "I cannot prove that. I don't know if it's ever been published as a definitive agreement. But I'm almost positive, just based on the research I've done, that Apple is a financial backer of Tesla's Gigafactory."
Related Link: Is Apple Building A Battery Division To Compete With Tesla?
Partially Funded?
Udall thinks that Apple is at least partially funding the Gigafactory.
"And they're going to get something for it," he said. "They'll get maybe preferential pricing or there will be a customer or a certain amount of inventory from that deal. I believe that to be the case. I also think Apple is developing and may have improved the technology in the batteries they use."
Udall pointed to the new MacBook, which has a battery that looks like it has been "poured" into the device.
"I don't know if they actually make the battery," he continued. "They have a ton of battery patents, by the way. [And] the ergonomic design inside the machine -- how the battery fits in, how it's super-thin, how there's layers to it -- that's completely Apple. Nobody else designed that. That's Apple's design."
Partner Vs. Competitor
Udall said that Apple's development, patent and investment process in the Gigafactory "could almost be the same as Apple trying to build a battery division of their own."
"Maybe they're doing both," he said. That could spell trouble for Tesla.
"On the other hand, what if Apple is a part owner of the Gigafactory and it hasn't been disclosed yet?" Udall asked. "What if the Gigafactory produces one of the best battery manufacturing plants in the world, and what if Apple owns 35 percent of it?"
Udall reiterated that he is "almost positive [that] Apple has made either a commitment or already a monetary investment into the Gigafactory."
Disclosure: At the time of this writing, Louis Bedigian had no position in the equities mentioned in this report.
View Comments and Join the Discussion!
Posted-In: Adrian Perica Elon Musk GigafactoryExclusives Tech Best of Benzinga