This Week On #PreMarket Prep: Commodities, Currency & Charts In Focus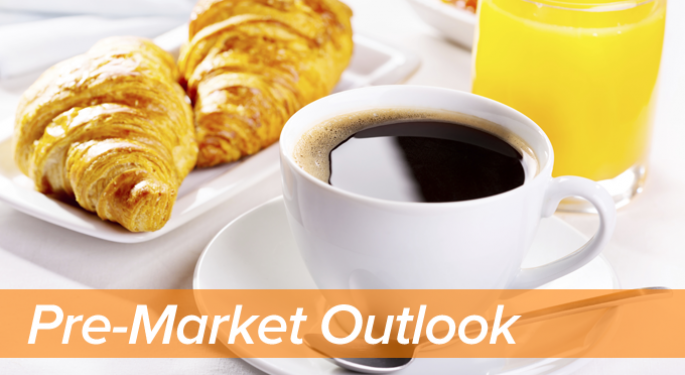 #PreMarket Prep is Benzinga's daily trading idea radio show hosted by Joel Elconin and Dennis Dick.
Market technicians, commodity analysts and currency experts will all join us on this week's #PreMarket Prep broadcast, sponsored by Marketfy.
Be sure to tune in at 8:00 am EST Monday-Friday here for the exciting show.
Monday, February 9, 8:35 a.m.
Anne-Marie Baiynd (@AnneMarieTrades), Author and Financial Analyst
Anne-Marie Baiynd is a trader, author and financial analyst best known for her book, "The Trading Book Course: A Practical Guide to Profiting with Technical Analysis."
9 a.m.
Todd Gordon (@toddgordontrade), CNBC Contributor and Founder of TradingAnalysis.com
TradingAnalysis.com provides actionable market analysis and clear trading strategies in the currency, commodity, and equity markets for both amateur and professional traders. Gordon's international following comes from his ability to translate Wave Theory into clear and concise trading strategies. His research clients value his clear and concise analysis and discipline as he consistently applies his analysis to his personal accounts.
Gordon lives by the mantra, "Plan Your Trade, Trade Your Plan."
9:20 a.m.
Mark Martiak (@premieradvisor), Senior Wealth Strategist at Premier Wealth, First Allied Securities
Mark Martiak's 30-year career spans financial services, media and retail. At Premier Wealth Management, he serves individuals and institutional clients, with special focus on the financial planning issues related to family offices, divorce, retirement, trust and estate planning.
Tuesday, February 10, 8:35 a.m.
Nic Chahine (@racernic), Options Expert
Nic Chahine joins the show every Tuesday to discuss the week's options outlook. He's a Marketfy Maven and author of the Create Income with Options Spreads blog.
9 a.m.
Andrew Keene (@KeeneOnMarket), Founder of KeeneOnTheMarket
Andrew is the author of "Trade to Win Using Unusual Options Activity, Volatility, and Earnings." Prior to founding KeeneOnTheMarket.com in 2011,Keene worked as a proprietary trader at the Chicago Board Options Exchange.
9:20 a.m.
Karl Setzer (@ksetzergrains), Grain Market Analyst at MaxYield Grain
Karl Setzer's passion guides his pursuit of leading edge information and insights that are featured in his daily commentary/market analysis, which is published and heard throughout the Midwest and internationally, including Europe, Ukraine, Pakistan, Singapore and Dubai. He spends much of his day hedging MaxYield's grain position and coaching our Grain Solutions Team in client risk management.
Angie Maguire (@goddessofgrain), Vice President of Grain for Citizens Elevator
Angie Maguire has been working in the grain industry for over ten years. After beginning her career as a cash grain broker she transitioned into a position as Vice President of Grain for Citizens Elevator in Charlotte, MI. At Citizens she manages 5 elevator locations as well as a state of the art on-farm program bringing the company's overall yearly handling to over 11 mbu.
Wednesday, February 11, 8:35 a.m.
Fari Hamzei (@HamzeiAnalytics), Founder of Hamzei Analytics
Fari Hamzei joins the show every Wednesday, bringing his wealth of knowledge on aggressive equity options and index futures trends.
9 a.m.
Serge Berger (@SteadyTrader), Head Trader & Investment Strategist at The Steady Trader
Serge Berger has been an active trader since 1998. During his career, he's been a financial analyst, dealt in fixed income instruments at JP Morgan, and was a proprietary trader in equities, equity options and futures.
9:20 a.m.
Sean Emory (@_SeanDavid), Portfolio Manager at GFG Capital & Author of TheMarketMeter.com
Sean Emory is currently the author of TheMarketMeter.com and lead portfolio manager of various strategies topping $1 billion in assets. The strategies consist of four global allocation portfolios and a concentrated growth equity portfolio. Prior to arriving at GFG Capital he was an investment trustee and equity/fixed income analyst for the Stetson University endowment. Thereafter he began analyzing small cap stocks at KCM hedge fund. He earned his degree in Finance from Stetson University, and Pre-MBA certificate from Yale University.
Thursday, February 12, 8:35 a.m.
JC Parets (@allstarcharts), Founder of Eagle Bay Capital
JC Parets is a money manager, chartered market technician, technical analysis practitioner and blogger. He is also the author of Eagle Bay Solutions.
9 a.m.
Chris Temple (@NatInvester), Editor/Publisher of "The National Investor"
Chris Temple sees his role as dispensing knowledge to his Subscribers; not just information. He analyzes and makes understandable for his readers "macro" events and markets the world over, ultimately coming up with a specific investment game plan which uses asset allocation, ETFs, individual stocks and the like.
9:20 a.m.
Mike Seery (@seeryfutures), President of Seery Futures
Michael Seery frequently appears on multiple business networks including Bloomberg news, Fox Business, CNBC Worldwide, CNN Business, and Bloomberg TV. He is a publishing Commodity Trading Advisor, while also writing market commentary for several commodity websites. He is also a guest on First Business, which is a national and internationally syndicated business show.
Friday, February 13, 8:35 a.m.
Joe Saluzzi (@JoeSaluzzi), Partner and Co-Founder of Themis Trading
Joseph Saluzzi is partner, co-founder and co-head of equity trading of Themis Trading LLC, a leading independent agency brokerage firm that trades equities for institutional money managers and hedge funds. He is also the co-author of "Broken Markets -- How High Frequency Trading and Predatory Practices on Wall Street are Destroying Investor Confidence."
9 a.m.
Blake Morrow (@PipCzar), Chief Currency Strategist at Wizetrade
Blake Morrow has more than 18 years of trading experience and has been a co- owner of a Dallas based brokerage firm and LiquidTrader Technologies. Currently, Blake does analysis for thousands of individual traders on his "The Morning Edge" webinar for 2 hours each day from 7 – 9 am covering inter-market relationships and Forex. He has also appeared as a regular analyst on Wizetrade TV and Traders Television. Blake is a seasoned individual investor in equities and FOREX.
9:20 a.m.
Dirk Friczewsky (@FXDIRK), Professional Trader and Technical Analyst
Dirk Friczewsky is a professional trader and technical analyst at Friczewsky Financial Markets. He provides daily trading signals for asset classes like stocks, bonds, currencies, indices, commodities and interest futures. Friczewsky uses popular techniques like Fibonacci sequences or respectively Fibonacci retracements.
Posted-In: Andrew Keene Anne-Marie Baiynd Benzinga #PreMarket Prep Fari Hamzei JC ParetsExclusives Pre-Market Outlook Interview Best of Benzinga
View Comments and Join the Discussion!