Preferred Stock ETFs Press Higher, Ignore Interest Rate Spike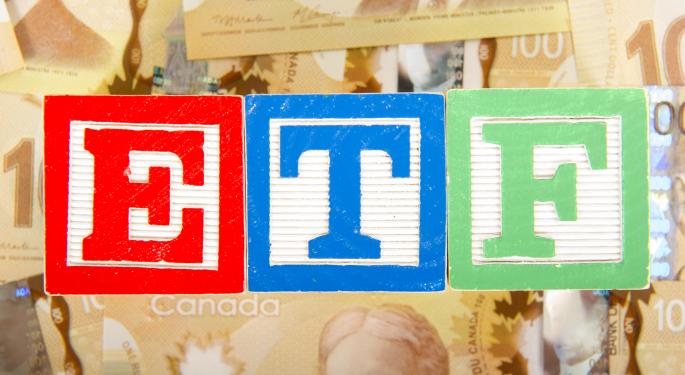 February was a volatile month for interest rates and asset classes traditionally linked to machinations in the bond markets. The CBOE Interest Rate 10 Year Note (INDEX: TNX) spiked from a low of 1.67 percent to a high of 2.00 percent last month amid a strong bid for stocks.
This spike higher in rates led to a selloff in the iShares Barclays 20+ Yr Treas.Bond (ETF) (NYSE: TLT), Vanguard REIT Index Fund (NYSE: VNQ) and even the Utility Select Sector SPDR ETF (Utilities SPDR (ETF)) (NYSE: XLU). However, the asset class that shrugged off this macro-economic headwind and continued to new highs is preferred stocks.
What Are Preferred Stocks?
Preferred stocks are known as a hybrid instrument that carry qualities of both equity and debt securities. These shares are higher on the capital structure than common stock owners and typically pay a hefty yield, which is where their sensitivity to interest rates is upheld.
iShares U.S. Preferred Stock ETF
The iShares S&P US Pref Stock Idx Fnd (ETF) (NYSE: PFF) is the largest ETF in this space with over $12.7 billion in total assets. PFF invests in a diversified basket of over 300 preferred stocks, which are primarily focused in the financial, banking and real estate sectors.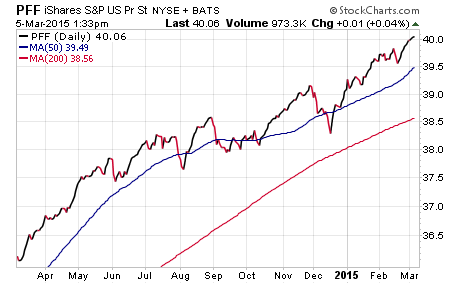 PFF has gained 11 percent in total return over the last year and just recently touched new 52-week highs. This ETF also sports a 30-day SEC yield of 5.61 percent and dividends are paid monthly to shareholders.
PowerShares Preferred Portfolio
Another strong contender in this category is the PowerShares Preferred Portfolio(ETF) (NYSE: PGX). This ETF focuses on a more concentrated mix of 213 preferred stocks, of which 88 percent are financial-based companies. The current yield on PGX is 5.90 percent.
PFF carries an expense ratio of 0.47 percent, while PGX is slightly higher at 0.50 percent.
Related Link: AmSurg Declares Quarterly Preferred Stock Dividend
What Makes Preferred Stock ETFs Unique
One of the distinct qualities of preferred stock ETFs is that their returns don't mirror a traditional equity or bond index. PFF, for example, has a beta to the S&P 500 Index (INDEX: SPX) of just 0.24. This may be an attractive quality for income-seekers looking to diversify their portfolio in non-correlated asset classes.
Disclosure: At the time this article was written, David Fabian and clients of FMD Capital Management owned PFF.
Posted-In: Barclays ishares SPDR vanguardSector ETFs Specialty ETFs Trading Ideas ETFs Best of Benzinga
View Comments and Join the Discussion!