Consumer Discretionary ETFs Receive Earnings Season Boost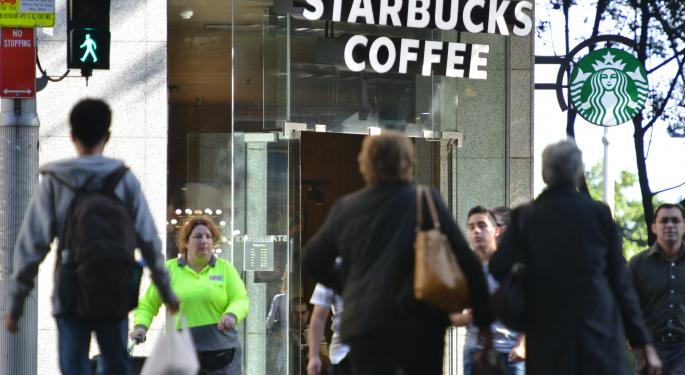 The consumer discretionary sector is one that is often most closely tied to the healthy spending habits of the American public. After all, confidence in consumer activity is usually tied to purchases of high value items such as cars, luxury goods and other specialty retail splurges.
Consumer Discretionary Select Sector SPDR
Since the beginning of earnings season, the Consumer Discretionary SPDR (EFT) (NYSE: XLY) has been fortunate enough to receive a few positive surprises in some of its largest holdings. Walt Disney Co (NYSE: DIS), Amazon.com, Inc. (NASDAQ: AMZN) and Starbucks Corporation (NASDAQ: SBUX) are just a few of the strong publicly traded companies in this ETF.
XLY tracks a total of 87 large-cap media, hotel, home improvement, restaurant and luxury retailers. This market-cap weighted ETF is considered the sector benchmark based on its longevity and significant $8.2 billion asset base. In addition, XLY charges a modest 0.15 percent expense ratio to administer the fund.
Related Link: Poor Earnings Hit ETFs
XLY underperformed the market in 2014 with a gain of just 9.49 percent compared to 13.54 percent in the SPDR S&P 500 ETF Trust (NYSE: SPY). Despite a rocky start in January, it appears poised to take out its 52-week high and could potentially be a market leading segment in 2015.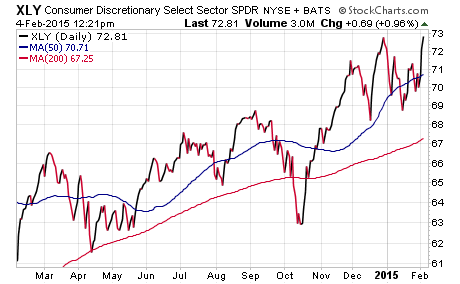 Related Link: Imperial Capital Analyst Thinks Rumor Of Ackman Short In Whole Foods Is Unlikely
First Trust Consumer Discretionary Alpha DEX Fund
Another well-diversified alternative in this segment is the First Trust Cnsmer Disry Alpha Fnd (ETF) (NYSE: FXD). This ETF uses fundamental screening criteria to select consumer stocks from the Russell 1000 Index based on growth factors that include solid recent performance, sales growth, return on assets and cash flow.
The end result is a portfolio of 132 stocks with markedly different construction criteria when compared to XLY. The underlying holdings contain a more equal dispersion of assets across multiple industry groups and market caps.
Last year, FXD had a better return than XLY, with a gain of 11.62 percent. However, it should be noted that the more stringent screening criteria also comes with a higher expense ratio of 0.70 percent.
This sector should be one to watch through the remainder of February as further guidance comes through and quarterly earnings from some of the top media and home construction brands likewise report.
View Comments and Join the Discussion!
Posted-In: Consumer Discretionary ETF Russell 1000 Index S&P 500 IndexSector ETFs Broad U.S. Equity ETFs Trading Ideas ETFs Best of Benzinga