Coal ETF Rally Could Continue With GOP Support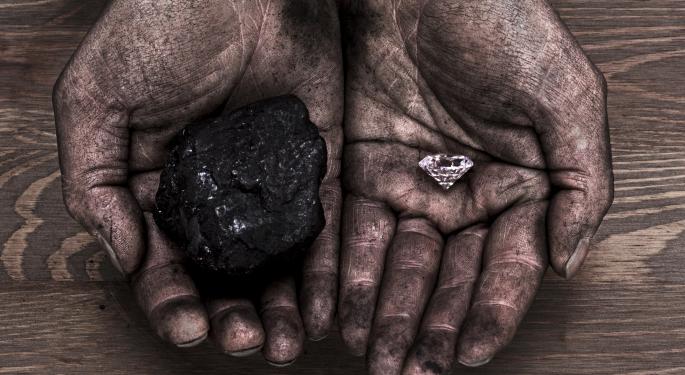 Among the many regulations the GOP will look to alter after gaining control of the Senate is the overspending and strict rules of the Environmental Protection Agency.
Republicans have sights set on altering or disrupting the Obama administration's plans to tightly regulate carbon dioxide emissions.
Throughout his two terms, President Barack Obama has waged a "war on coal," as Republicans say, tightly regulating its production and consumption as well as over-funding the EPA.
A disruption of the president's current plan would allow for more production and consumption of coal, and in turn increasing the profits of all the companies involved with the industry.
Related Link: Are Russian ETFs Signaling A Potential Crash?
One example is the state of Kentucky -- that is, the country's largest coal producer and consumer responsible for generating 90 percent of the state's energy. The Democrats may not have a chance to win the coal-centric states if the strict regulations continue to kill the coal industry. While many believe the industry is terrible for the environment, it also employs a large number of Americans. With the employment picture in the country improving, there is still a long way to go and by eliminating more jobs will be a tough platform to get elected in 2016.
There is only one ETF that concentrates solely on coal, and it has had a rough time the last few years. Since hitting a high in 2011 the ETF has lost more than two-thirds of its value.
The Market Vectors-Coal ETF (NYSE: KOL) follows 33 companies across 10 countries that derive at least 50 percent of their revenue from coal. The top-weighted countries are the United States at 39, China making up 23 percent and Australia at 11 percent. The top individual holdings include:
Consol and Joy Global have struggled over the last six months, down 11 percent and 10 percent, respectively. KOL has had similar results, down 17 percent over the last 12 months and 10 percent the last six months. The coal ETF has an expense ratio of 0.59 percent.
The ETF hit a five-year low in October and has rallied heading into the election and is up 7 percent in a few weeks. There will be significant resistance in the $17-$18 range, but if it is able to breakthrough it would be a major signal for higher prices.
View Comments and Join the Discussion!
Posted-In: Coal ETF ETFsSector ETFs Top Stories Trading Ideas ETFs Best of Benzinga