2 IPO ETFs Set To Add Alibaba Group Holding Ltd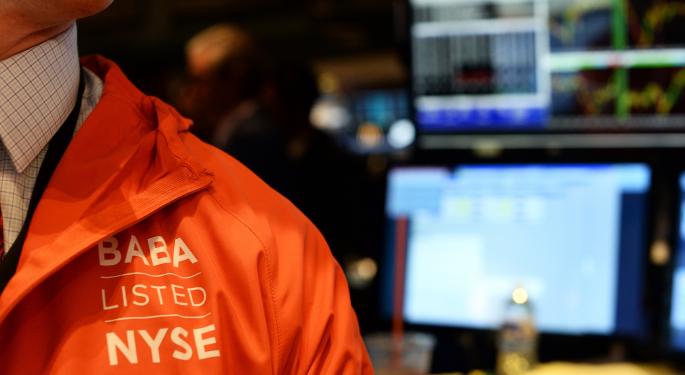 Alibaba Group Holding Ltd (NYSE: BABA) debuted on Friday morning to much fanfare from investors.
In addition to affecting social media users and analysts, the IPO could also have an impact on two ETFs that concentrate on the niche.
Unlike many China-related ETFs, this duo will have the ability to add Alibaba shares to their holdings in the near future.
Because the e-commerce giant is trading on the NYSE, based in the Cayman Islands and trades as an American Depository Receipt (ADR), it will not meet the requirements for many of the MSCI and FTSE indices ETFs track. (Most indices will only add U.S.-based stocks, and others will only add China-based companies. Alibaba meets neither requirement exclusively.)
Worth noting, the two ETFs will be allowed to add Alibaba shares at a cap of 10 percent of their holdings. The exact timing has yet to be determined.
Who Are They?
The First Trust U.S. IPO Index Fund (NYSE: FPX) is a basket of 100 stocks that includes the 100 largest, best performing (typically) and most liquid U.S. IPOs in the IPOX Global Composite Index.
Stocks are allowed to be in the portfolio during their first 1,000 trading days.
The top three holdings are Facebook Inc. (NYSE: FB) at 11.5 percent, AbbVie Inc. (NYSE: ABBV) with a 9.4 percent holding and General Motors Company (NYSE: GM) at 5.3 percent.
The portfolio is rebalanced quarterly and the index caps the percentage of any one holding at 10 percent. FPX has performed well over the last 12 months, up 20 percent. An expense ratio of 0.60 percent puts it on par with its competitors.
The Renaissance IPO ETF (NYSE: IPO), meanwhile, tracks early-stage stocks.
Sizable IPOs are added after the first five days of trading and are removed two years after the date they go public.
The top three stocks in this particular ETF are Zoetis Inc. (NYSE: ZTS) with a 10.2 percent holding, Twitter Inc. (NYSE: TWTR) at 9.8 percent and Workday Inc (NYSE: WDAY) at 4.6 percent.
The fund is up 16 percent over the last 12 months and sports an expense ratio of 0.60 percent.
What's Next?
Based on historical evidence, Renaissance should add Alibaba after five trading days. First Trust will likely hold off a little longer.
Disclosure: At the time of this writing, the author had no position in the equities mentioned in this report.
Posted-In: Alibaba ETFs IPO ETFsSpecialty ETFs ETFs Best of Benzinga
View Comments and Join the Discussion!