Higher Mortgage Rates Could Boost Homebuilder ETFs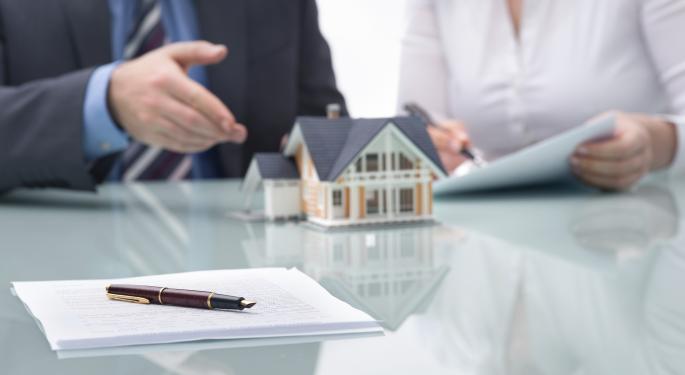 The 30-year fixed-rate mortgage rate spiked to 4.23 percent this week, well above last week's 4.12 percent. The rate now stands at its highest level since May but is below the 4.50 percent of a year ago.
With the Federal Open Market Committee ready to step aside from its asset purchase program and raise interest rates, mortgage rates will almost certainly rise higher. Nonetheless, rates remain historically low.
In August 2008 the 30-year rate was 6.48 percent and in 1990 it was more than 10 percent. Many potential homebuyers remember the double-digit rates and view anything below 5 percent as a gift from the Federal Reserve.
Related Link: 2 IPO ETFs Set To Add Alibaba Group Holding Ltd
Why Higher Rates Could Mean More Home Sales
Because the rate increases mean the home price buyers can afford decreases, many may view higher mortgage rates as a deterrent to potential homebuyers. Counter-intuitively, the rate hike could lead to an influx of new purchases — if the potential buyers rush to lock in rates before they jump back to where they were in 2008 and earlier.
If the buying surge develops, homebuilders and any related housing sectors are best positioned to benefit. Two ETFs could be great ways for investors to play a boom.
iShares Dow Jones US Home Const. (NYSE: ITB
The iShares Dow Jones US Home Construction ETF is composed of publicly traded U.S. companies in the home construction sector. ITB has a total of 36 holdings, the top three making up just under 30 percent of the entire portfolio.
At the close of September 19, those allocations were Lennar Corporation at 10.2 percent, D.R. Horton, Inc. with a 10.0 percent holding and PulteGroup, Inc. at 9.2 percent.
ITB is up 8 percent over the last 12 months but has struggled recently, down 2 percent over the last six months. An expense ratio of 0.43 makes it slightly more expensive than its competitors.
SPDR S&P Homebuilders ETF (NYSE: XHB)
SPDR S&P Homebuilders tracks 35 U.S. companies connected with the housing sector.
The fund is allocated across six sub-industries with the two highest weighted being homebuilding and building products. As of market close on September 19, the top individual holdings include Lowe's Companies, Inc. at 3.79 percent, The Home Depot, Inc. at 3.77 percent and Whirlpool Corporation at 3.58 percent.
XHB has been fairly volatile over the last 12 months, netting out up 2 percent over that time despite its 5 percent slide down over the last six months. The 0.35 percent expense ratio is not expensive.
The two ETFs offer varying approaches to a housing boom, if the mortgage rate increase triggers one. ITB concentrates on the homebuilders, whereas XHB has exposure to homebuilders as well as secondary plays that will benefit from increased home purchases.
Posted-In: ETFs Home builders Housing Market mortgage ratesSector ETFs ETFs Best of Benzinga
View Comments and Join the Discussion!