A Resources ETF With An Upstream Emphasis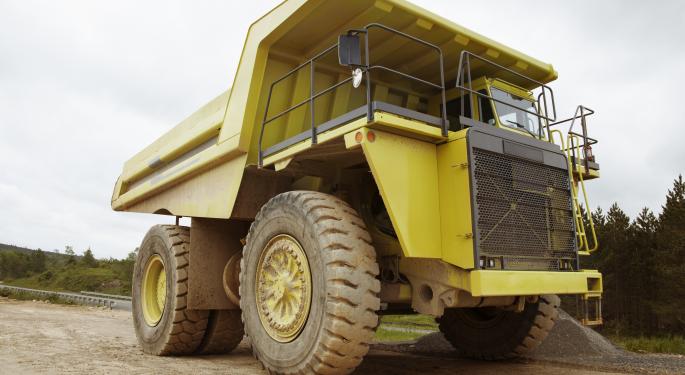 High demand in both developed and emerging markets is driving the globalization and utilization of natural resources. Some companies are poised to profit from the resulting rising cost of agriculture, timber, water, metals and energy.
Selecting the right sector and company to capitalize on this opportunity may prove to be a tough task. Fortunately, the FlexShares Morningstar Global Upstream Natural Resources Fund (NYSE: GUNR) provides broad exposure to each of these asset classes with a unique twist.
GUNR currently has more than $3 billion dedicated to 124 worldwide companies engaged in the natural resources supply chain. Top holdings include well-known stocks such as BHP Billiton (NYSE: BHP), Exxon Mobil (NYSE: XOM) and Monsanto (NYSE: MON).
Related Link: Facebook Stands Apart In Social Media ETF
This ETF currently charges an expense ratio of 0.48 percent and has a 30-day SEC yield of 2.26 percent. So far in 2014, GUNR has returned 10.64 percent to shareholders, as themes such as energy and precious metals have surged.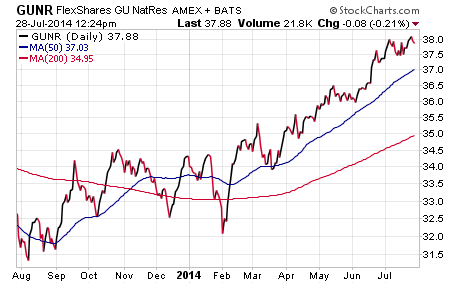 One unique characteristic of GUNR is that the index strategy seeks out companies focused on the "upstream" portion of the supply chain. This means that they are directly responsible for extracting and delivering the resources before they are converted to a finished product.
Staying Upstream
The advantage of being closer to the upstream operations is that the companies are more closely tied to price increases in the commodities they deal in. This positioning can be particularly appealing in an inflationary environment.
Instead of focusing in just one area, GUNR captures a wide swath of companies in a diversified basket of holdings. This allows for greater stability if one or more natural resources sector is lagging its peers.
This ETF is also a truly global vehicle, with only 38 percent of the underlying stocks residing in the United States. Other top countries include the United Kingdom, Canada and Australia. In addition, over 79 percent of the companies are classified as large-cap stocks.
GUNR may be a good fit for investors that are looking to capitalize on the dual trends of natural resource consumption and rising commodity prices.
Posted-In: Emerging Markets ETF natural resources raw materialsSector ETFs Trading Ideas ETFs Best of Benzinga
View Comments and Join the Discussion!