Intel Breakout Boosting Chip ETFs (SMH, XSD, INTC, TXN)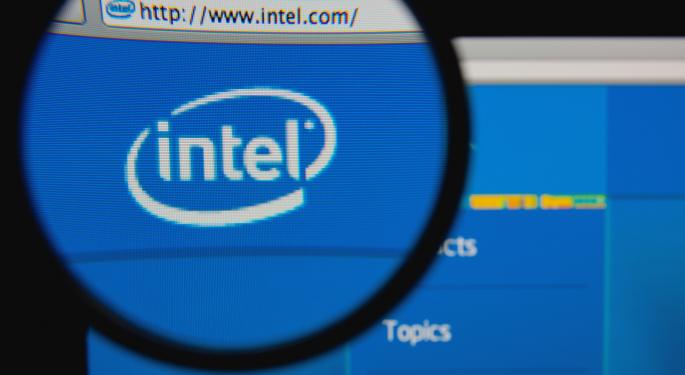 Shares of semiconductor behemoth Intel Corp (NASDAQ: INTC) have been lagging the overall sector the last few months as it struggled to breakout above resistance.
In the last two days the stock has rallied on above average volume above price resistance at $25 and the 50-day moving average in the same area.
Even though the struggling INTC is the largest holding in the Market Vectors Semiconductor ETF (NYSE: SMH), the ETF has been able to trade near decade highs before the breakout. On Friday, the breakout in INTC has pushed the ETF to a new high with a gain over one percent.
With INTC making up 19 percent of the ETF it is amazing that SMH has been able to rally without the stock. But now that the stock is breaking out and generating a buy signal it could be the move that investors have been looking for in the sector. The other top holdings in SMH include Taiwan Semiconductor Manufacturing (NYSE: TSM), Texas Instruments (NYSE: TXN), and Micron Technology (NYSE: MU). Of the three, TSM has been struggling while the other two are sitting near highs.
See also: Starbucks Introduces Tech Into Its Coffee
The SPDR S&P Semiconductor ETF (NYSE: XSD) may sounds as if it is similar to SMH, but in reality the ETFs are very different. While SMH is composed of 26 stocks and has 32 percent of its allocation in INTC and TSM, XSD is much more diversified. The ETF is made up of 50 stocks and its top two holdings only account for six percent of the portfolio.
XSD is more of a true diversified ETF that will encompass not only the big names in the sector, but also the smaller companies that are often overlooked. INTC only makes up twp percent of the allocation is the 40th largest holding in the ETF. The two largest holdings are TriQuint Semiconductor (NASDAQ: TQNT) and Freescale Semiconductor (NYSE: FSL), both of which are at new yearly highs.
As far as performance, over the last 12 months XSD has returned 41 percent as SMH is up 29 percent. The 1200 basis point outperformance is significant in a short period of time and is due to both INTC and TSM lagging their peers. However, going forward SMH could be able to make up some ground if INTC can continue the breakout it began this week. That being said, over the long-term the best bet is to concentrate of diversification and XSD is the truly diversified choice between the two ETFs.
Matt McCall is the editor of ETF newsletter MarkETForce available at marketfy.com
Posted-In: Sector ETFs ETFs Best of Benzinga
View Comments and Join the Discussion!