The ETF To Play The Tesla Motors Rally (QCLN, TSLA, CREE, FSLR)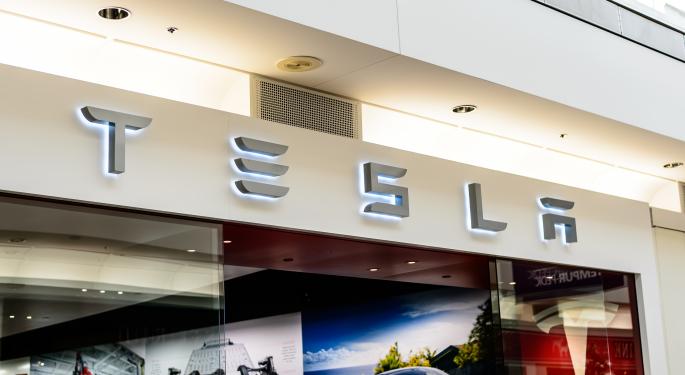 Shares of Tesla Motors (NASDAQ: TSLA) are up 26 percent in the last five trading days and are sitting at a fresh three-month high.
The big volume move in the stock has once again attracted the attention of investors after several months of the stock drifting lower.
Investors have the option of buying Tesla stock outright and taking the risk of owning an individual stock. Or there is the route of buying an ETF that has large exposure to the stock and some of its peers.
The First Trust Clean Edge Green Energy ETF (NYSE: QCLN) calls Tesla its largest holding with a weighting of 9.6 percent. There are a total of 43 stocks in the ETF that come from a wide range of niche sectors, all related to green energy. The other stocks in the top five include LED lighting company Cree (NASDAQ: CREE), circuit maker Linear Technology (NASDAQ: LLTC), solar company First Solar (NASDAQ: FSLR), and utility ITC Holdings (NYSE: ITC).
See also: Tesla Announces Expansion of Supercharger Network in Europe
As mentioned above, the ETF is diverse with 38 percent in technology stocks, 23 percent in oil and gas, 17 percent in industrials, and 10 percent in consumer goods. The diversity should in theory lower the risk associated with the ETF, but it could also limit the upside potential.
The annual expense ratio for the ETF is 0.60 percent and the ETF has a total of $120 million in total net assets.
Since the end of September 2013, Tesla stock has fallen by nine percent. During the same time frame QCLN is up 17 percent. This is one example of how an ETF can protect investors from the high volatility that is associated with a stock such as Tesla. On the flip side, in the last 12 months QCLN is up 92 percent as Tesla surged 409 percent.
The question investors must ask themselves has to do with reward versus risk.
Is the extra risk associated with owning Tesla over QCLN worth the potential reward?
Posted-In: TeslaSector ETFs Specialty ETFs ETFs Best of Benzinga
View Comments and Join the Discussion!