ETF Outlook for Thursday, January 2 (FEZ, FXI, SPY, XHB)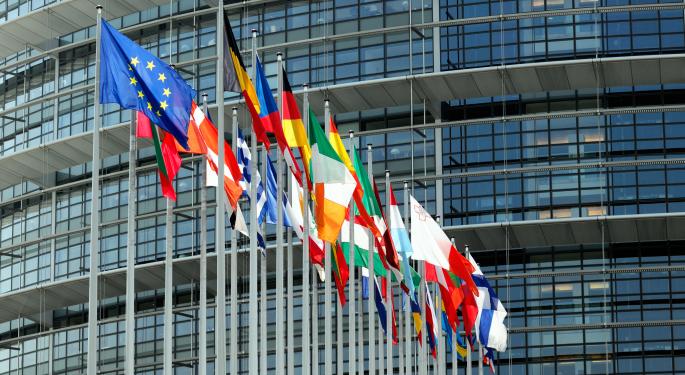 ETF Outlook for Thursday January 2, 2014
Happy New Year!
SPDR Euro STOXX 50 ETF (NYSE: FEZ)
The Eurozone manufacturing PMI came in at 52.7 in December, an increase from the 51.6 reading in November. The number is the highest in 31 months and was driven by an increase in export orders. The Eurozone stock markets have been strong the in the last two weeks as many are hitting new multi-year highs. FEZ is composed of 50 mainly large-cap stocks in the region with a high emphasis on financials. The ETF closed out 2013 on a nine-session winning streak and is due for a pullback. Support is at the $41.50 area.
SPDR S&P Homebuilders ETF (NYSE: XHB)
Strong housing numbers before the end of the year has helped boost shares of XHB to a new five year high. The ETF has been struggling to breakout for the last six months, but buying to end the year was enough to send the ETF through resistance at the $33 area. Follow-through will be the key for XHB as the New Year begins and the ETF needs to be able to hold support at the $31.50 area.
Related: Treasuries Yields Rally, ETFs Fall (IEF, TLT, TBF)
iShares FTSE/Xinhua China 25 Index ETF (NYSE: FXI)
The manufacturing sector in China has slowed again in December with two separate reports suggesting the slowdown. Both the country's PMI and an HSBC number suggest that new export orders declined as demand from overseas subsided. The country's stock market has been a major laggard over the last year and many hoped 2014 would be a turnaround year for the world's second largest economy. FXI has an extremely choppy pattern on the chart and at this point it appears the ups and downs will continue for China.
SPDR S&P 500 ETF (NYSE: SPY)
The S&P 500 closed the year with its best gain in 15 years earlier this week and with the calendar flipped, can the bull market continue? The charts and fundamentals point to higher prices for the first half of 2014, however in the short-term the ETF is very overbought and a pullback is likely. The level to watch on SPY is near the $182 area, where the ETF struggled to breakthrough during the majority of December. A light to moderate volume pullback to support would be another major buy signal for investors looking to add more money into equities.
Posted-In: Sector ETFs Broad U.S. Equity ETFs Emerging Market ETFs ETFs Best of Benzinga
View Comments and Join the Discussion!