Amazon, Drones & ETFs (AMZN, ROBO, AVAV, ITA, BA, ESLT)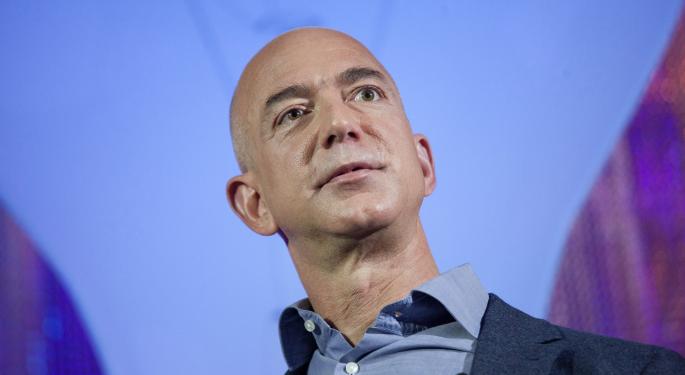 An interview Sunday night on CBS's 60 Minutes with Amazon.com (NASDAQ: AMZN) CEO Jeff Bezos has created some stir when it comes to drones.
Until last night there did not appear to be any link between the online retailer and unmanned drones, but that has quickly been altered.
Bezos unveiled a small, unmanned drone that could be used to deliver goods ordered on Amazon to customers within a 10-mile radius of a fulfillment center. An item of ten pounds or less could be delivered to front door of a customer thirty minutes after it is ordered online.
See also: Amazon's Jeff Bezos Says Drone Delivery is Coming
Even though it may seem like a story out of a sci-fi movie, it may become reality sooner than anyone would have imagined. According to Bloomberg, delivery drones are already being used by a company in Australia to deliver textbooks. And a company in Southern China is also experimenting with the new technology.
From an investment viewpoint the technologies used to create the delivery drones is tied to aerospace and defense companies. AeroVironment (NASDAQ: AVAV) is the closest thing to a pure play stock when it comes to unmanned drones. The company manufactures drones as well as charging stations for electric vehicles.
There are other big name defense companies that also are in the drone business, including Boeing (NYSE: BA). Last week the company's Insitu unit received an $8.8 million contract from the Department of Defense for surveillance drones used by the Navy and Marines.
ETFs
A new ETF that has exposure to AVAV and a few defense companies is the Robo-Stox Global Robotics & Automation ETF (NYSE: ROBO). The ETF's third largest holding with an allocation of 2.7 percent is AVAV; BA is not held by the ETF.
ROBO is a basket of stocks that focuses on companies that offer robotics as well as high tech automation. Another holding, Elbit Systems (NASDAQ: ESLT), an Israeli company that is a major player in the drone business makes up 1.1 percent of the ETF. Since the ETF began trading in late October it is up 2.5 percent.
See also: Commerical Drone Industry Ready for Takeoff in the U.S.
The iShares U.S. Aerospace & Defense Index ETF (NYSE: ITA) also boasts holdings of both AeroVironment and Boeing. The difference with ITA versus ROBO is that ITA is heavily weighted towards the big names in the defense sector. Boeing accounts for nearly 10 percent of the allocation and is the ETF's largest holding. On the other hand, AeroVironment is a small holding with an allocation of only 0.8 percent.
Because the technology is fairly new and developing, there are not a large number of companies that focus specifically on drones. Investors interested in using an ETF to play the future of drones in the military and delivering the next best selling book should look to ROBO and possibly the defense options such as ITA.
Posted-In: Elbit SystemsSector ETFs Specialty ETFs Tech ETFs Best of Benzinga
View Comments and Join the Discussion!