Riding Apple Rally with ETFs (AAPL, IYW, XLK, VGT, IXN)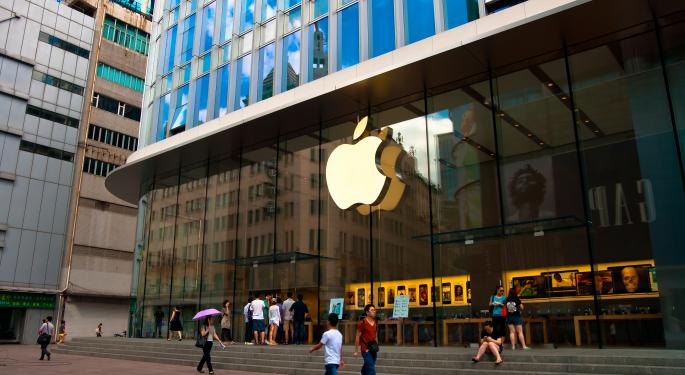 In the last two months shares of Apple (NASDAQ: AAPL)stock have outpaced the market with a gain of 16.6 percent. A breakout last week has the company in positive territory for the year, sitting with a gain of nearly five percent in 2013.
The recent rally from the lows has helped improve the chart on Apple in the short-term, but the stock remains 21 percent below the all-time high set in 2012. The question is whether the stock has more room to run or if the recent rally is merely a short-term bounce.
Investors that would like a piece of Apple, but are weary that the company may still face some issues should consider an ETF with exposure to the stock.
See also: It's Official, Apple is in Positive Territory for the Year
Below are four tech ETFs with the highest exposure to Apple stock.
iShares U.S. Tech ETF (NYSE: IYW)
The ETF that has the largest exposure to Apple stock is IYW, with an allocation of 17.8 percent. The heavy weighting towards Apple has held the ETF back slightly this year with a gain of 20 percent, lagging the overall market and the tech sector. Two other large-cap tech stocks also account for at least 10 percent of the portfolio. Google and Microsoft make up 21 percent of IYW. The ETF charges an annual expense ratio of 0.46 percent.
SPDR Technology Sector ETF (NYSE: XLK)
The top three holdings are the same as IYW with the only difference being a lower weighting for each stock. Apple accounts for 15.4 percent of the portfolio with GOOG and MSFT accounting for 18 percent. The ETF is also up 20 percent in 2013 and charges an annual expense ratio of 0.18 percent.
Vanguard Information Technology ETF (NYSE: VGT)
Another ETF with the same top three holdings is VGT. Apple makes up 14.1 percent of the ETF that charges an annual expense ratio of 0.14 percent. The ETF is up 25.3 percent this year, outpacing the first two ETFs by 25 percent. The lower expense ratio and more diverse portfolio helped the ETF to a better total return in the last eleven months.
See also: Five Star Stock Watch: Apple
iShares Global Tech ETF (NYSE: IXN)
This ETF has the same three stocks as the top holdings, but a major difference is that IXN invests in companies based outside the U.S. There is currently 23 percent of the portfolio invested overseas, led by Japan at six percent.
The portfolio allocation of Apple is 13.5 percent and MSFT and GOOG make up 16 percent. The expense ratio is 0.48 percent. The lower allocation to Apple and the international exposure did not help the ETF beat its peers, as it also gained 20 percent this year.
View Comments and Join the Discussion!
Posted-In: Sector ETFs Technicals Trading Ideas ETFs Best of Benzinga